I found an adorable printable for Christmas Bingo cards the other day while browsing Pinterest for Christmas activities to do with the kids.
I thought it would be a fun activity to do with the kids over the Holiday vacation so I decided to head over to FedEx and have the cards printed.
I wanted them to last so I got them printed on white cardstock and laminated.
Total cost for 12 color printed on cardstock, cut and laminated cards was about $27.
Not super cheap, but it's a game that will last and we'll get a lot of use out of.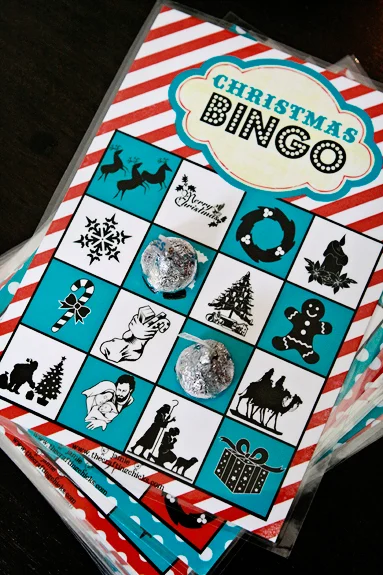 Last night we played the game after dinner for a family activity.
Rather than just calling out the words that were pictured on the cards, we read a bunch of our Christmas children's books.
The kids had to listen for the words as the stories were read.
We read The Christmas Magic, Christmas in the Manger, Snow Happy!, and The Twelve Days of Christmas (this didn't have any of the game words, but the kids requested it so we counted "presents" after reading the whole book).
When they heard one of the words of the featured images, they put a Hershey Kiss on the picture.
After 4 in a row, the game was over and they got to eat the Kisses that were on their boards.
Fun was had by all!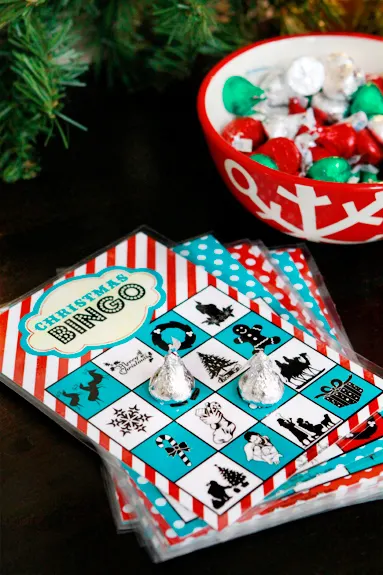 How to Play Christmas Book Bingo
1. Print the Christmas Bingo Cards found at The Crafting Chicks.
There are 4 different game boards available.
2. Grab a stack of your favorite Christmas books.
Make sure you have a variety of books to match the images on the bingo cards.
We liked to have books that featured 2-3 words in the story.
It didn't go too fast, and the players weren't bored.
The images featured on the cards are as follows:
Reindeer
Merry Christmas
Wreath
Candle
Snow/Snowflake
Bells
Christmas Tree
Gingerbread/Cookie
Candy Cane
Stocking
Santa
Wisemen
Santa Putting Presents Under the Tree
Mary, Joseph, and Baby Jesus
Shepherds
Presents
3. Choose something edible to mark the bingo boards.
We used Hershey Kisses, but you could use other treats as well.
After the game is over, you can enjoy the yummy treats on your board.
Another idea would be to use pennies.
Then the players get to keep the pennies after the game is done.
4. Read the books!
As the players hear the featured words during the story they can mark their boards.
4 in a row on the bingo board wins!
If you need a last minute DIY gift idea, prepare these cards and pair with a Christmas book, instructions and bag of Hershey Kisses.
Great for families!
What activities do you like to do with your kids during Christmas break?