We had a great time visiting Crete. It was beautiful and relaxing. But Athens was really awesome, for lack of a better word. I can't believe how much we crammed into two days! I hope you'll bear with me as I try to cram it all in to one post.
In Crete we just stayed at Eric's conference hotel, and it was just "okay" for us, so it was a real treat when we walked into the Hilton where we stayed in Athens. We both said: This is what a hotel is supposed to be like! Even the outside looked amazing.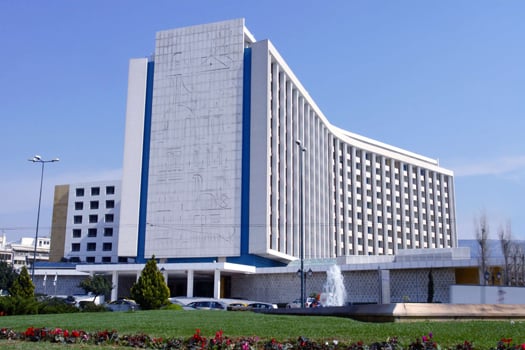 It was a great location for us. We weren't crazy enough to rent a car in Athens. I probably would have had a heart attack from the local's driving, so we walked everywhere and that made our exploring easy.
We took the subway from the Athens airport to the hotel because there is a stop a block or two away. It was inexpensive, but it did seem to take a while. On the way back we took a cab because we didn't want to risk being late.
The afternoon we arrived, we took a very short walk from the Hilton to the Cycladic Art Museum nearby to kill some time before our dinner reservation.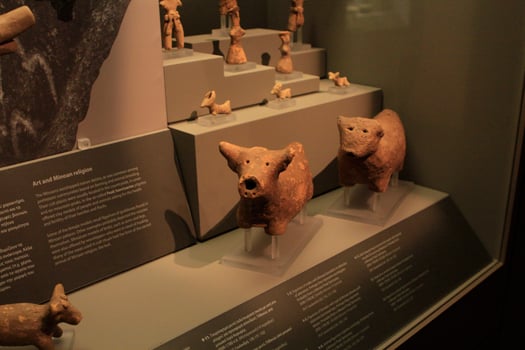 At the museum we saw galleries that contained all kinds of art from different periods: the Cycladic Culture of the Early Bronze Age, the Ancient Greek Art, from the Bronze Age to Late Roman times, the Cypriot Culture from the Chalcolithic Age to the Early Christian period.
If you're interested in learning more about these topics, the museum has Virtual Tours available for download. You can also check out my photos from the Cycladic Art Museum. After that we headed back to our room to get cleaned up for dinner.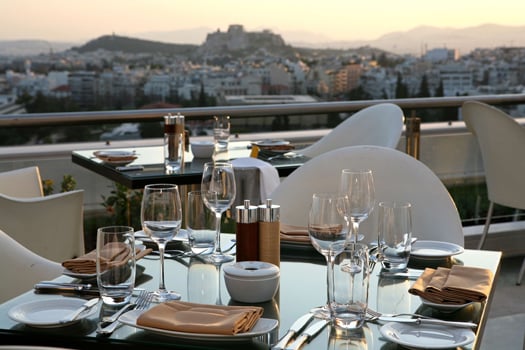 Dinner that night was at the Galaxy Restaurant, located on the roof of the Hilton. It's worth going for the view alone, but the food was wonderful as well. We ate a little later than we normally do so we could enjoy the sunset and the view of the city at night, which was just gorgeous! A magical view of the Acropolis once the sun sets!
It was nice to eat a relaxing dinner and take our time since we didn't have any kids with us. No on ever rushed us at our meals in Greece. We ate and talked at our own pace and left when we decided we were done. The atmosphere was great.

Sometimes I forget what it is like to actually get to talk to Eric during dinner because we're so busy talking to the kids, telling them to get back in their chairs and eat their dinner.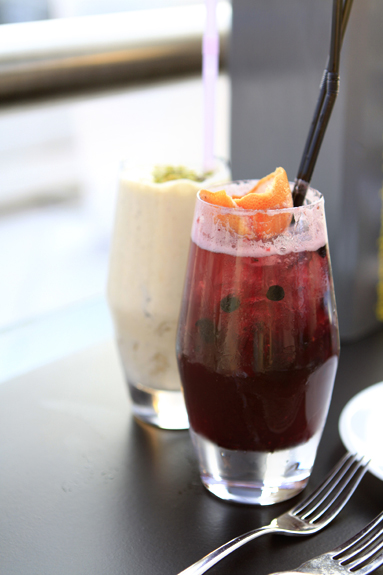 We started off with drinks for the bar's drink menu. They had pages and pages of options, and a good selection of non-alcoholic cocktails. I had one with raspberries and star anise syrup. Eric's had apricot and pistachio.
Alongside that we enjoyed an assortment of breads with tomato, feta, and oregano. I can't remember what it was called, or if it had a name, but it was basically diced tomatoes with feta, oregano, and I think some olive oil. Kind of like a Greek version of bruschetta. So yummy! I can't wait to whip that up at home.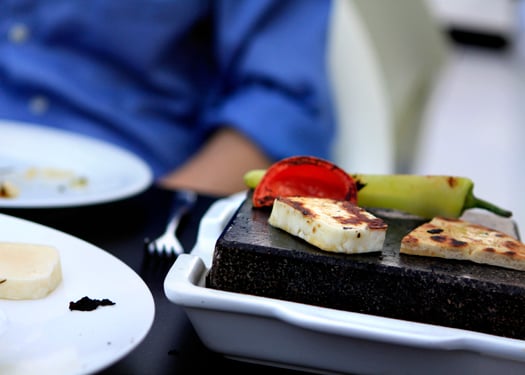 Eric and I shared two starters: an arugula salad with grilled peaches and buffalo mozzarella and Halloumi with pita wedges and vegetables that we grilled on a hot stone at our table. That was fun and Eric's new favorite cheese is Halloumi (we had some in Crete, too).
I'm going to have to keep my eyes open for Halloumi around here after finding this post on What to do with Halloumi Cheese over on 101 Cookbooks. Carrie also has a great looking recipe for Grilled Halloumi in her book Deliciously Organic.
Eric had a pasta main dish with tomatoes and pine nuts, which I wanted but didn't order since I'm allergic to pine nuts. I had a burger piled with mushrooms and served on a brioche bun. The homemade seasoned fries that came with it were great!
I kept seeing burgers and fries on all the menus of everywhere we ate while in Crete and Athens and that amused me. See more food in Athens.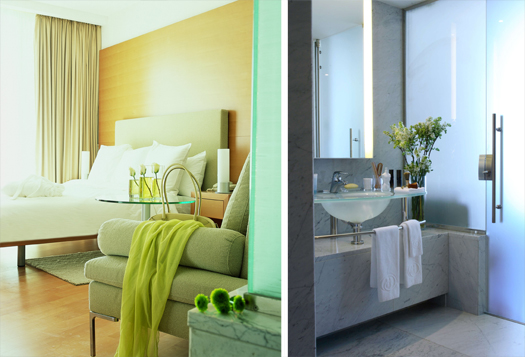 The bedroom was felt luxurious, modern and fresh. I would stay here again if we're ever lucky enough to return to Athens. We could see the Acropolis from our room window. At night it was amazing seeing all the lights of the city and the Parthenon all lit up.
If you stay here, try to get on the Executive level because it has some nice perks – a private lounge with free breakfast, afternoon snacks, and a small dinner buffet. You also have your own private front desk, which means quicker check-in and check-out.
The bathroom was equally beautiful. There was a huge tub, which I didn't get a chance to use, and a large shower with the most amazing shower head. It felt like it was raining in the shower – so relaxing!
I really appreciated the king sized bed and comfortable pillows (I distinctly remember Eric mentioning that they "weren't stingy on the pillows") after all of the exploring we did during our stay. We were beat by bedtime and quickly collapsed in bed since we knew we had a long day ahead of us.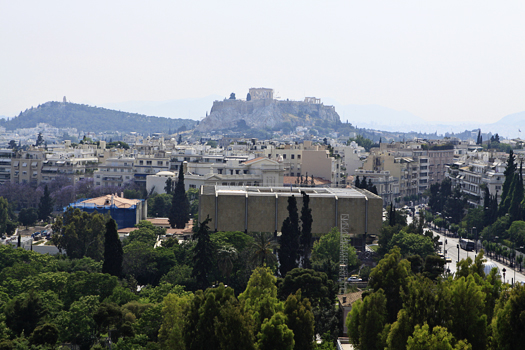 How to Tour Athens in a Day
To make the most of our walking, we took one route from the Hilton down to the Acropolis and then circled back to the hotel another way so we could see some different sites since we only had one full day. Here is what we did and saw:
Sites on the Way to the Acropolis
The Panathenaic Stadium – site of the first modern Olympics in 1896, which was reconstructed from the remains of the ancient Greek Stadium. We didn't pay to get inside, just checked it out from the outside as we walked past. [Photos]
The Temple of Zeus – an ancient Greek temple in Olympia, Greece, dedicated to Zeus. Built between 472 and 456 BCE. In 426 CE, Theodosius II ordered the destruction of the sanctuary, and earthquakes in 522 and 551 devastated the ruins, leaving the temple partially buried. The remains were identified in 1766. Excavation began in 1829. Near the temple we saw other ruins as well, including a Roman Bath House. [Photos]
Hadrian's Gate – built in the name of the Roman emperor Hadrian. It has three arched gates [Photo]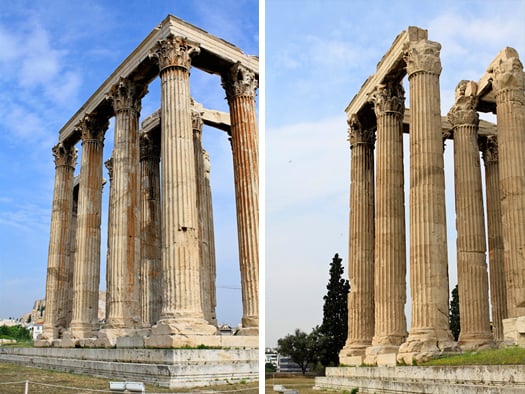 Sites at the Acropolis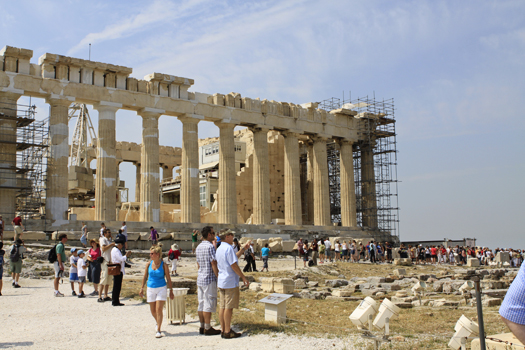 After all of that we were pretty tired and hungry (not to mention hot since the sun decided to come out late morning). We took a break for lunch at a place called Thissio Affair.
It had a great view of the Acropolis, air conditioning and WiFi. Having an internet connection was great because email was our only way to communicate with Logan and Madeline (who were staying with Grandpa) so we were able to send them a quick note about how we were and check in on them.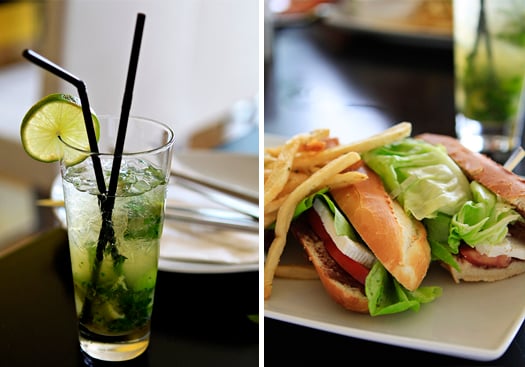 We shared a mock mango mojito, really refreshing after being out in the heat, and each had baguette sandwiches. Mine was a "traditional," which had lettuce, tomato, tapenade, and feta. YUM! We already made this sandwich at home to enjoy.
Sites on the Way Back to the Hilton
Temple of Hephaestus – This is one of the best preserved ancient Greek temples, located at the north-west side of the Agora of Athens. This temple served as theGreek Orthodox church of St. George Akamates from the 7th century until 1834. Hephaestus was the patron god of metal working and craftsmanship. [Photos]
Ancient Agora of Athens – Also known as the "Forum of Athens." One of the best-known example of an ancient Greek agora. Peisistratus may have lived on the agora himself, but in the 6th century BC he removed the other houses, closed wells. It became the center of Athenian government. Also contained drainage systems, fountains, and temples to the Olympian gods. [Photos]
Stoa of Attalos – This is a complete modern reproduction of the original. The Stoa of Attalos houses the Museum of the Ancient Agora. The museum includes clay, bronze and glass objects, sculptures, coins and inscriptions from the 7th to the 5th century BC, as well as pottery of the Byzantine period and the Turkish occupation. We didn't go inside, but outside we saw several status including: Aphrodite, the Head of Nike, Illiad, etc., and more that I didn't take pictures of. [Photos]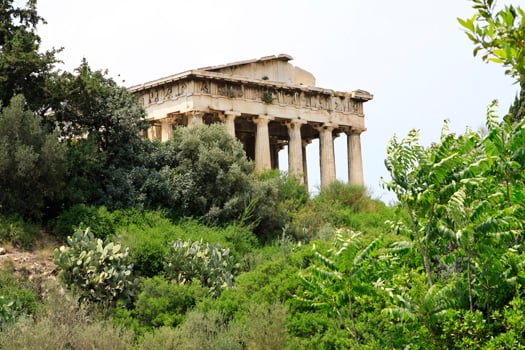 After seeing all of this we decided we had seen enough columns, statues and ruins. We browsed around for some souvenirs to take home to the kids before heading back to the hotel.
On the way back we passed through Parliament House (just the outside), a park, a got a second view of the The Panathenaic Stadium, which was less cluttered with tourists than in the morning.
My feet were DONE for the day! Eric had his pedometer with him and he said we walked about 6-8 miles that day with everything we saw. We knew we only had one full day there so we tried to cram in as much as possible.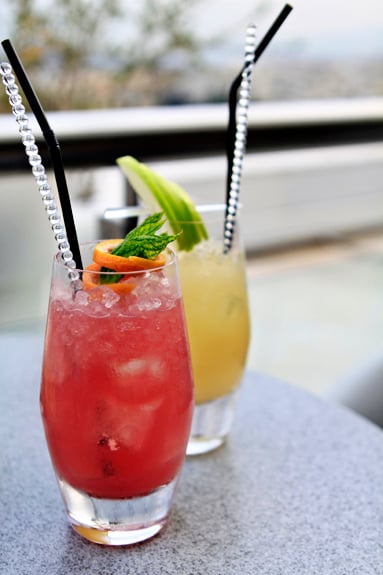 We just snacked for dinner because we weren't very hungry, put our feet up and enjoyed some drinks at the Galaxy back at the hotel and then crashed in our bed. The next morning we were on our way to the airport to head back home.
There you have it! It is possible to tour Athens in a day and hit the most important sites. What a whirlwind trip we had in Athens! It was such an amazing time and hope to go back again some day so we can spend a little more time and see some of the things we missed out on.
See my entire collection of photos here: Visiting Greece.
Thank you to the Hilton for their wonderful hospitality, clean and comfortable rooms, and delicious food. Hilton provided the complimentary hotel stay, but all opinions and experiences are my own.