Pineapple Chicken Quinoa Salad
I recently committed myself to eating gluten free for a few months. I don't have a gluten intolerance, but I wanted to cut back on wheat and challenge myself to eat a little healthier. It was a good experience over all and for the most part it was easy to do. The only time I really missed gluten was at lunch time when there wasn't a sandwich to eat.
During the day, when it's just me and my toddler, sandwiches are the easiest lunches. She likes peanut butter, I like almost everything you can think of smacked between two slices of delicious whole grain bread. So, adjusting to sandwich-free lunches was a little bit tricky. Then, I discovered this Pineapple Chicken Quinoa Salad, and suddenly I was looking forward to lunch once again.
This salad is easy to make, especially if you have rotisserie or canned chicken on hand. It's also hearty enough to keep the hunger pangs at bay for the rest of the day. Best of all, it is a really healthy, nutrition packed meal. You could also easily serve it as a side dish with dinner or even a light main course. It combines all the best flavors and textures with crunchy nuts, sweet dried pineapple, and fluffy quinoa, for a unique one dish meal.
You can eat this as is, but yesterday I put the chilled leftovers from this salad into a lettuce wrap and ate it for lunch and it was delicious that way too!
What is your favorite way to eat Quinoa?
Pineapple Chicken Quinoa Salad
Yield: 4 servings
Prep Time: 5
Cook Time: 15
Total Time: 20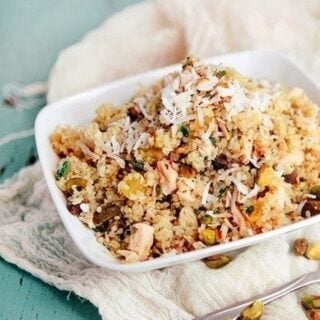 Ingredients:
1 1/2 cups water
3/4 cup uncooked quinoa, rinsed
1/4 cup shelled, chopped pistachios
2 cups cooked chicken breast, chopped (canned or rotisserie works well)
1/3 cup chopped green onions
1/3 cup chopped dried pineapple
1/3 cup flaked, unsweetened coconut
1 tablespoon toasted sesame oil
3/4 teaspoon ground ginger
1/2 teaspoon ground cumin
1/2 teaspoon salt
1/4 teaspoon crushed red pepper
Directions:
In a medium saucepan, bring water to a boil. Add quinoa, cover and reduce heat to simmer for 12 minutes, or until water is completely absorbed.
Transfer quinoa to a large bowl. In a small bowl, combine spices. Toss spice mixture with the quinoa and remaining ingredients until well mixed. Serve warm.
Adapted from Cooking Light