Caramelized Onion Bacon Blue Cheese Dip
Caramelized Onion Bacon Blue Cheese Dip is a revamped and homemade version of the classic onion dip. This dip has tons of flavor thanks to the addition of blue cheese and plenty of crumbled bacon. It is a perfect appetizer to enjoy while watching the Super Bowl, or any of your favorite sports on game day for that matter.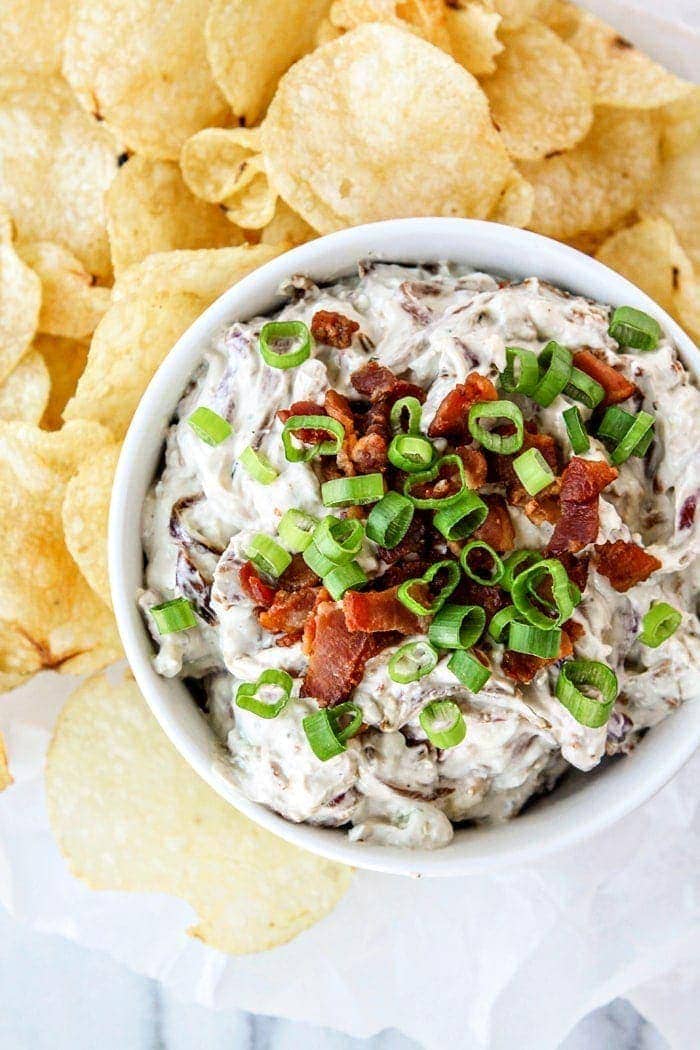 I was all set to share a new appetizer recipe in preparation for the Super Bowl this weekend (aka the day I get to hang out with the family and friends that we're having over while eating all the snack foods that I LOVE because I have the excuse of a football game).
But, when I sat down to type that recipe up today to share on the blog, I couldn't find where I had written down the actual recipe anywhere. Things like measurements for each ingredient are kind of important. So, that one will have to go back on the to-do list at a later date so that I can recreate it.
I guess that is reminder that I should be more organized and keep written notes all in a notebook rather than on random scraps of paper.
Instead, I thought I'd reshape this recipe for Caramelized Onion Bacon Blue Cheese Dip from a few years ago. It is so good! And I think it is surprisingly easy to make your own homemade onion dip – no need for mixes or store-bought varieties here.
This Caramelized Onion Bacon Blue Cheese Dip goes awesome with kettle style potato chips (my favorite!), but if you're trying to add something healthier in with the dip it also goes really great with a veggie tray.
Happy Super Bowl weekend! Stay tuned to the end of this post for tons more Super Bowl appetizer ideas!
Updated from the archives. Original post follows:
I had this awesome bag of kettle style potato chips staring me in the face. They're great served on their own but I really wanted to pair them with a dip. I had the idea in my head that I wanted to pair the flavors of blue cheese, bacon, and caramelized onions for a Caramelized Onion Bacon Blue Cheese Chip Dip, but quickly discovered that not only did I not have bacon, I was also out of sour cream and red onions.
Enter a modern day rendition of an adult "Stone Soup." Knowing that my neighbors are always happy to chip in with my recipe experiments, as long as they get to taste test the results, I made my rounds asking a couple good friends if they had any of the ingredients I needed. Of course they did, so before I knew it I was deep in recipe experimentation.
It was fun to share the little bits of the leftover recipe to share with my friends who helped me with the missing ingredients. I can't wait for the next opportunity for a get together to bring a big bowl of this to share.
Summertime picnics at the pool or evening BBQs with our neighbor friends are the perfect time to serve up a big bowl of delicious Caramelized Onion Bacon Blue Cheese Dip.
This recipe for Caramelized Onion Bacon Blue Cheese Dip pairs perfectly with a bag of kettle potato chips for scooping. I love this style of potato chip because they are crunchy and sturdy, perfect for pairing with a rich, thick dip.
This dip is loaded with red, caramelized onions, crispy bacon bits, chunks of tangy blue cheese, and a hint of fresh rosemary in a creamy sour cream base. Be sure to check out my tips on how to make your own perfect bacon bits because you are going to want them for this recipe.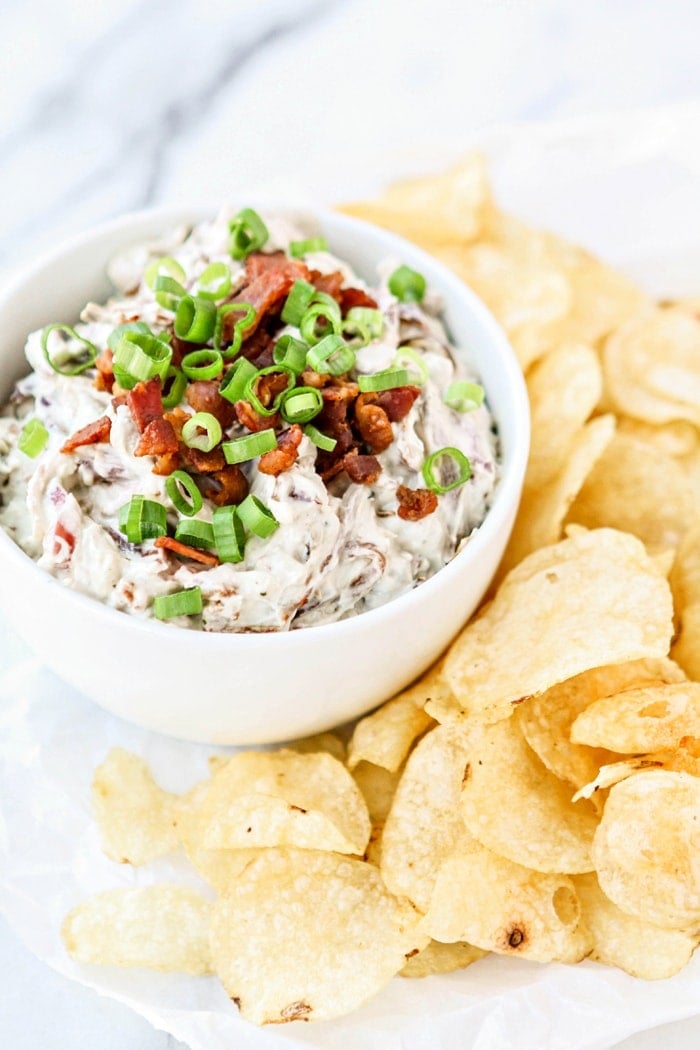 MORE SUPER BOWL APPETIZERS!
I think the best thing about watching the Super Bowl is all the awesome appetizers to go along with it. Here are a selection of my favorite game day appetizers, dips, and finger foods.
Honey Pecan BBQ Sauce Chicken Sliders feature a slider bun piled high with chopped BBQ chicken, coleslaw and chopped pecans. They're the perfect small sandwiches to serve as an appetizer.
Classic hummus is transformed into this Roasted Salsa Verde Hummus with the addition of roasted poblano, jalapeño, tomatillo, onion, cilantro, and lime. Try serving it with these Smokey Grilled Sweet Potato Wedges for dipping.
Drumsticks or wings are always a win on game day. I love these Mango Habanero Drumsticks; the BBQ sauce can be used on wings or these Mango Habanero Pork Ribs as well!
If Mexican is your thing, try these Easy Baked Wonton Chicken Taquitos and serve them alongside a big bowl of 5 Minute Basic Guacamole.
How could you have a game day party without something buffalo flavored? For a unique take on a cheese ball, this Buffalo Blue Cheese Ball, featuring hot sauce, shredded chicken, celery, green onion, blue cheese, and chopped walnuts, will be a crowd pleaser.
These Ultimate Easy Nachos whip up in a pinch and make Super Bowl appetizers super simple to prepare (and serve), leaving you with more time to socialize, eat, and enjoy the game! Slow Cooker Southwestern Pulled Pork or Slow Cooker Mexican Chicken are the perfect additions to the nachos if you want to make it more of a meal.
Do you like Guacamole? Give this Deconstructed Guacamole a try for something different. It features all of your favorite guacamole elements, but in a deconstructed manner.
A loaded baked potato bar would be great with this Braised Short Rib and Bacon Chili that is easily made in your slow cooker. Find the instructions for the Perfect Baked Potato here.
Can't decide if you want Pizza or Easy Nachos? Have both with this Easy Black Bean Mexican Pizza.
Strawberry Mango Salsa and Easy Cinnamon Sugar Chips is perfect for something fresh and healthy (but still tasty!). Try it!
Last, but not least, Sweet and Spicy Rosemary Bar Nuts and Mocha Roasted Almonds are the perfect snack to have in a bowl for easy munching.
What are your Super Bowl plans?
Caramelized Onion Bacon Blue Cheese Dip
Yield: serves 4-6
Prep Time: 5 minutes
Cook Time: 20 minutes
Total Time: 25 minutes
Caramelized Onion Bacon Blue Cheese Dip is a revamped and homemade version of the classic onion dip. This dip has tons of flavor thanks to the addition of blue cheese and plenty of crumbled bacon. It is a perfect appetizer to enjoy while watching the Super Bowl.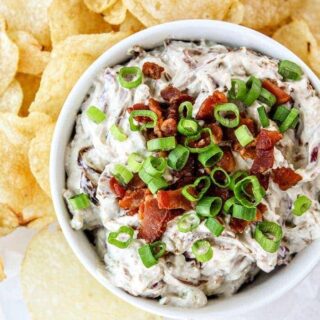 Ingredients:
2 teaspoons Olive Oil
1/2 of a Red Onion, sliced
1/2 teaspoon Balsamic Vinegar
1 cup full fat Sour Cream
4 ounces crumbled Blue Cheese
1/2 cup crumbled and cooked Bacon, divided
1/4 teaspoon finely minced Fresh Rosemary
1/4 teaspoon Garlic Powder
Salt and Black Pepper, to taste
1 Green Onion, sliced
Directions:
In a heavy bottom cast iron pan, warm the olive oil over medium heat.
Add the onions, sprinkling with salt to taste, and saute for about 10 minutes over medium heat. Then, reduce to medium low and continue to cook for 10 minutes, or until they tender and golden, stirring the mixture every 5 minutes.
Stir in the balsamic vinegar. Remove from heat and set aside to cool.
Meanwhile, combine the sour cream, blue cheese, bacon (reserve 1 tablespoon for garnish), rosemary, and garlic powder. Stir in the cooled caramelized onions. Season to taste with salt and pepper.
Transfer the dip to your preferred serving bowl. Garnish the top with the sliced green onion and reserved bacon.
Serve with kettle style potato chips or a veggie tray.
Notes:
This can be made a day in advance and stored covered in the refrigerator. Reserve the garnishes until just before serving so they stay fresh looking.