Creamy Strawberry Lemonade Popsicles
It is finally starting to feel like summer here in Colorado! We have had a lot of rainy days lately, but they seem to be slowing down and the temps are rising. We've enjoyed a few days out on the water at Boyd Lake, relaxing on the boat and even doing a little tubing.
With the warmer temps, I want to make popsicles for afternoon snacking. I was reminded of these Creamy Strawberry Lemonade Popsicles, which were one of our favorite recipes to make a few years back. We will definitely be picking up the ingredients during our next stop to the grocery store, and hopefully experimenting with a few new recipes this summer, too.
(Updated from the archives, originally published Aug. 6, 2012.)
Popsicles have been our dessert this summer. The month of July has had us experimenting with new recipes every other day.
The favorite so far have been these Creamy Strawberry Lemonade Popsicles. It is easy to see why. We have always been a big fans of Strawberry Lemonade. We love creamy yogurt and vanilla flavors. Combine those all together in one popsicle and you have a winner for sure!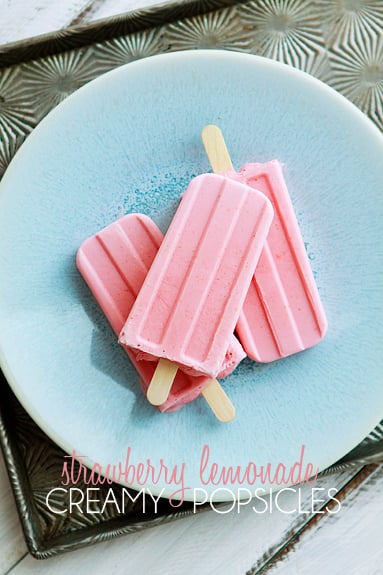 I love my new Popsicle Mold because it is super cute and of course reusable. If you don't have a popsicle mold, no worries. Just take a dixie cup, fill it 3/4 of the way full with the popsicle mixture, cover the top with foil, and insert a stick in the middle.
What I love most about making popsicles for dessert is there is minimal clean-up and no oven to preheat.
Because my kids are often impatient about waiting for dessert to be ready, popsicles are ideal because I can easily make them plenty in advance and they won't get dried out like our favorite Simplest Homemade Fudgy Brownies.
Tips for Storing Homemade Popsicles
We like to have a few flavor options stashed in the freezer to choose from. By removing the popsicles from the popsicle mold it frees up the Popsicle Mold so we can make another flavor before the ones we just made are all gone.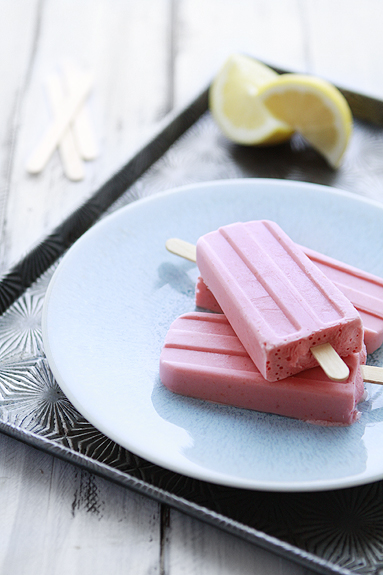 How do you store homemade popsicles? It is easier than you might think!
1. Prepare popsicles according to the recipe instructions.
2. Remove the popsicles from the mold, if using one. Warm water run along the outside of the mold will help dislodge any stubborn popsicles from the container.
3. The popsicles might be slightly softened after removing, especially if you had to run warm water on the outsides of the mold.
Place them on a parchment lined cookie sheet or other freezer-safe flat surface. Re-freeze the popsicles for 5-15 minutes, until they are completely hard again.
4. Remove the popsicles from the freezer safe sheet and place them in a freezer zip top bag that has been labeled with the flavor and the date. Try this quick tip from Jessica for removing air from storage bags to prevent freezer burn. Store for up to a month, if they last that long!
Note: For popsicles made in dixie cups, just stash the popsicles in the dixie cup in a labeled freezer zip top bag. Then remove the cup before eating.
More Popsicles for Summer
Fruit Punch Popsicles with Coconut Water are light and refreshing. I love the extra punch (no pun intended) of nutrition thanks to the coconut water.
Blueberry Smoothie Pops are a fun and different way to enjoy a smoothie.
For an incredibly delectable treat, try these Mint Chocolate Cheesecake Popsicles.
Pomegranate, Raspberry, and Nectarine Popsicles are another option when you're craving something like, fruity and fresh.
For a chocolate covered popsicle, try these Chocolate Covered Blood Orange Popsicles. You're just prepping a quick, homemade magic shell to cover already prepared (or store bought) popsicles in.
What is your favorite summer dessert?
Creamy Strawberry Lemonade Popsicles
Yield: 12 popsicles
Prep Time: 10 - 15 minutes
Total Time: 4 - 6 hours, including freeze time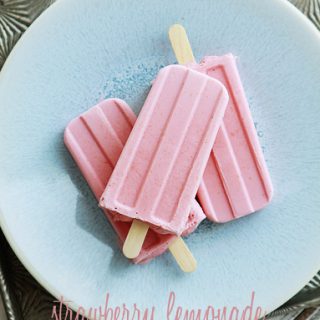 Ingredients:
12 oz fresh or frozen strawberries
zest of 1 extra large Lemon
juice of 1 extra large Lemon
1/3 cup Organic Cane Sugar
6 oz Cream Cheese
6 ounces Vanilla Greek Yogurt
1 teaspoon Vanilla Extract
Powdered Sugar, if needed, for adjusting sweetness to your preference
Directions:
In a saucepan, combine the strawberries, lemon juice, lemon zest and organic cane sugar. Cook over medium heat, stirring periodically, for about 5 - 10 minutes, or until they are soft and the juices are bubbling.
Pour the strawberry mixture into a powerful blender, such as a Blendtec Blender, and puree until very smooth. I ran the "whole juice" pre-programmed functioin on my blender.
Add the remaining ingredients: cream cheese, vanilla greek yogurt, and vanilla extract. Puree until smooth. Taste and add powdered sugar if needed to adjust sweetness. If the sweetness is to your preference, then omit any extra.
Pour the mixture into the popsicle molds. Place popsicle sticks in the center and freeze, 4 - 6 hours, or until the mixture is frozen solid. Some popsicle molds might take longer than others depending on the shape, size and thickness of the popsicles.
Notes:
Tools Used:
Medium Saucepan
Popsicle Sticks