Easy Honey Mustard Baked Chicken
This Easy Honey Mustard Baked Chicken is one of our favorite recipes. Chicken Tenderloins are baked in a sweet and savory honey mustard sauce with sprigs of fresh rosemary.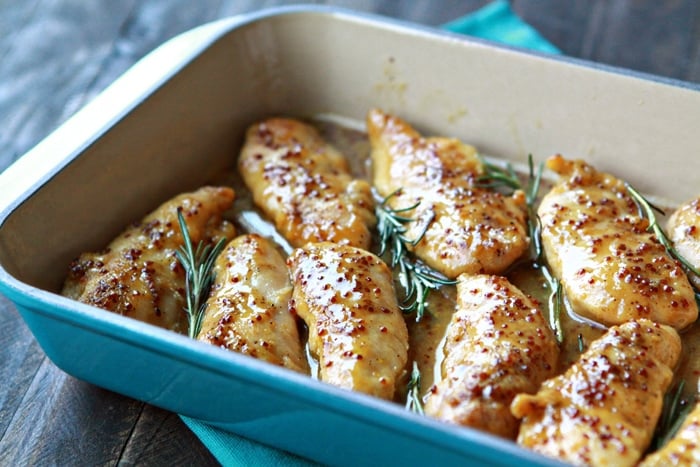 I first shared this recipe 3 years ago, and it has become one of the most popular recipes here on Good Life Eats, and in my home – all 4 kids and husband approved!
Recently, I took the concept of this recipe and adapted its simplicity with some different flavors to create this Chili Marmalade Baked Chicken.
Original Post: Published March 28, 2013:
You are going to go nuts when you eat this recipe for Easy Honey Mustard Baked Chicken and realize that I've been holding this in my back pocket since well before Christmas.
This simple, no-fuss, delicious recipe for Easy Honey Mustard Baked Chicken has been made over and over again and is a seriously hot commodity in our house.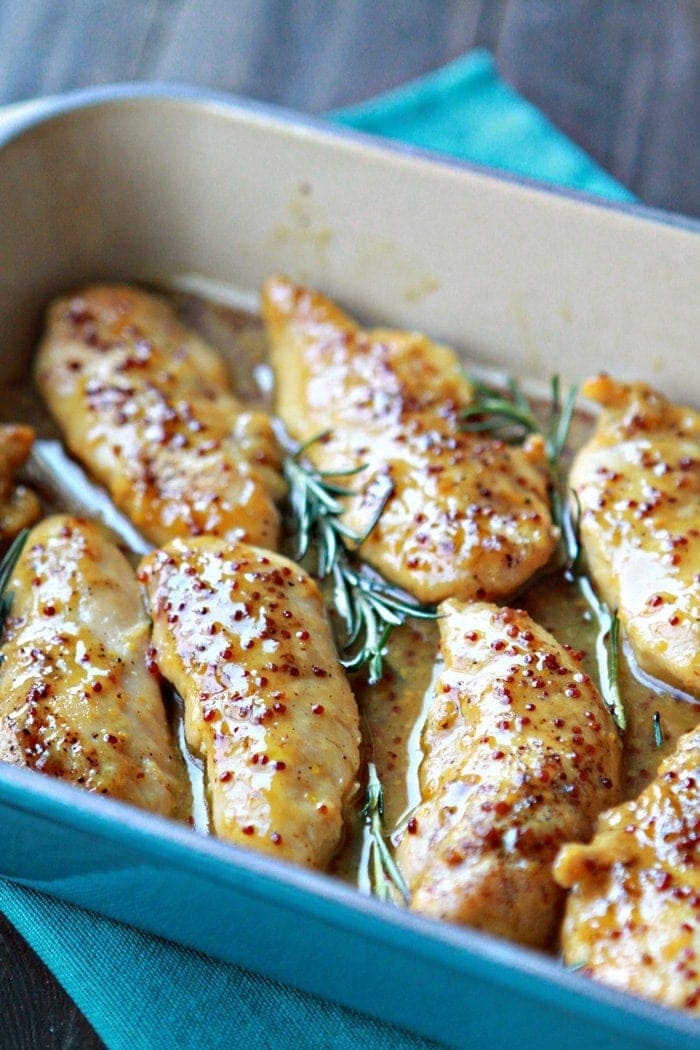 I have made this recipe almost every time we've had company for dinner in the last few months. Everyone loves it and wants the recipe.
No one realizes how simple it is to prepare because it tastes so much better than simple.

My dad quite literally spooned out the leftover sauce from the pan to have a few more tastes before he washed the pan for me.
(Now when I do something like that I refer to it as "Pulling a Dad." Love you, Dad! I know you are reading this.)
We had this Easy Honey Mustard Baked Chicken over Christmas paired with Erica's Smashed Potatoes with Parmesan Herb Gremolata and Roasted Broccoli.  
This recipe for Easy Roasted Cauliflower also pairs well if you prefer cauliflower to broccoli. Another potato recipe that we like to serve with this Easy Honey Mustard Baked Chicken is Cream Cheese Chive Duchess Potatoes. 
The delicious savory, sweet chicken in sticky honey mustard sauce served alongside the potatoes and broccoli was a welcome meal in the bellies of all of my visiting family after a long day snowmobiling out in the cold.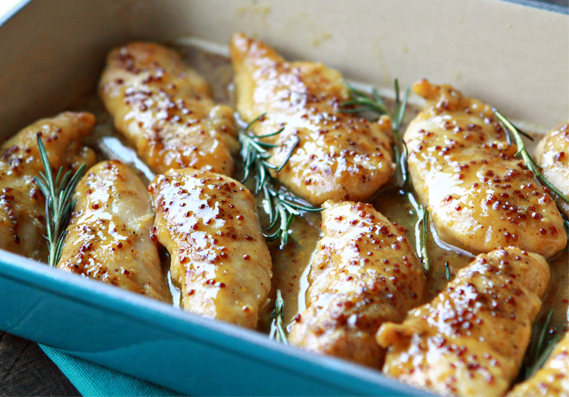 Easy Honey Mustard Baked Chicken rescues me time and time again when I want something good for dinner but I don't really have a lot of time (or ingredients) on my hands.
All you need is honey, dijion mustard, coarse mustard, chicken tenderloins or thighs, and a few springs of fresh rosemary.
When I have a few extra minutes I sauté a half an onion and a few cloves of garlic before adding the rest of the ingredients to the pan (I like to use my Le Creuset Roaster to bake in).
I've subbed thyme for rosemary when that is what I had on hand instead.
I've used pork chops instead of chicken. No matter what, it is always good and no one seems to be getting tired of it.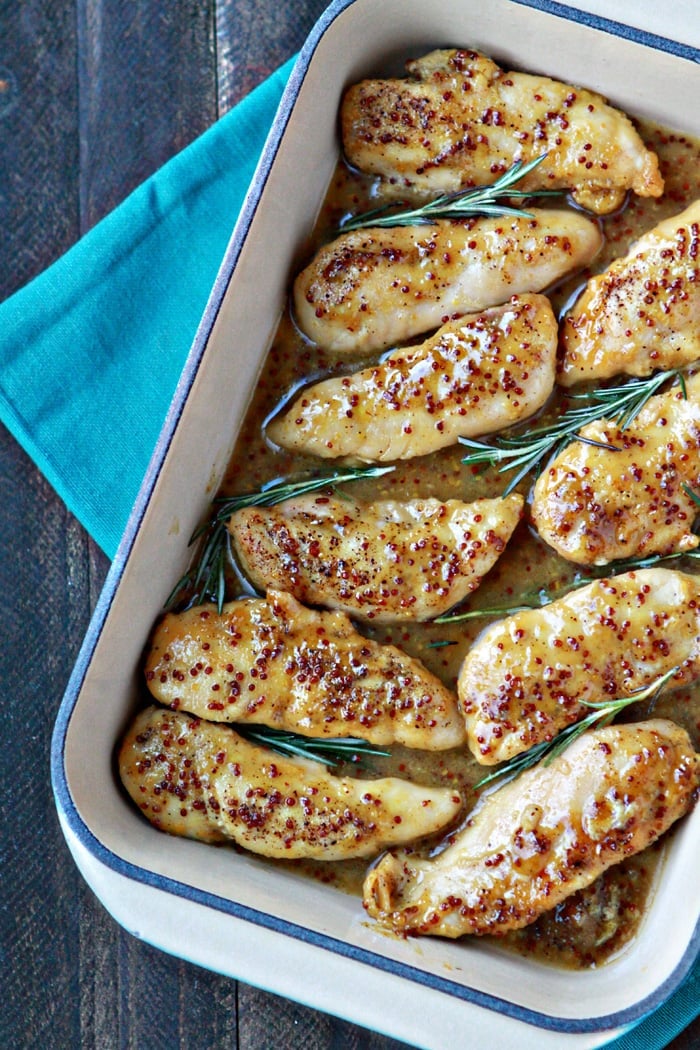 Just when I worry that I've made this recipe too many times and too close together, my sister exclaims "Yes! Honey Mustard Chicken!" as she spots it on the table.
Even Logan and Madeline love it – finding something for dinner that everyone loves, including 2 kids, can be a bit of a challenge at times.
It is indeed a keeper.
I only wish I had more recipes like this Easy Honey Mustard Baked Chicken that were this easy and this good to keep in my back pocket for busy evenings.
What are your go-to easy and amazing dinner recipes?
Easy Baked Honey Mustard Chicken
Yield: serves 8
Prep Time: 10 minutes
Cook Time: 50 minutes
Total Time: 1 hour
Chicken Tenderloins are baked in a sweet and savory honey mustard sauce with sprigs of fresh rosemary.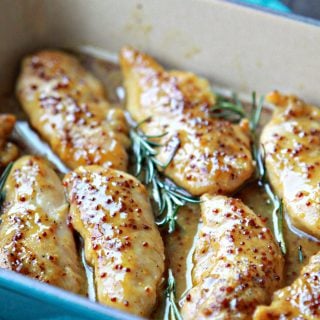 Ingredients:
1/4 cup of grainy, course mustard

1/4 cup smooth dijion mustard

1/2 cup honey

3 teaspoons extra virgin olive oil

1/2 of a small yellow onion, diced

2 cloves garlic, minced

2 1/2 pounds boneless skinless chicken tenderloins

salt and pepper

3 - 4 small sprigs of fresh rosemary
Directions:
In a small bowl, combine the mustards, honey, and 2 teaspoons of the olive oil.
In a sauté pan or cast iron skillet, add 1 teaspoon of olive oil.
I like to use my Le Creuset Enameled Cast-Iron 3-1/2-Quart Round Braiser for this because this piece can be used for the whole recipe and go from stove to oven to table. Add the onion and sauté over medium heat until golden and tender, about 5 minutes. Add the garlic and sauté for an additional 1 - 2 minutes, until fragrant.
Place the chicken tenderloins on top of the onion and garlic mixture, or if the pan you cooked the onion and garlic in is not oven safe, transfer the onion and garlic to an oven safe dish and add the chicken to it. Salt and pepper the tops of the chicken according to your personal preference.
Pour the honey mustard mixture on top of the chicken. Arrange the rosemary sprigs around the chicken in the pan.
Bake the chicken covered at 400 degrees F for 20 minutes. Then remove the cover, baste the chicken with the sauce, and continue to cook for an additional 20 - 30 minutes uncovered, or until the chicken is browned on top and cooked through.
Notes:
Chicken thighs also work well. I prefer boneless skinless thighs, but you can use bone-in or skin-on if you prefer. I have also used pork chops, but I brown both sides of the chops first before baking.
Having a really busy or lazy day? Skip the onion and garlic steps completely. Just stir the honey, mustards, and all 3 tsp of olive oil together. Proceed with the rest of the recipe.
Calories per serving: 255