Kitchen Tip: How to Make Non-Stick Foil at Home
Is there anything more annoying than pulling a delicious, baked casserole out of the oven and removing the foil off of the dish to find only to find that that half of the cheese (or more) has stuck all over the foil?
You could do what I've done many times in the past and purchase special Non-Stick Aluminum Foil. Or you could use this little kitchen trick that I figured out one day when I was preparing a pan of Manicotti Primavera and found that I was all out of the store-bought Non-Stick Aluminum Foil.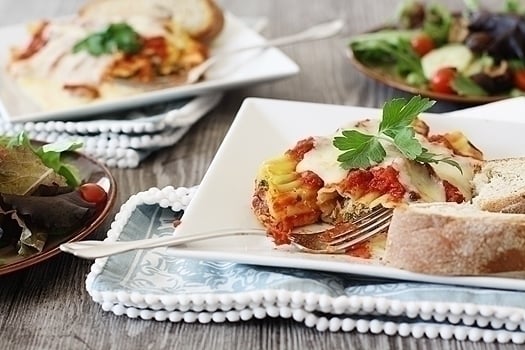 Instead I combined two products that we probably all have in our kitchens to make my own Non-Stick Aluminum Foil: PAM Cooking Spray and plain old foil. And guess what? It worked!
How to Make DIY Non-Stick Foil at Home
This is really an incredibly simple kitchen hack that only takes like 3 steps, but I've detailed it out so you're sure to know what to do in the event that you decide to give it a try at home..
Assemble your casserole in your preferred pan according to recipe instructions.
Top the prepared casserole with large quantities of gooey, sticky cheese as directed in your recipe instructions.
Tear a sheet of foil to fit your pan's specified size.
Spray the underneath side of the sheet of the aluminum foil with PAM Cooking Spray – spray only the side that will touch the cheese.
Cover the dish with the prepared aluminum foil, laying the cooking spray greased side facing down towards the food.
Bake the casserole according to recipe instructions.
Remove the casserole from the oven after it has finished baking.
Lift the sheet of aluminum foil and be amazed that there is very little or no cheese stuck on the foil.
Yummy Ooey Gooey Cheesy Recipes to Try
Do you have an all-time favorite kitchen hack or tip?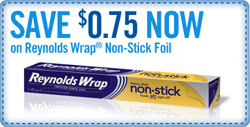 In the event that you decide to purchase Non-Stick Aluminum Foil, at least take advantage of this printable coupon to save $0.75 on Reynold's Wrap Non-Stick Aluminum Foil.
This is NOT a sponsored post. I simply mentioned brands that I use or have used in order to illustrate a relevant kitchen tip.