Marinated Olives with Garlic, Thyme and Rosemary
I'm off for a quick trip to San Diego. I hope you enjoy this tasty recipe for Marinated Olives with Garlic, Thyme and Rosemary and beautiful photos from Sylvie of Gourmande in the Kitchen while I'm away. I think they look perfect for simple holiday entertaining. Welcome, Sylvie!
When you are hosting a dinner party, it's tempting to overextend yourself making a variety of appetizers, but usually a few little nibbles before dinner are all you need. One of my favorite things to serve when having cocktails before dinner is olives.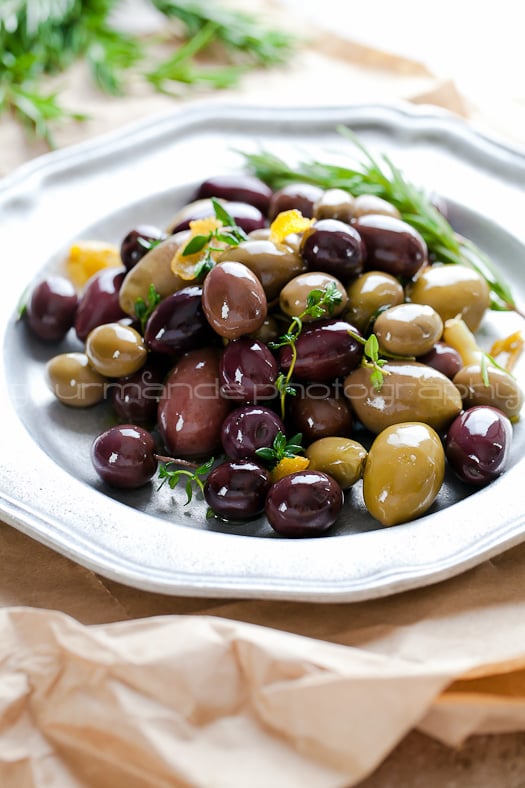 It doesn't take much to transform good olives into great ones. With just a little olive oil, some crushed garlic, aromatic herbs and lemon peel you have an easy make-ahead appetizer for entertaining.
Choose a variety of good quality olives, favoring high quality un-pitted olives over lower quality pitted ones. An assortment of olives is what you are after: large and small, green and black.
Fragrant thyme and rosemary lend a complex flavor and aroma to the salty olives that is intensified by the pure bright flavor of lemon zest. For a little Provencal twist I add a shot of Pastis (anise-flavored liqueur) to mine for a delicate and subtle anise flavor.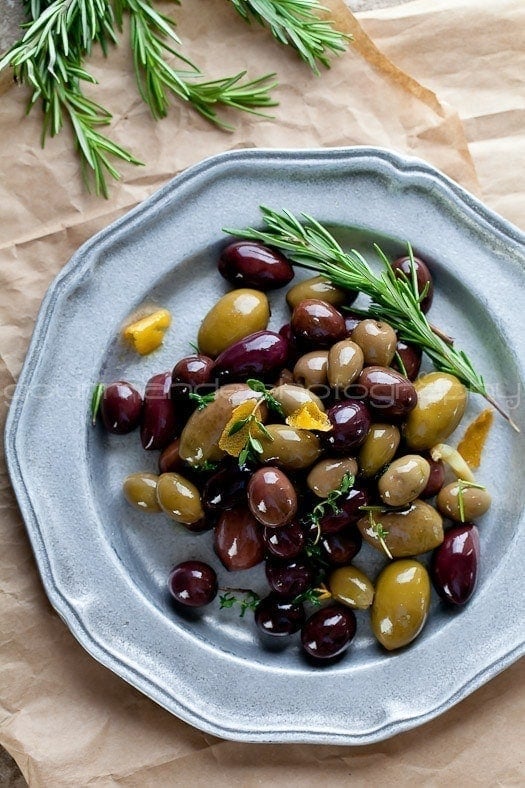 The olive oil is gently heated until the garlic turns golden and the rosemary and thyme release their fragrant oils. The mixed olives are stirred in and left to marinate in the herb and oil mixture becoming more flavorful with time.
This recipe can easily be doubled and the olives stored in the refrigerator for up to 2 weeks. Make a few batches to serve, to gift or eat straight from the jar. Make sure to save the leftover infused olive oil for dipping bread.
NOTE: Remember to put out a small dish so guests have a place to put the pits.
What are your favorite appetizers to serve at parties?
More Entertaining Ideas:
Marinated Olives with Garlic, Thyme and Rosemary
Yield: 4 servings
Prep Time: 5 minutes
Total Time: 5 minutes, plus 24-72 hours to marinate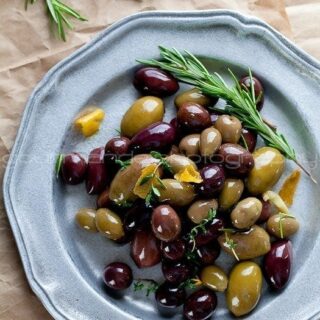 Ingredients:
60ml / 1/4 cup extra virgin olive oil
2 garlic cloves, peeled and smashed
3 sprigs of fresh thyme
1 sprig of fresh rosemary, leaves removed from the stem
Peel of half a lemon, cut into thin strips
10oz / 285g mixed olives
15ml/ 1 Tablespoon Pastis (or alternatively add 1/4 tsp dried fennel seeds with the other herbs to the oil)
Directions:
In a medium skillet, heat the olive oil, garlic, thyme, rosemary and lemon peel over medium-low heat for about 2 to 3 minutes until the garlic and herbs become fragrant.
Add the olives, toss to coat and gently heat until warmed through. Add the Pastis and take off the heat.
Transfer to a jar to cool, then cover and refrigerate for 1 to 3 days to marinate if not using immediately.
Remove jar from refrigerator an hour or two before serving and bring to room temperature.
Alternatively, gently re-heat the olive mixture in a small saucepan over low heat until warmed through and serve. Scoop the olives into serving bowl and drizzle a bit of the warmed oil over the top.
About the Author: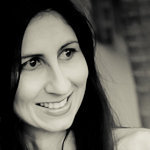 Sylvie Shirazi is a freelance food photographer and food writer. On her blog, Gourmande in the Kitchen, she celebrates the joy that food brings to our lives every day.
Her motto is "cook simply." She believes that good food isn't fussy or pretentious; it's simple, it's real and it's made with love for those we love. Through her blog, Sylvie hopes to inspire others to follow their instincts, trust their taste buds, and find a sense of confidence in the kitchen.