Pomegranate Salsa a Seasonal Salsa Recipe for Winter
Homemade salsa is one of my favorite snacks. But how do you make tasty homemade salsa in the winter?  
My mind was wandering the produce aisle looking for a wintery red substitute for tomatoes. And there was my aha! moment. Pomegranates.
Their rich red color seemed and excellent substitute for tomatoes.  I would create a pomegranate salsa recipe.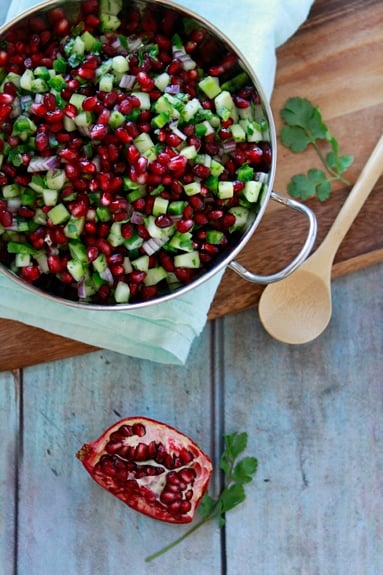 Have you ever though of using a pomegranate for salsa?
I usually just eat a pomegranate by removing all of the arils and placing them into a bowl. Then I enjoy scooping them up with a spoon and eating bite after bite of juicy goodness.
Sometimes I add them to a bowl of yogurt and granola, to a salad, like this Butternut Squash and Pomegranate Salad, or I use the juice to make Spiced Pomegranate Apple Cider.
But I have definitely never tried pomegranates in salsa before.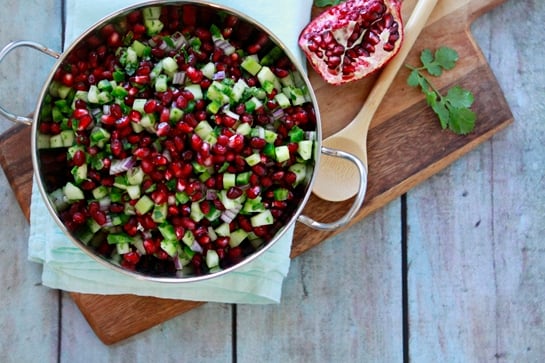 Pomegranates are a particularly attractive winter produce to me.
Not only because the pomegranate fruit makes me forget we are in the midst of winter with it's bright juicy arils, but also for their amazing health benefits.
The Health Benefits of Pomegranates
Source of many essential nutrients, such as: Vitamins C and K, fiber, folate, copper, phosphorous, and potassium.
Powerful antioxidants; they offer anti-cancer , alzheimer prevention, and cardiovascular health benefits – may improve healthy cell survival, induce cancer cell death, and prevent tumor growth. (The American Journal of Clinical Nutrition, January 2005)
Contain Anthocyanins which have anti-inflammatory, antiviral, and antimicrobial properties.
Anti-inflammatory properties encourage radiant, youthful skin when incorporate into skin care products.
Pomegranates are obviously the star of the show in this recipe, but this winter salsa recipe also boasts cilantro, jalapeño for a little heat (adjust it to your liking), red onion, a hint of lime, and diced cucumber.
It kind of looks a little bit like Christmas salsa with all the red and green. And it tastes even better than it looks.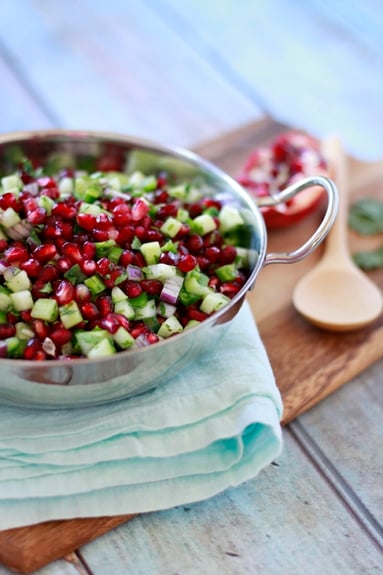 Now, I know cucumbers aren't in season, but they are a vegetable that doesn't seem to have as degraded quality during the off season and their flavor is a great match for that of pomegranates.
If, however, you want to keep things even more true to winter, you can omit the cucumber completely or try substituting diced celery or fennel for some color contrast.
Recipe Preparation Tips:
For super quick preparation, try POM Wonderful's ready to serve POM POM Fresh Arils.
Serve scooped and eaten with chips, on top of a plate of greens for a tasty salad, over grilled meat or fish as a relish, or tossed your favorite grain, such as quinoa, for a side dish.
What is your favorite way to eat a pomegranate?
Giveaway:
Pomegranate Winter Salsa
Yield: about 4 cups
Prep Time: 10 - 15 minutes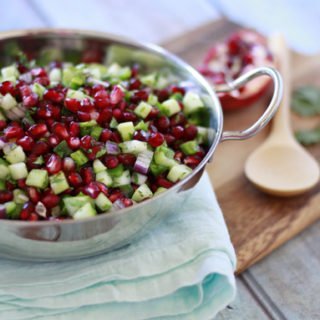 Ingredients:
2 1/2 cups pomegranate arils
1 1/3 cup diced cucumber - seeds removed
1 - 3 jalapeños, seeds removed and minced
1/4 - 1/3 cup finely chopped cilantro
1/3 cup diced red onion
squeeze of half a lime
Directions:
Combine all of the prepared ingredients in a bowl, starting with using only 1 jalapeño. Stir to combine. Test for heat preference and add additional jalapeño if desired.
Notes:
Choose your Heat Preference:
1 jalapeño = mild salsa
2 jalapeños = medium salsa
3 jalapeños = hot salsa
Tip for Dicing Cucumbers:
Cut cucumbers down the middle lengthwise. Scrape out all of the seeds and discard. Then, dice the remaining cucumber.
Disclosure: POM Wonderful has compensated for my time and provided coupons for POM POM Fresh Arils to create my recipe. However, all experiences contained in this post are my honest opinion.