Rosemary Beer Brined Smoked Turkey
Brining a turkey in this Rosemary Beer Brine will tenderize the meat and infuse it with a TON of flavor for Turkey Day!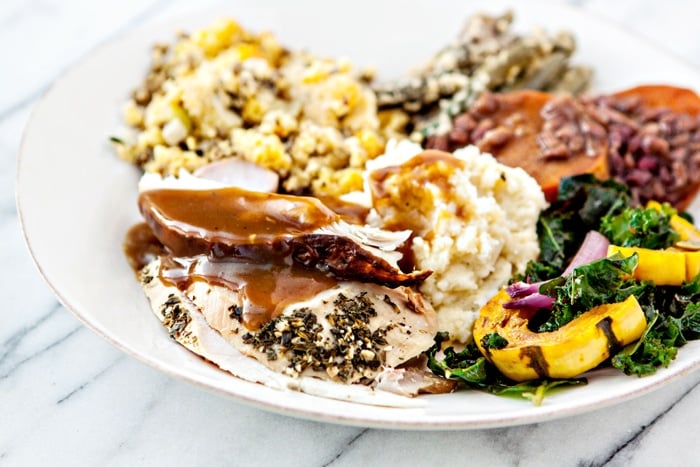 I mentioned in my Browned Butter Parmesan Mashed Potato recipe the other day that Kevin and I will be traveling to Alaska for the opportunity to celebrate the Thanksgiving holiday with some of the soldiers (and their families) that are under his command.
I've still got lots of great, new Thanksgiving recipes to share with you to help you prep for your holiday celebrations! One of those recipes is this Rosemary Beer Brined Smoked Turkey.
Don't worry, if you don't have a smoker you can make a Roasted Rosemary Beer Brined Turkey instead.
Either way will taste great, the main point is how delicious this Rosemary Beer Brine will make your turkey. Also? It makes AMAZING gravy! (Check out my tips for How to Make Gravy with No Lumps)
I first made this turkey recipe a few years ago when I was hosting Thanksgiving in my old house with a group of neighbors.
We made it again last year for Thanksgiving and we used the brine recipe this summer for our anniversary party – we used turkey breasts for that and served the meat (along with smoked brisket) with pretzel slider buns and lots of yummy sides.
The point is, this Rosemary Beer Brined Turkey has been on a pretty solid rotation in our house and everyone loves it. For our party this summer, the meat was gone in what seemed like about 10 seconds because everyone was going crazy for it.
To go with this recipe, I have lots of tips for you below if you've never brined a turkey before. Any questions? Feel free to leave comments here and I'll try to respond with answers.
I will be away from the computer a few days before Thanksgiving and likely won't be on at all on the actual holiday, so please leave any questions ahead of time since I won't be at home. I often get A LOT of day of requests for assistance, and as much as I want everyone to have turkey success, I can't always answer in time.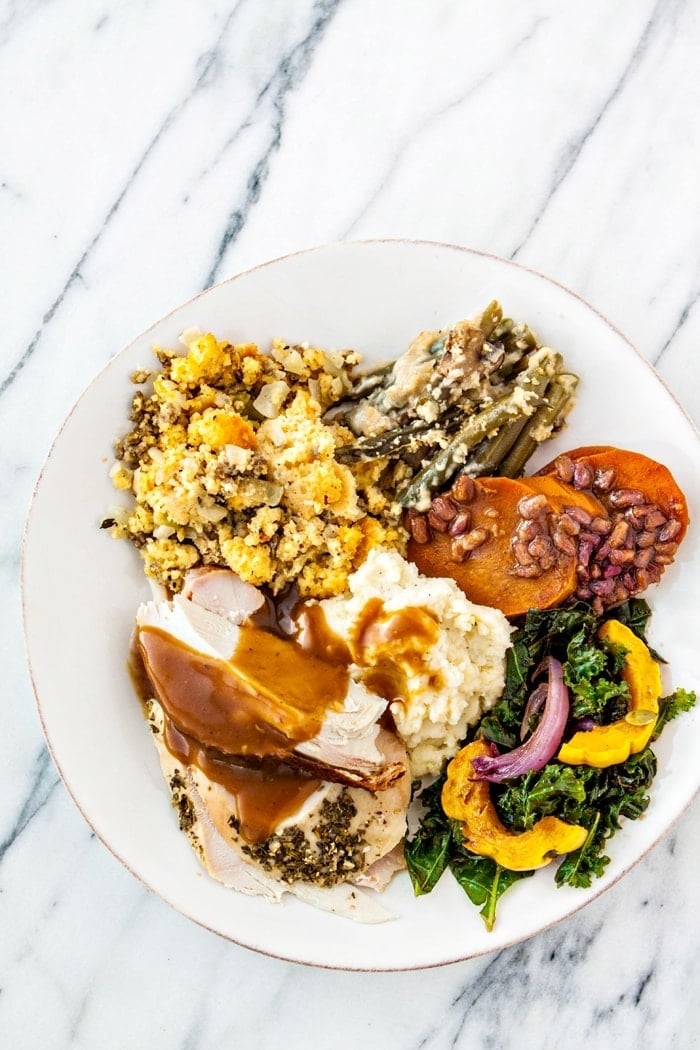 TURKEY BRINING DO'S AND DON'TS
Brining might sound complicated and lengthy, but once you get the hang of it the process is really not difficult. There are a few rules you should know about before you attempt brining a turkey.
USE A FRESH, UNSALTED TURKEY.
Many frozen turkeys that are available in today's markets come pre-brined in a plain salt water solution. Additionally, a turkey labeled as "kosher" will already be salted as they've been farmed, slaughtered and prepared according to Jewish customs.
Brining a turkey with this Rosemary Beer Brined Turkey in these situations would result in an incredibly salty turkey, which is not ideal.

You'll want to look at the label before purchasing your turkey. I usually have the best luck at natural food grocery stores, or ordering a "fresh" turkey from my grocery store.
KEEP THE PROPORTIONS OF THE RECIPE.
If you need a larger or smaller amount of this Rosemary Beer Brined Turkey, depending on the size of your bird, you will need adjust all of the ingredient amounts in the recipe.
Unfortunately, that means that basic algebra was not left behind in middle school.
For example, all of the ingredients in this Rosemary Beer Brined Turkey recipe would need to be cut in half if you needed half the amount (such as if you're roasting a turkey breast, a very small bird, or a couple of chickens) – not just the liquid.
STORE SAFELY AND AT THE PROPER TEMPERATURE.
I prefer to place my turkey with the Rosemary Beer Brined Turkey in a large zip-top bag.
I recommend the Ziploc Big Bags (size large or extra large) or one of those extra large hot/cold resealable grocery store bags. If the turkey is small enough, place the bagged turkey inside something to contain any leaks (such as a roasting pan or foil tray) and store in the refrigerator.
If the turkey is extra large and will not fit in your refrigerator, place the bagged turkey in a cooler or a 5 gallon bucket and surround the zipped bag with ice or frozen gel packs.
You absolutely do not add ice to the Rosemary Beer Brined Turkey as that would only dilute the ratios of salt to liquid.
Then, store the cooler wherever it is coolest – the garage, basement, or even on the back porch if temperatures are cold enough – just make sure it isn't too cold out, otherwise you'll end up with a frozen bird.
BRINE FOR THE APPROPRIATE LENGTH OF TIME.
How long you will brine your meat for largely depends on how big the piece of meat is.
A simple boneless, skinless chicken breast or a couple of pork chops don't need more than an hour. In contrast, a large 18+ pound turkey will need several hours or up to a full day to soak in the brine to fully benefit from the process. Here is a quick run down of the timing.
Brining Time Guide
Whole Turkey: 12-24 hours
Turkey Breast: 4-8 hours
Large Whole Chicken: 3-5 hours
Cornish Game Hens: 1-2 hours
What do you do if due to your schedule you need to brine the turkey earlier than 24 hours before roasting?
I suggest brining it for the 12-24 hours you need. Then, remove it from the brine and rinse it inside and out. Pat it dry with a paper towel and then store it in the fridge for up to an additional 24 hours until you are ready to roast.
After that, you can proceed to roast as you normally would without the worry of an over brined, and potentially overly salted, turkey.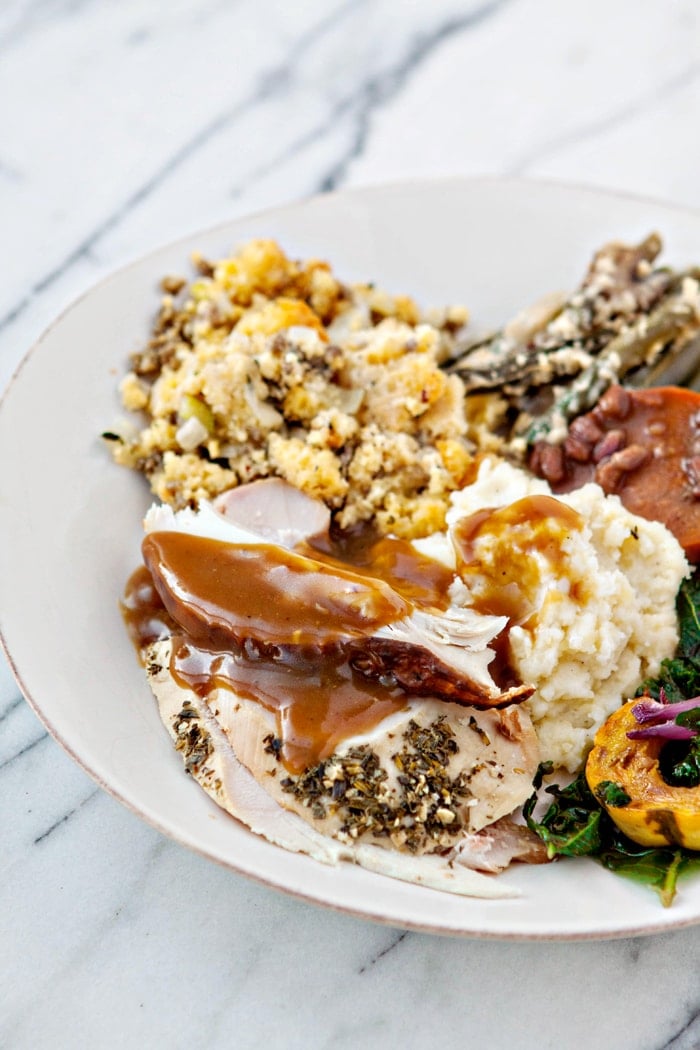 How to Cook a Rosemary Beer Brined Turkey
If you are wondering how to roast a turkey, check out my Turkey Roasting Tips to learn more about the method that I like to use to roast my turkey as well as a few hints, tips, and tricks for a moist, flavorful turkey.
For this particular brine, our favorite way to cook the turkey is to smoke it.
If you don't have a smoker, or have access to one to borrow, then roasting the turkey is completely fine and it will still taste great!
The first year I made this turkey, I didn't have a smoker, but some of my neighbor dinner guests did, so I prepared the turkey and the brine and they were kind enough to allow me to outsource the cooking to them.
The method for a Smoked Rosemary Beer Brined Turkey is pretty similar to the method in my Easy Smoked Chicken recipe:
Remove the rosemary beer brined turkey from the brine.
Rinse and pat dry, then place it on the smoker.
Insert the probe of a digital meat thermometer that is safe for BBQing into the thickest part of the breast, and smoke on 150-160 degrees F according to manufacturer instructions at 160 degrees for about 4 – 5 hours
Increase the temperature to 250 degrees F and continue to cook until the the meat thermometer registered 165 degrees F.
Remove the turkey from the smoker and let rest, loosely tented with foil, on a baking sheet for 20 minutes before slicing.
More Thanksgiving Turkey Brine Recipes and Tips
If you're looking for additional turkey brining inspiration for your Thanksgiving Menu this year, here are a few other favorite recipes. Be sure to check out the whole Thanksgiving Recipes Archive right here if you need help building the rest of your menu.
Fresh Herb Citrus Brined Turkey combines lots of fresh herbs with a subtle hint of citrus.
Brining your turkey with this Apple Cider Sage Brined Turkey before roasting will not only infuses the meat with the delicious flavors of fresh apple cider and sage, but it will help keep the meat moist and tender.
What are your turkey brining questions?
Rosemary Beer Brined Smoked Turkey
Yield: 2 gallons
Prep Time: 15 minutes
Cook Time: 30 minutes, plus brine time
Total Time: 24 hours
Brining a turkey in this Rosemary Beer Brine will tenderize the meat and infuse it with a TON of flavor for Turkey Day!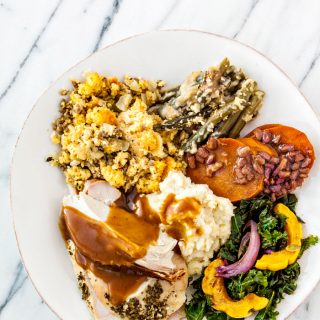 Ingredients:
2 2/3 cups Morton's Kosher Salt
1 cup Brown Sugar
1 1/2 tablespoon Whole Peppercorn
1 teaspoon Whole Allspice Berries
4 Bay Leaves
6 Stems Fresh Rosemary Leaves
6 Whole Garlic Cloves, peeled and smashed
1 Yellow Onion, peeled and quartered
10 cups Water
48 ounces Chilled Beer (Brown or Amber Ales work best)
8 pounds Ice Cubes
Directions:
Combine the salt, brown sugar, peppercorns, allspice berries, bay leaves, rosemary, garlic, and onion together in a large stock pot. Add 10 cups of water. Bring the mixture to a rolling boil, remove from heat.
After removing from heat, steep the mixture for 45 minutes. After allowing the mixture to steep, add the 48 ounces (4 - 12 ounce bottles) of beer.
Then, add in enough ice to bring the total brine amount up to 2 gallons (2 gallons = 32 cups). This is very important otherwise you will have an incredibly salty turkey.
For smaller stock pots, you may have to allow the brine to cool and add the additional amount when pouring the brine into the bag in the following step.
Place the turkey in a large zip-top bag. I recommend the Ziploc Big Bags (size large) or one of those extra large hot/cold bags you can buy at the grocery store.
Put the bagged turkey in a clean cooler or 5 gallon bucket. Pour the brine over the turkey, in the bag, making sure the breasts are fully submerged. Zip the bag closed. Place the cooler in a cool place, such as your garage or, and allow the turkey to soak in the cold brine for 12-24 hours.
Use gel ice packs or bagged ice around the zipped bag inside the cooler, if necessary, to keep the brine below 40°F. (Adding more ice directly to the brine would only dilute it.)
Alternatively, if you have room in your refrigerator, you may place the bagged turkey in a large foil tray rather than a cooler and store it on the fridge shelf.
After the brining process, transfer the turkey to a roasting pan and discard the brine. Cook according to your preferred method - we LOVE to smoke our Rosemary Beer Brined Turkeys, but roasting works well too!
Note: For a smaller turkey you may make less brine; however, be careful to do so with the original proportions of ingredient still intact. Too much salt will leave you with an incredibly salty turkey. Also, birds less than 10 pounds will likely not need to soak for the full 24 hours to achieve the desired results.
Notes:
Depending on the brand of kosher salt you use, you'll need different amounts of salt because the different brands available on the market have different densities. I use Morton's kosher salt in this recipe, however here are the conversions:
Diamond Crystal 2 cups salt per gallon of liquid.
Morton's kosher 1 1/3 cups salt per gallon of liquid.
Bringing Time Guide
16 lb. Whole Turkey: 12-24 hours
Turkey Breast: 4-8 hours
Large Whole Chicken: 3-5 hours