Spiced Pear and Pomegranate Crostini
Spiced Pear and Pomegranate Crostini are the perfect solution for simple entertaining. They look far more special than a plate of fruit and cheese, but they're really a cinch to prepare and they don't require any special serving utensils. Think of them as a little hostess cheat to keep in your back pocket.
You can try all sorts of different combinations from sweet to savory. Crostini are fun to get creative with and the possibilities are endless. This recipe for Spiced Pear and Pomegranate Crostini has diced sautéed pears and pomegranate arils in a cinnamon maple sauce with just a touch of balsamic vinegar to balance out the sweetness.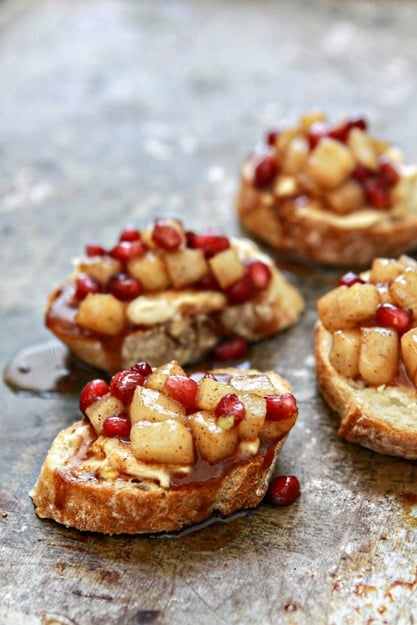 The concept of crostini is simple. Start first with thin slices of toasted baguette (brush the tops with olive oil before toasting). Then, top the toasted baguette with almost any ingredient you like.
You can add extra flavor, as well, by rubbing the tops of the toasted bread with garlic cloves or citrus. Or, try flavored olive oils, like blood orange olive oil or herbed olive oils, when toasting the bread.
Be sure to start with fresh, good bread and don't slice it too thin (or too thick). About 1/2 inch thick will work great. If it the bread is too thin it won't be able to support your delicious toppings.
Aside from entertaining, these Spiced Pear and Pomegranate Crostini make a great mid-morning snack.
More Easy Crostini Recipes:
Spiced Pear and Pomegranate Crostini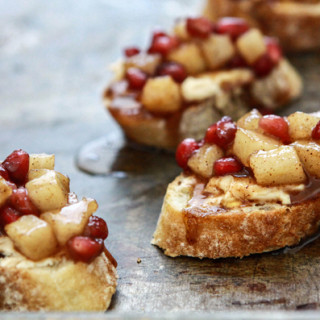 Ingredients:
2 large ripe but firm Pears, peeled and diced
1 tablespoon Butter
1/2 teaspoon teaspoon Cinnamon
1/4 cup Maple Syrup
1/2 teaspoon Balsamic Vinegar
1 cup Pomegranate Arils
1 package Laughing Cow® Smooth Sensations Cinnamon Cream
olive oil
Baguette, thinly sliced (1/2 inch thick)
Directions:
Brush the tops of the baguette lightly with olive oil. Toast the sliced baguette. Spread each generously with Laughing Cow® Smooth Sensations Cinnamon Cream. Set aside.
Melt the butter in a saute pan over medium high heat. Add the pears, cinnamon, and syrup and saute for 3 minutes, until fragrant and warm. Stir in the balsamic vinegar and pomegranate arils. Spoon fruit mixture on top of prepared baguette using a slotted spoon and then lightly drizzle the tops with a small amount of the syrup mixture. Enjoy immediately!
I am an official brand advocate for Bel Brands in 2013. While I receive compensation for participation as a brand advocate, opinions are my own.