Sun-Dried Tomato Spinach Rice Pilaf
Rice might seem like an uncreative and plain side dish, but it doesn't have to be. With a little extra effort you can go from boring rice to delicious Sun-Dried Tomato Spinach Rice Pilaf.
This recipe gets flavor from sauteed onion and garlic along with oregano, fresh chopped spinach, sun-dried tomatoes and kalamata olives, but with these simple tips below for perfect rice pilaf, you can switch it up anyway you like.
Turn this side dish into a quick meal by adding your favorite protein to the recipe. Chicken would pair great, like sliced grilled chicken, sauteed chicken breast or leftover roasted chicken.
Tips for Perfect Flavorful Rice Pilaf
Build Flavor – Add sauted aromatic ingredients like onion, leeks, carrot, celery, and garlic. This will give deeper flavor to the dish. It is important to saute these ingredients before adding the rice and liquid, otherwise there will be a raw taste. Add more flavor by using broth for the liquid in place of all or part of the water.
Toasting – Adding the rice to the pan with the aromatics to lightly "toast" the grains will firm the starches on the outside of the grain. This allows the rice to slowly absorb the liquid, which helps it keep its shape.
Liquid to Rice Ratio – I use slightly less than the traditional 2:1 ratio of liquid to rice. This is often referred to as a "scant" cup – just a little bit less than 1 cup but not quite a full 1/4 less. For 1 cup of rice I use about 2 tablespoons less than 2 cups of liquid. This keeps the rice from getting sticky and the individual grains remain separate.
Resting – Let the rice rest with the heat off, but still covered, after cooking. Any remaining liquid will be absorbed and the grains will firm up so you don't end up with sticky rice.
Color and Texture – I like to add extra color and texture to my rice pilaf by adding extra ingredients like the spinach, sun-dried tomatoes and kalamata olives in this recipe. Other great add-ins are sauteed mushrooms, bell peppers, cubed cooked butternut squash, kale or other greens, nuts, or dried fruits.
Fluffing – Rice is best fluffed with a fork rather than stirred with a spoon. Fluffing it will remove any lumps and separates the grains. Stirring with a spoon can create mushy rice.
What are your favorite easy rice dishes?
Sun-Dried Tomato Spinach Rice Pilaf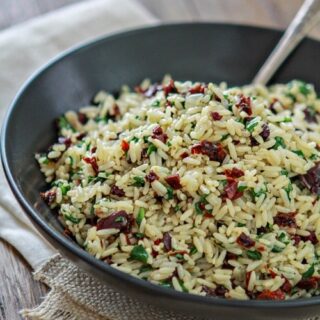 Ingredients:
1 cup White Rice
1 tablespoon Olive Oil
1 small Yellow Onion, diced
1 teaspoon minced garlic
zest of half a Lemon
2 cups minus 2 tablespoons chicken stock
1 teaspoon dried oregano
1/2 cup diced Sun-Dried Tomatoes
1 1/2 - 2 ounces cup chopped fresh Spinach
1/4 cup chopped Kalamata Olives
Salt and Pepper, to taste
Crumbled Feta, for garnish
Directions:
Heat 1 tablespoon of olive oil in a stainless steel skillet (choose one that has a lid) over medium heat. Add the onion and saute for 3-5 minutes.
Add the garlic and the rice and saute for another 2-3 minutes. Add the lemon zest, broth, oregano, and salt and pepper to taste. Stir once, then turn heat to low, cover and cook for 18 minutes.
Remove from heat and let sit for 10 minutes.
Remove the lid. Add the spinach, sun-dried tomatoes, and kalamata olives and fluff the rice with a fork to combine. Serve topped with crumbled feta, if desired.