Turkey Roasting Tips
The turkey is the center piece of the Thanksgiving meal and is arguably the trickiest part of the meal. Here are some of my best turkey roasting tips for a turkey that is full of flavor.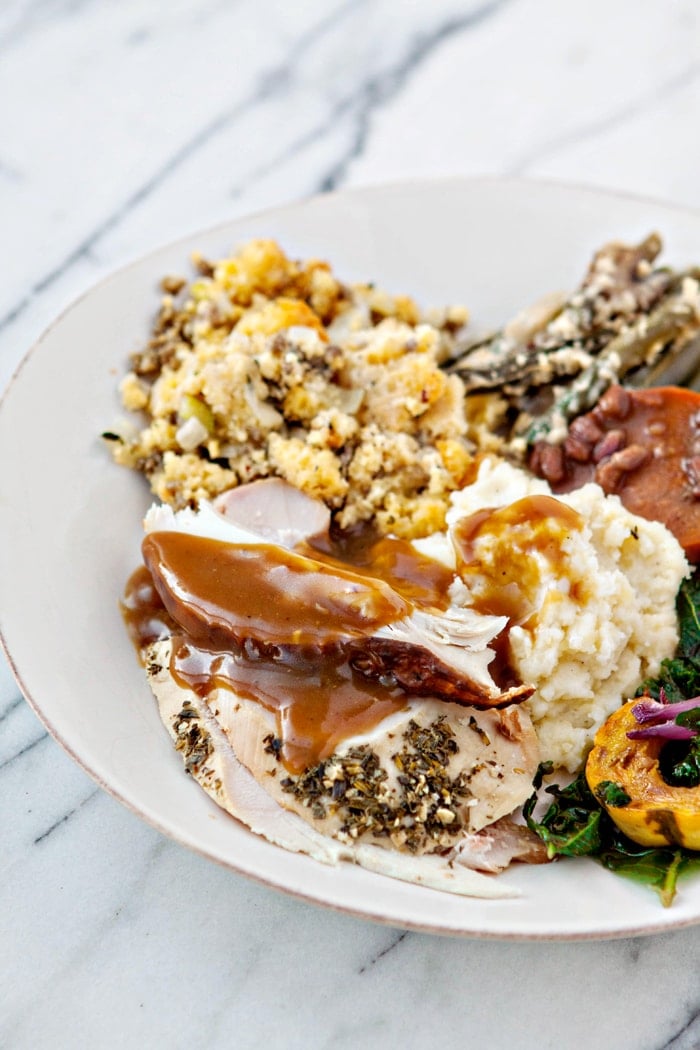 This post has been updated from the archives. Originally published on November 12, 2012.  
When my friend Alexis found out that I would be working on a few Thanksgiving recipes ahead of time to share on GoodLife Eats, she immediately asked if she could come watch me make the turkey.
Alexis is hosting Thanksgiving for 20 people and she's never done a turkey on her own.
I am sure that many of us have been in that position and felt the pressure to perform. It is a little nerve wracking.
So today I thought I'd share some of the tips that I learned over the years of preparing turkey for Thanksgiving on my own and maybe take a little bit of that stress away from a few of you.
Brine the Turkey for Extra Flavor and Moisture
Previously, turkey had never been my favorite part of the Thanksgiving meal.
I LOVED all the sides and desserts, but turkey was something that always tasted dry and without flavor to me, and was usually something that seem to have a never ending supply of leftovers. UGH.
15 years ago I had ate a turkey that was a complete game changer for me.
I asked what was different and why it was so good. It had flavor, it was seasoned all the way through.
The meat was tender and juicy instead of tough and dry.
The answer was that the turkey was brined. I had never heard of this method before even though  I was fairly accomplished in the kitchen for someone my age.
I had a lot of questions:
What is brining?
How do you brine a turkey?
What is in a turkey brine?
The one question that I didn't have was.
Why should you brine a turkey?
That was 100% obvious to me.
You should brine a turkey because it has so much more flavor, the meat gets seasoned all the way through, and it is much more juicy!
This moist flavorful turkey impressed me so much that I have always brined my turkey since learning the technique.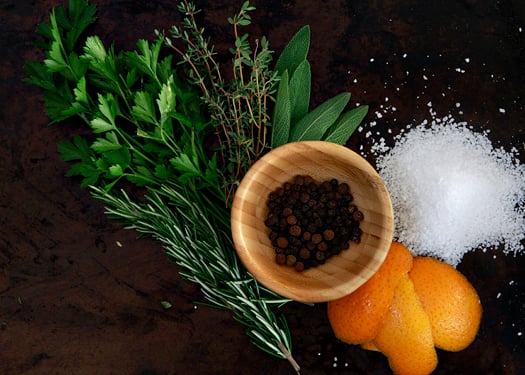 More Info on Brining and a Few Recipes:
Brining your turkey will help infuse it with flavor while also keeping the meat incredibly moist.
Take note that you'll have to plan ahead as a turkey needs to soak in the brine for approximately 24 hours.
Brining a turkey in this Rosemary Beer Brine will tenderize the meat and infuse it with a TON of flavor for Turkey Day!
Fresh Herb Citrus Brined Turkey combines lots of fresh herbs with a subtle hint of citrus.
Brining your turkey with this Apple Cider Sage Brined Turkey before roasting will not only infuses the meat with the delicious flavors of fresh apple cider and sage, but it will help keep the meat moist and tender.
How to Cook a Turkey: My Turkey Roasting Method
I typically choose a turkey around 16-18 lbs because I don't like to have TONS and TONS of leftover turkey.
If using a larger turkey, simply extend the roasting time and tent the breast with foil to avoid over browning.
1. Preheat the oven to 375 degrees F. Slather the outside of the turkey in butter as well as under the breast skin.
I like to chop up a lot of fresh herbs (thyme, rosemary, sage) and garlic and mix it with softened butter.
Then, I rub that garlic herb butter UNDER the skin that covers the breast as well as all over the inside of the bird's cavity.
Stuff the cavity with additional herbs, if desired, and an onion cut into sixths. Cover the wing tips with foil.
2. Use a V-Rack roaster for your turkey. Place 3 cups of water in the bottom of the pan.
Add chopped onion and carrots at the bottom of the roasting pan.
Place the turkey on the rack, starting with it facing breast side down. Roast for 45 minutes.

If you don't care to fuss with flipping your turkey, simply add 45 minutes on to the time on the following step. Some feel that the roasting position makes no difference. I've always used this method with great results so I'm not inclined to change.
It helps to have a big wad of paper towels in each hand so you can easily flip it without slipping or burning yourself.
3. Remove the turkey from the oven, flip it breast side up, and baste the turkey with pan drippings.
Cover the breast with foil. Add an 2 more cups of water to the pan.
Roast the turkey for an additional 1 1/2 hours to 2 1/2 hours, or until the meat thermometer inserted in the breast registers 160-165 degrees F and the leg/thigh registers at about 170 degrees F.
For an evenly browned turkey, rotate the turkey in the pan every 45 – 60 minutes during roasting.
Remove the foil from the breast during the last 45 minutes of roasting.
4. When the turkey has reached the correct temperature, remove it from the oven, tent with foil and let it rest for 30-45 minutes on a large cutting board before carving.
You might wonder: is it necessary to let the turkey rest. YES! The answer is definitely YES.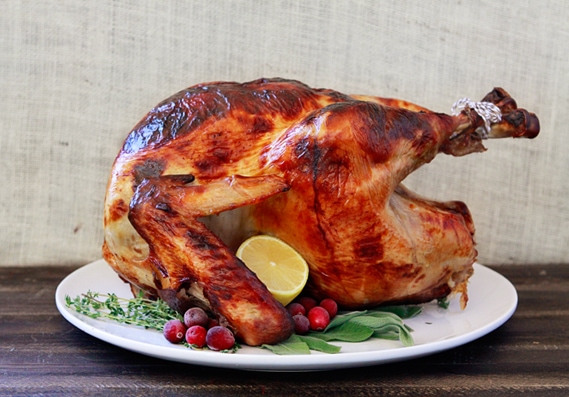 Gravy or Cranberry Sauce?
A big part of the Thanksgiving turkey is what you serve alongside the meat.
Do you like cranberry sauce or turkey gravy? I have great recipes for both!
Fresh, tart cranberries are cooked and blended with agave, brown sugar, red wine, and pomegranate juice create a deliciously simple and smooth Red Wine Pomegranate Cranberry Sauce for your Thanksgiving feast.
If you like a chunkier cranberry topping, this Cranberry Orange Walnut Relish is a big hit!
If you prefer gravy instead of cranberry sauce, don't worry I have you covered there too. Check out my How To Make Turkey Gravy with No Lumps.
Additional Tips for a Successful Thanksgiving Turkey
Fresh, unfrozen birds taste best.
If possible, search for a free range turkey. You will typically have to place an order for these quality birds, so check your local specialty grocery store in advance.
Bring the to room temperature before roasting.
I learned a few years ago to bring the turkey to room temperature on the counter about 2 hours prior to the planned roasting time.
This allows to bird to cook faster because the starting temperature is much warmer than one straight out of the fridge. Makes sense, right?
Don't stuff the turkey's cavity.
This has never been an issue for me, because I don't really care for in the bird stuffing anyway.
But, it can cause a safety hazard as the stuffing generally does not reach a high enough temperature by the time the turkey is done to kill any bacteria.
Your turkey will also cook faster without a stuffed cavity.
Know your doneness temperatures.
Overcooked turkey = dry meat.
The meat is safely done when the thigh meat reaches 170 degrees F and the breast meat reaches 160-165 degrees F.
Rest your turkey.
The turkey's temperature will continue to rise a few more degrees during the resting period.
Resting allows the turkey to reach it's final temperature without the meat becoming over cooking.
The meat also retains more moisture by allowing it to rest so the final result is juicy, tender meat.
Know how much turkey to purchase per person.
How much turkey do I need for this many people?
The easy answer: Plan to purchase 1 lb. per person attending.
This allows enough turkey to enjoy on the Thanksgiving day, plus a bit for leftovers.
If you like to have plenty of leftovers for the freezer or cooking up a big batch of soup, plan on double that, about 2 lbs of turkey per person.
Looking for ways to use your leftover turkey?
Check out these Tips for Thanksgiving Leftovers and What To Do With Thanksgiving Leftovers.
What are your best tips for a perfect turkey on Thanksgiving?