Chocolate Covered Vanilla Fleur de Sel Caramels
I have a thing for sweet and salty. Eric doesn't quite understand it. He's not a big fan of salt sprinkled on top of baked goods or sweet candies. For me, I think I need salty and sweet together to balance each other out. And that's why I love salted caramels so much. Last year I decided that I needed to learn how to make them myself.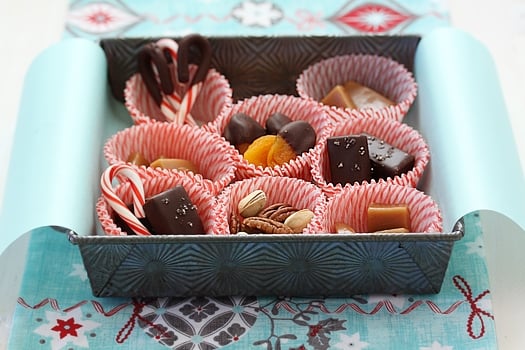 I was intimidated by caramels at first. Over the past few years I have had a few batches turn out more like hard candy than soft chewy caramels. The key is knowing your elevation. That makes a difference in the final temperature that the candy should reach. Go too high and you'll have hard candy. I also like to take it off 2 or 3 degrees before the final temperature just to be safe.
These Chocolate Covered Vanilla Fleur de Sel Caramels turned out so good it was a bit hard to stop snacking on them as I dipped them in chocolate. I ended up sending a container of them with Eric to work the next day because I had eaten so many…and then I deeply regretted it the next day after he and his co-worker had eaten them all. The horror!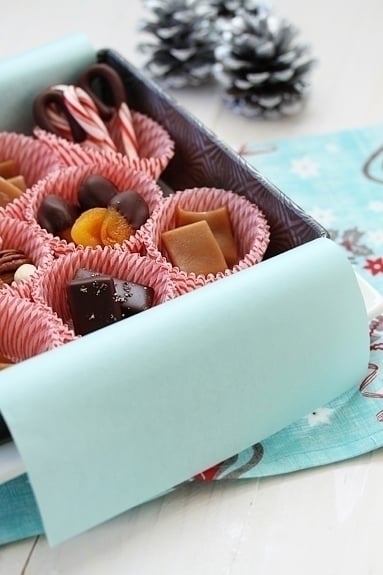 If you don't have the patience to dip the caramels in chocolate, they are delicious plain as well. I almost didn't have the patience, but I think most things dipped in chocolate taste better. And so I started dipping other things in chocolate too. Dried apricots, mini candy canes, nuts…and before you know it I had this cute little gift box of treats!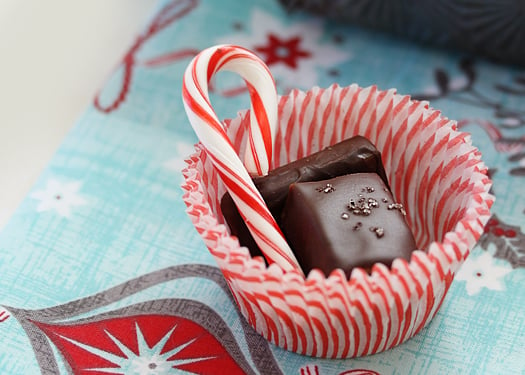 I think the only thing missing from the box were a couple Homemade Chocolate-Dipped Marshmallows. Christmas candies are the best! What's your favorite to make (or eat!)? Is there a candy you love that you've never made?
Head over to Recipe Exchange: Homemade Mac n Cheese and vote for your favorite comfort food recipe. If you'd like a chance to win a $150 Kerrygold Butter and Cheese gift basket you should enter your favorite butter recipe in the Butter Recipe Exchange.
Chocolate Covered Vanilla Fleur de Sel Caramels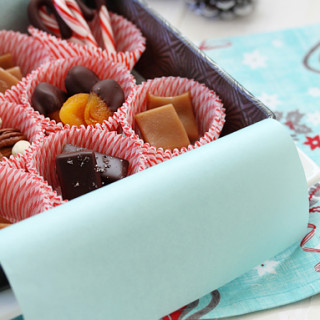 Ingredients:
For the Caramels:
1 cup heavy cream
5 tablespoons unsalted butter, cut into pieces
1 1/4 teaspoons vanilla extract
1 1/2 teaspoons Vanilla Fleur de Sel
1 1/2 cups sugar
1/4 cup light corn syrup
1/4 cup water
For the Chocolate:
10 ounces semi sweet chocolate, chopped
1/4 to 1 1/2 teaspoons canola oil
Vanilla Fleur de Sel
Directions:
Line bottom and sides of an 8-inch square baking pan with parchment paper, then lightly oil parchment. (Related: Kitchen Tip: Lining Pans with Parchment)
Bring cream and butter to a boil in a small saucepan, then remove from heat and set aside.
Combine sugar, corn syrup, and water in a 3- to 4-quart heavy saucepan. Boil, without stirring but gently swirling pan, until mixture is a light golden caramel and sugar is dissolved.
Carefully stir in vanilla extract, vanilla fleur de sel, and cream mixture (mixture will bubble up) and simmer, stirring frequently, until caramel registers 248°F on thermometer, 10 to 15 minutes. Pour into baking pan and cool 2 hours.
Remove caramels from pan and cut into 1 inch pieces, set aside. Melt the chocolate in a heat proof bowl in the microwave at 50% power for 20 seconds at a time until melted. Stir in between each microwave interval. Add canola oil a 1/8 teaspoon at a time until it reaches a smooth consistency for dipping. Remove from heat and pour into a small bowl.
Lay a piece of parchment paper on the counter. Dip caramels, one at a time, in the chocolate. Place dipped caramels on the parchment. Sprinkle with a small amount of vanilla fleur de sel. Set aside to dry.
Speed up drying time by refrigerating the caramels until the chocolate is set, if desired.
NOTE: Before you start this project you will also need find out what your elevation is and adjust the temperatures accordingly. For every 1,000 feet above sea level, you will need to subtract 2 degrees. For example, I live at 5,000 ft. above sea level, so I subtract a total of 10 degrees from the temperature indicated in the recipe.