This Kitchen Tip is a guest post by Kristan of Confessions of a Cookbook Queen. Welcome, Kristan!
One thing I've learned when it comes to serving desserts is that presentation is key. Sloppy treats are unappetizing, and will often go uneaten.
My favorite trick for neat and creatively cut brownies and bars is using a biscuit cutter instead of a knife.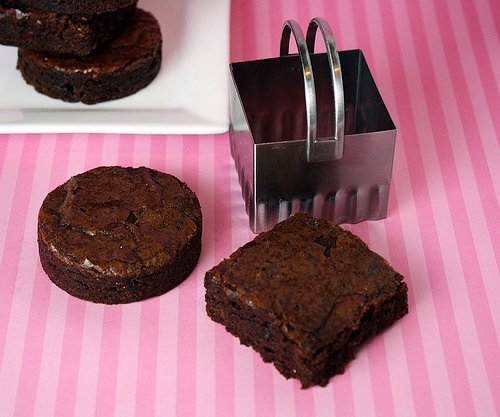 photo by Kristan
Biscuit cutters are tall and sturdy enough to cut even thick brownies
, and the handle makes pushing it through a breeze. You can buy biscuit cutters in several different shapes, and a set usually has four or five different sizes to choose from.
Note from Katie: I have had these Flower Biscuit Cutters for a while and love them. Great for all sorts of things: sandwiches for kids, brownies, biscuits, and scones. I also recently purchase heart and snowflake sets. There are all sorts of fun shapes on Amazon and many with nesting sizes.
How to Cut Treats with Biscuit Cutters
1. Line your pan with foil before pouring in your batter. (related: Kitchen Tip: Lining Pans with Parchment)
2. Once your brownies are cooled to room temperature, refrigerate until firm. Cold brownies are easier to cut neatly.
3. Remove brownies from pan by lifting up on the foil. Peel foil down from the sides, laying flat.
4. Using your biscuit cutter, cut brownies as close together as possible to cut down on waste. You may have to gently push the top of the brownie to remove from the biscuit cutter.
Note: I prefer a round cutter, but only because it makes for an unexpected alternative to square brownies.
And that's all there is to it! Thanks so much for sharing this great tip with us, Kristan!
Another note from Katie: If you're concerned about the scraps – don't be! You can use them to make all sorts of other treats from cake balls to individual trifles.
---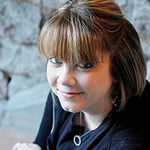 Kristan Roland is a displaced housewife, living, baking, and blogging in rural Arkansas. On Confessions of a Cookbook Queen Kristan shares her love of sugar and sparkle, along with personal anecdotes, which she usually serves with a side of sarcasm.
Though she has no formal training, other than a few craft store cake decorating classes, she is a firm believer that even the most imperfect people are capable of creating fabulous things in the kitchen.