For a long time I thought of Baked Eggs as holiday food. It is tradition in my family to make Baked Eggs for Easter and for Christmas and neither holiday could possibly be enjoyed without them.
Baked Eggs have long been one of my favorite simple meals, but it was years before I realized I could in fact prepare them no matter what the calendar said. Now, Baked Eggs are a dish we enjoy often, sometimes even weekly.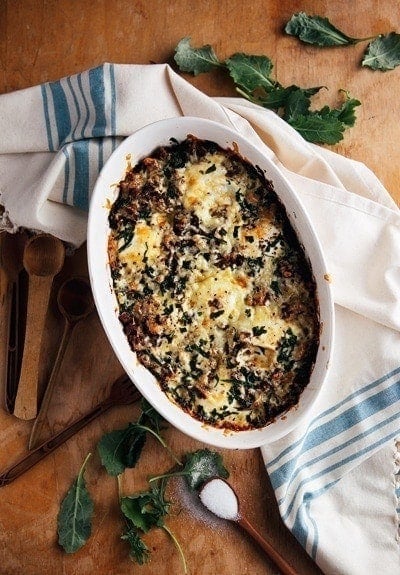 Written by Allison of Some the Wiser
Baked Eggs can be as simple as Eggs and Cheese baked to melted perfection. However, Kale is a hot menu item at my house right now and I've been trying to incorporate it into as many dishes as possible.
Did you know just one cup of Kale has 15% of the daily requirement of calcium and vitamin B6 (pyridoxine), 40% of magnesium, 180% of vitamin A, 200% of vitamin C, and 1,020% of vitamin K?
There's a reason why they call it a Super Food! So I decided to upgrade our ordinary baked eggs to Super Food status by adding Kale.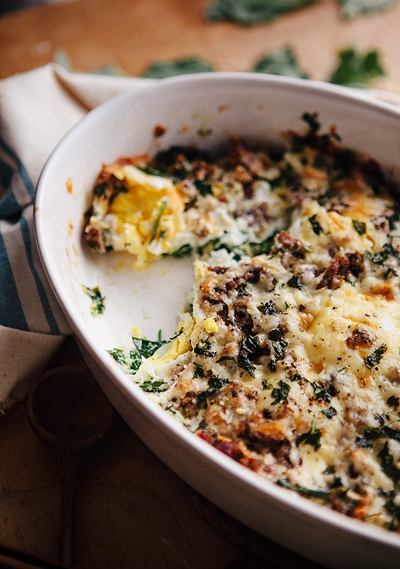 These Baked Eggs with Kale and Sausage are delicious enough to add them to your holiday menu, but they are easy enough to enjoy them for a weekday breakfast as well.
Admittedly, we've been eating them a lot lately – they're just so good!
How do you like your eggs? Scrambled? Baked?
Baked Eggs with Kale and Sausage

Yield: 4 to 6

Prep Time: 10 minutes

Cook Time: 20 minutes

Total Time: 30 minutes

Ingredients:

8 eggs
2 1/4 cups packed baby Kale, washed and finely chopped
3 tablespoons cream or whole milk
8 oz cooked ground sausage
1 cup grated Irish Cheddar (or other Sharp White Cheddar)
Salt and Pepper to taste

Directions:

Preheat oven to 400 degrees. Lightly grease an oven safe casserole dish.

Spread 2 cups of the chopped Kale over the bottom of the casserole dish. Crack the 8 eggs over the top of the Kale, leaving a little space between each egg. Drizzle the cream evenly over the eggs and then sprinkle with cooked sausage. Top with remaining 1/4 cup Kale and cheese.

Bake for 15 to 25 minutes, until egg whites are fully cooked and yolk is as soft or hard as desired. Season to taste with Salt and Pepper.
RESPONSES - LEAVE A COMMENT BELOW