Sweet Potato and Black Bean Taco Recipe
The Winning Recipe – Sweet Potato and Black Bean Tacos
Our lucky 6 ingredient recipe winner for the American Express 6 Ingredient Dinner Challenge is Lindsay L. Congratulations, Lindsay! She posted this Sweet Potato and Black Bean Taco recipe on her blog, The Lean Green Bean, in December of 2010.
She says she's "obsessed with sweet potatoes" and over the past year she's discovered how much she loves curry powder. One day she sprinkled curry powder roasted sweet potatoes. It quickly became one of her favorite dinner sides.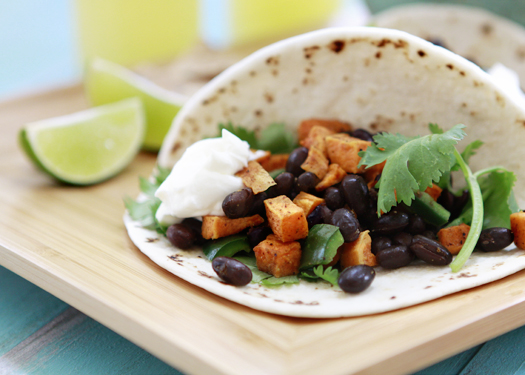 Lindsay says that they're big fans of Mexican food and black beans with sweet potatoes are one of her favorite Mexican-inspired combinations. "Since we eat tacos a few times a month, I decided to toss the ingredients in a tortilla shell and see how it turned out. The result was a huge success!"
Sweet Potato and Black Bean Taco Appeals Because…
"…because they're simple and use ingredients that I almost always have on hand and even though it only needs 6 ingredients, you can easily customize it to your personal taste preferences or add a few extra ingredients that you might have on hand." Lindsay also appreciates that it's a healthy meal she can rely on about once a month.
Lindsay suggests a few simple adaptations to this delicious taco recipe: "If you don't like, or can't eat cheese, you could replace it with some fresh spinach. Not a fan of curry powder? Try paprika instead. Don't like tomatoes? Add some bell pepper strips."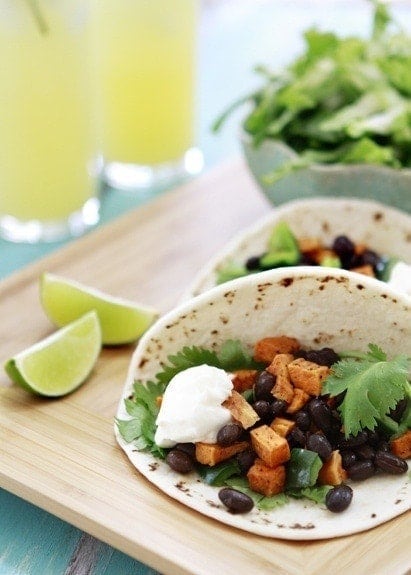 I think this taco recipe is going to quickly become one of my favorite black bean recipes.
Sweet Potato Tacos are so quick to make and very tasty! – Katie
A little bit about Lindsay from The Lean Green Bean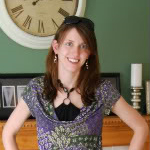 She resides in Ohio with her husband, two dogs, and two cats and is studying to become a Registered Dietitian. Lindsay loves being outside, taking pictures, cooking, baking, traveling and being physically active. Her favorite food is crab cakes.
Lindsay learned how to cook from her mom, the best cook she knows. "I learned everything I know about cooking from my mom, the best cook I know. I started cooking and baking at a young age and have always loved being in the kitchen."
Lindsay is a former picky-eater who used to live on Cheerios and Mac n Cheese. Since studying to become a dietitian, she's become more adventurous. "I want to be able to practice what I preach! I love talking to people about food and helping them make healthy food choices. I'm constantly searching for ways to make recipes healthier, especially when I'm baking."
Visit Lindsay at her blog, The Lean Green Bean. You can also find her on Twitter and Facebook.
More Sweet Potato Recipes
Roasted Sweet Potato and Black Bean Tacos
Lindsay was the winner of the American Express 6 Ingredient Dinner recipe challenge. I'm featuring her recipe here and spotlighting her as the winner.
adapted from Lindsay of The Lean Green Bean
serves 2-4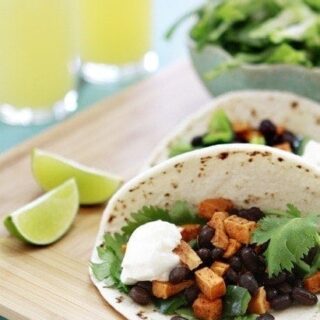 Ingredients:
For the Sweet Potatoes and Black Bean Tacos:
1 large Sweet Potato, diced
Salt, Pepper, and Chili Powder Cumin - to taste
1 cup Black Beans, drained and rinsed
1/4 cup diced Yellow Onion
4 flour Tortillas (Lindsay uses whole wheat)
1/3 cup diced poblano pepper
Shredded Mexican Cheese
Optional Garnishes:
Shredded Lettuce or Cabbage
Avocado or Roasted Tomatillo Guacamole
Lime Wedges for squeezing
Cilantro
Sour Cream
Directions:
Preheat oven to 425 degrees F.
Line a baking sheet with foil or parchment paper. Toss the sweet potatoes on the lined baking sheet with olive oil until lightly coated. Season to taste with salt, pepper, and chili powder, and cumin [Lindsay uses curry powder]. Roast sweet potatoes for 30 minutes [I used the toaster oven and it only took me about 15 minutes], stirring occasionally.
Meanwhile, saute the diced onion for 5 minutes. Add the poblano and saute for 3 minutes. Stir in the black beans until heated through. Stir in the sweet potato. Season to taste.
Spoon into tortillas and top with cheese and your choice garnishes.
Lindsay's Tips: Dice your sweet potato pretty small so it roasts faster and leave the skin on for added nutritional benefits. Cook your own dried black beans to cut down on the sodium and store them in the freezer. When you need them, all you have to do is pull some out, dump them in the pan and heat through!