Homemade Sourdough Garlic Butter Croutons
These Homemade Sourdough Garlic Butter Croutons came to be after finding a loaf of totally stale sourdough bread in the pantry.
It turns out I'm not really very good at remembering to use the sandwich bread when Eric is gone on a business trip and I just didn't get through a whole loaf in time. I really did not want to throw it away. What a waste, right?
With soup on the menu for dinner I decided I would make some Homemade Sourdough Garlic Butter Croutons out of the stale bread to top the soup with since I didn't have time to bake homemade bread or rolls that night.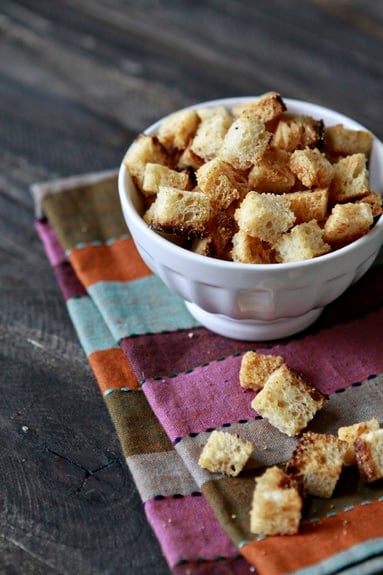 These delicious buttery garlic croutons baked up in a pinch. We loved them topped on our hot bowls of soup. Madeline loved just popping a few in her mouth and crunching. I loved not throwing away that half a loaf of bread. I think that means we were all winners.
Next time you find yourself with stale bread, cook up a pot of soup and bake a batch of these crunchy croutons.
Tasty Fall Soups to Pair with Croutons:
Need some soup inspiration? Here are a few favorite recipes that pair nicely with these Homemade Sourdough Garlic Butter Croutons.
I've got a new soup recipe up my sleeve that I'll share in a few days. It involves things like rosemary, chicken, and bacon >> Recipe HERE: Rosemary Chicken Chowder with White Beans.
What do you like to do with stale bread?
Homemade Sourdough Garlic Butter Croutons
Yield: 3 cups
Prep Time: 5 minutes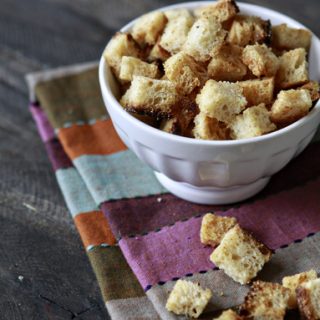 Ingredients:
3 cups stale sourdough bread, cut into 1/2-inch cubes
3 tablespoons melted butter
1/4 - 1/2 teaspoon garlic powder
1 teaspoon minced garlic
Directions:
Place the oven rack in the middle position. Preheat the oven to 350 degrees F.
In a large bowl, toss the cubed bread, melted butter, garlic powder, and minced garlic until combined. Pour the butter and garlic coated croutons onto a rimmed baking sheet and spread out until somewhat evenly spaced.
Bake on the middle rack of the oven until they are golden brown and crispy - about 20 to 30 minutes. Toss them halfway through to encourage even browning.
Cool completely and serve. Store leftovers in an airtight container for 3-4 days.