Pumpkin Spice White Hot Chocolate
I've had this idea for a Pumpkin Hot Chocolate brewing in my head for a while. I don't drink coffee, so I'm a little jealous when I see people talking about Pumpkin Spice Latte's and the like from Starbucks. Where's the love for the non-coffee drinkers?? This Pumpkin White Hot Chocolate is my solution.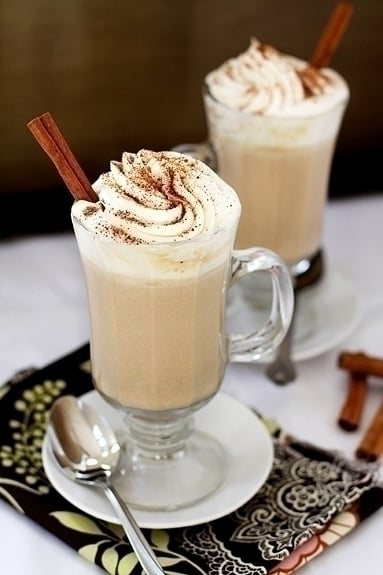 Doesn't that look good? Madeline and I cooked up this recipe last Saturday morning while Eric and Logan were off together. It was the perfect Saturday morning treat. We just made enough for 2 mugs and shared them after I snapped a few pictures (and cleaned up some spills). She was in heaven!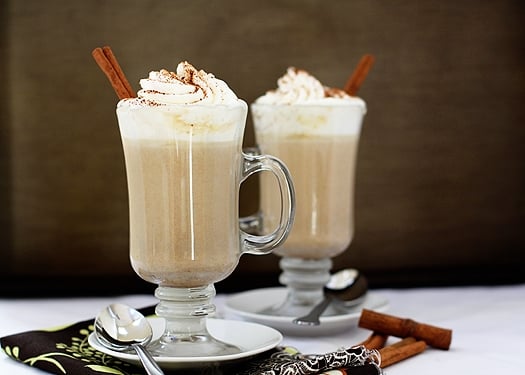 I'm not sure why I decided on white chocolate, because I do like chocolate and pumpkin together (like in this Chocolate Pumpkin Cupcake Recipe), but white chocolate just sounded right for some reason. I wanted the pumpkin to be center stage in this recipe. I didn't add any sugar because the white chocolate already added enough sweetness for me.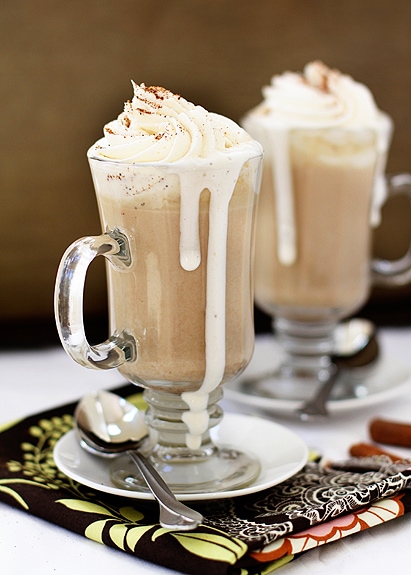 Check out this picture! I decided that the hot chocolate mugs weren't photogenic enough on their own so I decided to add some whipped cream. I had filled the glasses a little too high before hand and – OOPS! – but I actually really like how the picture turned out. After this is just continued to over flow like lava. I didn't have any towels because I was photographing in our formal living room, so I had to lick the sides of the mugs before it was all over the tablecloth and everything. I know you're laughing at the ridiculousness of that! And here you probably thought I was just trying to be artistic.
This would be a fun treat after a night out trick-or-treating if you're not already on a sugar high. Or maybe something to drink by the fire on a cold winter night while snuggled up with a blanket and a great book. That sounds really relaxing!
Pumpkin Spice White Hot Chocolate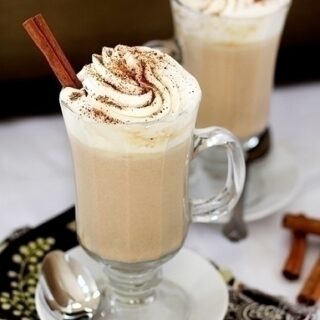 Ingredients:
4-5 cups whole milk
12 ounces white chocolate, chopped
4 teaspoons cocoa powder
3/4 teaspoon vanilla extract
1 cup pure pumpkin puree
1 teaspoon cinnamon
1/2 teaspoon nutmeg
1/4 teaspoon cardamom
1/8 teaspoon allspice
1/8 teaspoon ground ginger
Directions:
In a heavy saucepan, combine 2 cups of milk, white chocolate, and cocoa powder. Cook over medium heat, whisking periodically, until the chocolate is melted and the mixture is well combined. Whisk in the pumpkin puree, cinnamon, nutmeg, cardamom, allspice, and ginger. Add the remaining milk, 1 cup at a time, until the desired consistency is reached.
If desired, serve topped with whipped cream and a sprinkling of nutmeg. Just be sure not to fill the mugs too full before adding the whipped cream, or you might have some overflow.