Rosemary White Bean Artichoke Spinach Dip
Rosemary White Bean Artichoke Spinach Dip is a remake of the classic recipe so many know and love. In this recipe creamy white cannellini beans and rosemary pair perfectly with artichokes, fresh spinach, and cheese.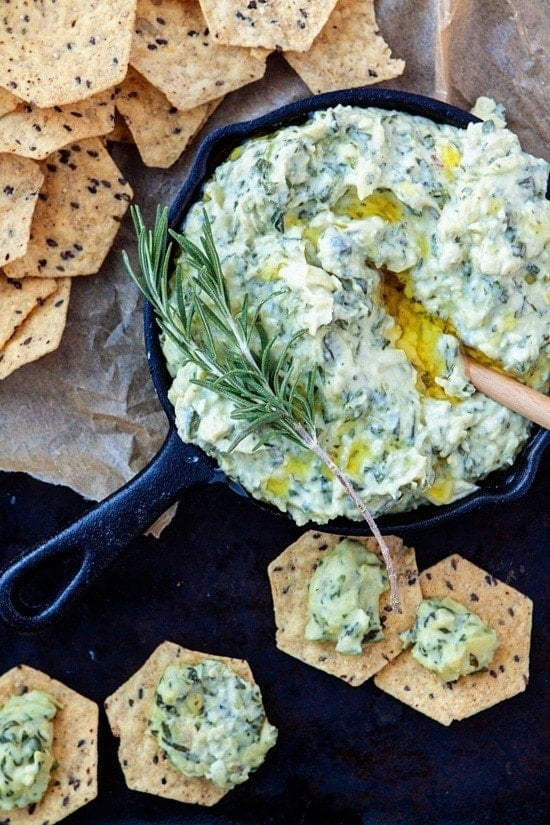 Sometimes during the holiday season I find myself at the last minute needing a Thanksgiving appetizer recipe. It usually goes something like this: I spend all of my time planning and obsessing about the menu for the meal (if I'm hosting) or worrying about what I should wear (if I'm just a guest) that I forget about anything else. Then something reminds me that Hey! People like appetizers!
This Rosemary White Bean Artichoke Spinach Dip is so simple and perfect for those who, like me, might be more focused on the side dishes and turkey for the main event of Thanksgiving to really think about pre-meal snack foods.
Canned cannellini beans and artichoke hearts are great pantry staples. You probably have some cream cheese hanging around, too. So, there isn't a whole lot of extra work or planning involved in throwing together this quick dip. You can knock it out from start to finish in 30 minutes maximum – and most of that is baking time.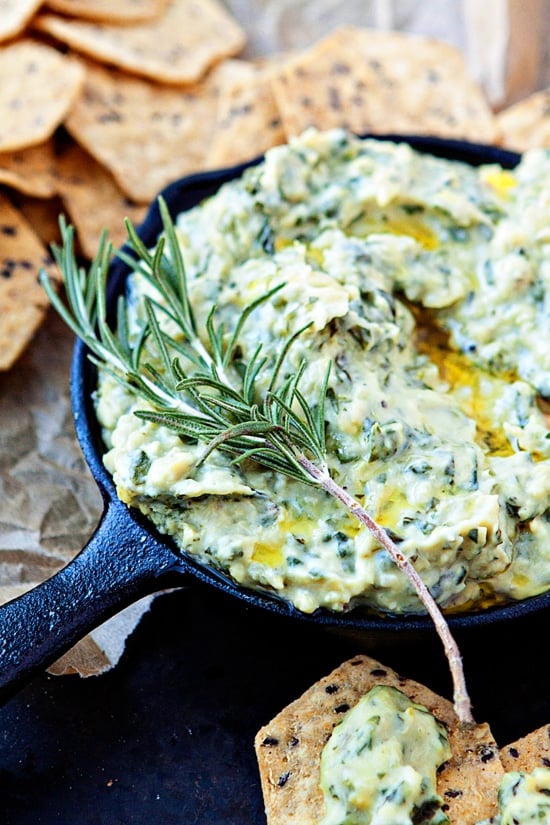 I love to pair Rosemary White Bean Artichoke Spinach Dip with my favorite Multigrain Tortilla Chips from Food Should Taste Good.
I have been buying these chips for years and love them. I think they're great for mixed company get togethers that involve food because they're Certified Gluten-Free, Vegan, and Kosher – usually that covers most people. Plus, the chip is nice and sturdy and a good size for scooping up bites of this delicious dip.
I like their distinct nutty flavor thanks to the flax, sunflower, and sesame seeds that are in the chips. You won't have an salted tastes like cardboard chips with Food Should Taste Good. Instead, you get what you expect from a  brand that calls themselves Food Should Taste Good – a chip made from high-quality ingredients that actually tastes good.
I love the mentality of their Founder, Pete Lescoe, "I love food. I've been working in restaurants and grocery stores my whole life, and if I've learned anything, it's that food tastes best when it's made with real ingredients."  Yep, me too.
Next time you're tempted to pick up a container of preservative and MSG laden artichoke spinach dip at the grocery store, remember what Pete says about food tasting best when it is made with real ingredients and give this easy recipe for Rosemary White Bean Artichoke Spinach Dip a try.
More Chips and Dip Appetizers
Rosemary White Bean Artichoke Spinach Dip
Yield: serves 6 - 8
Prep Time: 10 minutes
Cook Time: 20 minutes
Total Time: 30 minutes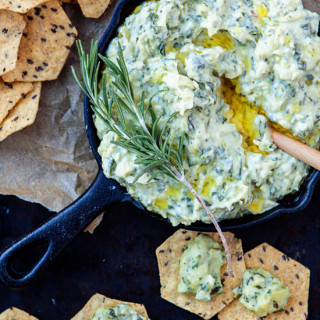 Ingredients:
3 teaspoons olive oil, divided
1 shallot, minced
2 cloves garlic, minced
5 ounces chopped fresh spinach
1 block cream cheese
1 - 14 ounce can cannellini beans, drained and rinse
1 - 14 ounce can artichoke heart quarters
4 ounces mozzarella cheese, grated
3 ounces fresh parmesan, grated
1/2 teaspoon finely minced fresh rosemary
salt and pepper, to taste
1 bag Food Should Taste Good Multigrain Tortilla Chips
Directions:
Heat 2 teaspoons of the olive oil (reserve the remaining teaspoon for later use) over medium heat in a medium sized sauté pan. Add the shallot, garlic, and spinach. Sauté until the shallot and garlic are fragrant and the spinach is wilted, about 3 minutes. Remove from heat and set aside.
In a food processor, combine the cream cheese and the beans. Puree until completely smooth. Add the artichoke heart quarters, mozzarella, and parmesan. Pulse to combine and coarsely chop the artichokes.
Transfer to and oven safe bowl. Stir in the spinach mixture, rosemary, and salt and pepper. Bake uncovered at 350 degrees F for 20 minutes, or until it is hot all the way through and bubbly.
Remove from the oven, drizzle the top with the remaining teaspoon of olive oil and serve hot with Food Should Taste Good Multigrain Tortilla Chips.
This recipe for Rosemary White Bean Artichoke Spinach Dip is sponsored by Food Should Taste Good. All opinions are my own.