Vanilla Spiced Pear Butter – How to Can Pear Butter
This recipe for Vanilla Spiced Pear Butter would make an excellent homemade gifting idea for friends and neighbors. And it isn't even that difficult to make! I recently picked up a copy of Ball Complete Book of Home Preserving while browsing the cookbooks at Costco. At a quick glance there were several canning recipes that I knew I would want to make.
This is a great starter canning book. Lots of recipes with detailed instructions on the canning process. It really made it feel a lot more doable and less overwhelming for someone like me, who has canned a few times but is definitely no pro in the preserving field.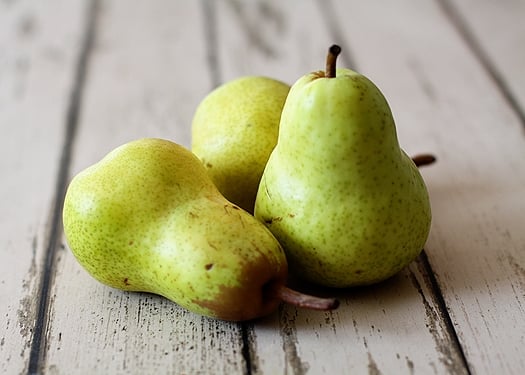 Coincidentally, pears were also on a mega sale here. I've been wanting to try my hand at apple butter, but after seeing a recipe for Pear Butter in adapted from Ball Complete Book of Home Preserving, I thought; "why not give that a try." I started out with more pears than I needed for the recipe, because I wanted to make some Homemade Pearsauce too.
It's perfect to make both recipes at the same time, because the Pearsauce is essentially what you get after the first two steps of making the recipe (see my recipe below for where to end for Pearsauce). Next time I'll be canning the Pearsauce instead of just making enough for a few days.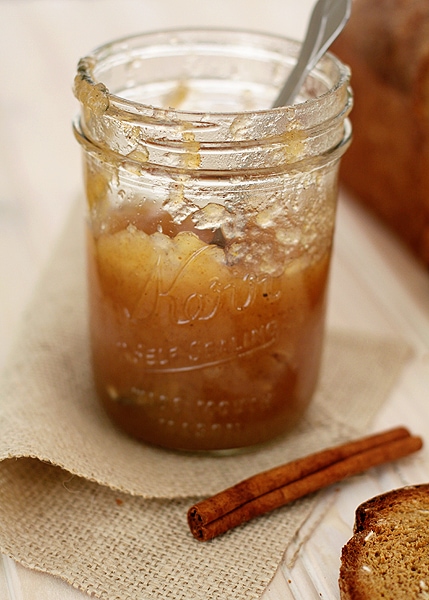 This Vanilla Spiced Pear Butter really was not that difficult to make. It tastes wonderful on toast, 5 Grain Pancakes with Flax, Waffles , or stirred into oatmeal.
Are you into canning? I'm trying to experiment with more here and there.
More Canning Recipes
Vanilla Spiced Pear Butter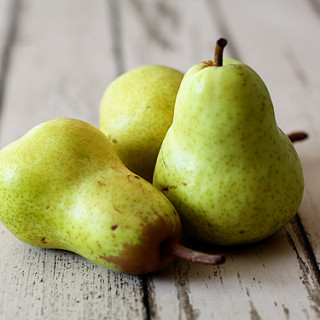 Ingredients:
7 lbs. pears, peeled, cored, and coarsley chopped
1/2 cup water
zest and juice of 1 lemon
4 cups granulated sugar
1 1/2 teaspoon vanilla extract
1 teaspoon cinnamon
3/4 teaspoon cardamom
3/4 teaspoon nutmeg
juice of 1 orange
Directions:
In a large stainless steel saucepan, combine the pears, water, lemon zest and juice. Bring to a boil over medium-high heat. Reduce heat and boil gently, occasionally stirring, for 20 minutes.
Working in batches, transfer mixture to a food processor fitted with a metal blade and puree just until a uniform texture is achieved. Do not liquefy. Measure 8 cups of pear puree (I used the excess as Pearsauce).
In a clean large stainless steel saucepan, combine pear puree, sugar, orange juice, vanilla, cinnamon, cardamom, and nutmeg. Stir until sugar dissolves. Bring to a boil over medium-high heat, stirring frequently. Reduce heat and boil gently, stirring frequently, until mixture thickens and holds it shape to a spoon and liquid does not separate.
Meanwhile, prepare canner, jars and lids: Wash and rinse the jars in hot soapy water. Drain the jars well of any excess water. Set the screw bands aside - they don't require sterilizing. Place the lids - the flat round portion of the two-piece closures - in a small saucepan, cover with water and bring to a simmer. Don't boil. Keep lids hot until you're ready to use them.
Ladle hot butter into hot jars, leaving 1/4 inch head-space. Remove air bubbles and adjust head-space, if needed, but adding more butter. Wipe rim. Center the lid on jar and screw band down until resistance is med, then increase to fingertip tight.
Place jars in canner, ensuring they are completely covered with water. Bring to a boil and process for 10 minutes. Remove canner lid. Wait 5 minutes, then remove jars, cool and store.