Logan is fascinated by the cultures of the world. It's not uncommon for him to ask: "Mom, can I get on CIA World Fact Book and look up countries?" I'm seriously not kidding. That is how much this kid loves history and geography.
He knows about places that I've never even heard of. Like Lesotho – did you know that Lesotho is a landlocked country, completely surrounded by South Africa? That is the kind of knowledge tidbit Logan loves to share.
He'll talk your ear off about what places you'd like to visit someday and then share his travel wish-list with you.
I have been on a quest to find proper books for his age that feature the subject of Geography and World Cultures. I'll admit, I'm quite over reading the National Geographic Atlas of the World for a bedtime story (again….NOT KIDDING!). With the help of our wonderful children's librarians here in New Mexico I've found some winners that are as entertaining for the Geography Buff as his mom.
A Child's Introduction to the World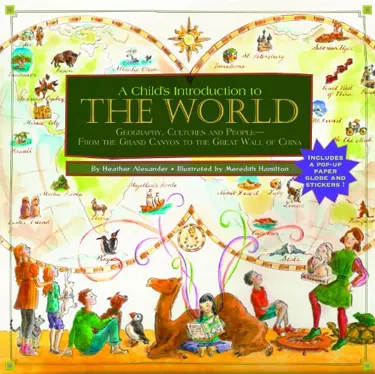 By Heather Alexander, Illustrated by Meredith Hamilton
Find A Child's Introduction to the World on Amazon.
Readers travel around the globe, from Greenland to Tasmania, learning the locations and characteristics of continents, countries, and states and provinces in this lively introduction to our world. Starting with the basics—hemispheres, latitude and longitude, continental drift, map notation, landforms, population density, and more—the book gives kids a solid foundation to begin exploring world geography.
Each section profiles a different continent, including climates and biomes (tundra, grasslands, etc.), mountain ranges and bodies of water, people and cultures, governments and industries, wildlife, and much more. And sidebars throughout offer biographies of explorers, fun facts, and projects kids can do with parents or on their own.
With 150 charming, original watercolor illustrations, A Child's Introduction to the World is an entertaining and comprehensive overview of our fascinating planet.
If You Lived Here: Houses of the World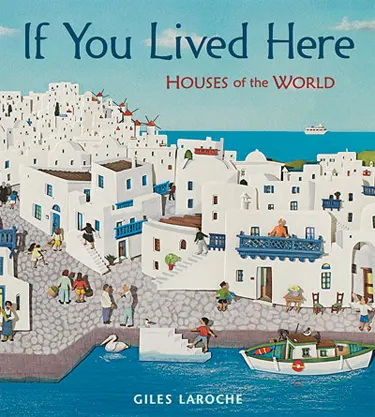 By Giles Laroche
Find If You Lived Here: Houses of the World on Amazon.
Step into unique homes from around the world and discover the many fascinating ways in which people live and have lived.
If you lived in the mountains of southern Spain, your bedroom might be carved out of a mountain. If you lived in a village in South Africa, the outside of your house might tell the story of your family. And if you lived in a floating green house in the Netherlands, you could rotate your house to watch both the sunrise and sunset.
With intricate bas-relief collages, Giles Laroche uncovers the reason why each home was constructed the way in which it was, then lets us imagine what it would be like to live in homes so different from our own.
Waiting for the Biblioburro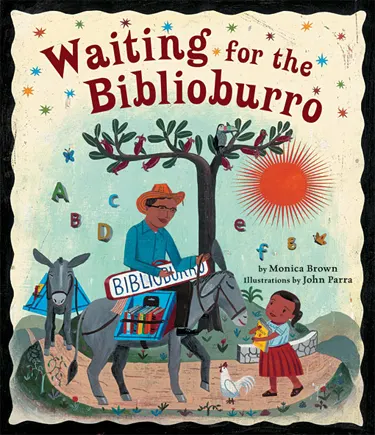 By Monica Brown, Illustrated by John Parra
Find Waiting for the Biblioburro on Amazon.
Ana loves stories. She often makes them up to help her little brother fall asleep. But in her small village there are only a few books and she has read them all. One morning, Ana wakes up to the clip-clop of hooves, and there before her, is the most wonderful sight: a traveling library resting on the backs of two burros‑all the books a little girl could dream of, with enough stories to encourage her to create one of her own.
Inspired by the heroic efforts of real-life librarian Luis Soriano, award-winning picture book creators Monica Brown and John Parra introduce readers to the mobile library that journeys over mountains and through valleys to bring literacy and culture to rural Colombia, and to the children who wait for the BiblioBurro.
A portion of the proceeds from sales of this book support Luis Soriano's BiblioBurro program.
Little Treasures: Endearments from Around the World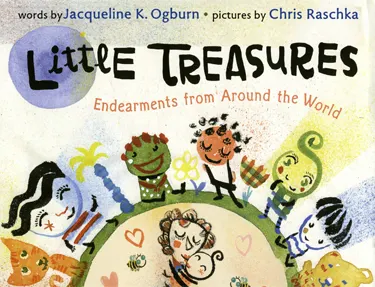 By Jacqueline Ogburn, Illustrated by Chris Raschka
Find Little Treasures: Endearments from Around the World on Amazon.
A tender collection of endearments for children the world over.
All over the world, people express their love for their children through endearments, such as "sweetie pie" or "peanut." A child might be called little angel, angelito, in Spanish or precious, bao bei, in Chinese or my sweet little moon, mera chanda, in Hindi.
Little Treasures offers a wealth of endearments in fourteen languages to share with your own beloved poppet and petit chou.
Into the Unknown: How Great Explorers Found Their Way by Land, Sea, and Air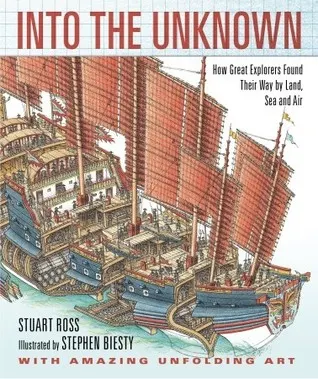 By Stewart Ross, Illustrated by Stephen Biesty
Find Into the Unknown: How Great Explorers Found Their Way by Land, Sea, and Air on Amazon.
Open this dynamic book and discover how the greatest explorers in history — from Marco Polo to Neil Armstrong — plunged into the unknown and boldly pieced together the picture of the world we have today.
With the help of masterful cross sections, dramatic storytelling, and sidebars that highlight key concepts, places, and technology, immerse yourself in such expeditions as:
Leif Eriksson's voyage to North America (eleventh century)
Zheng He's travels from China to East Africa (fifteenth century)
Magellan's circumnavigation of the globe (sixteenth century)
Tenzing Norgay's and Edmund Hillary's scaling of Mt. Everest (twentieth century)
Plus ten more exciting journeys!
The Picture History of the Great Explorers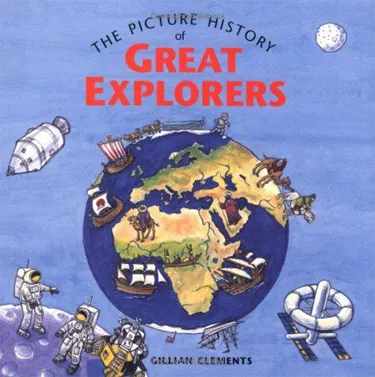 By Gillian Clements
Find The Picture History of Great Explorers on Amazon.
The Picture History of Great Explorers is a fun, informative, and chronological guide to the history of world explorers that covers a wide range of figures: the well-known and the all-but-forgotten, men and women, even a couple of Russian space dogs.
It begins with the ancient explorers such as Alexander the Great and Julius Caesar, treks on through to Magellan and Drake, continues with Lewis and Clark and John C. Frémont, and comes right up to the present day with Ranulph Fiennes. Each page puts an explorer in the context of his or her own time with details of other important contemporary events and figures, the new inventions which were the springboards for their adventures, and the areas of the world which were capturing people's imaginations.
Gillian Clements explains the reasons behind exploration and how technology and exploration have gone hand-in-hand throughout history. Combining entertaining fact and historical information with amusing, eye-catching illustrations, the book is a delight for readers of any age.
Do you have a favorite children's book about another culture?