Summer Potlucks and BBQs don't seem complete without a big bowl of this Classic Potato Salad. Creamy mayo, celery, onion, hard-boiled eggs, and of course plenty of potatoes make up this recipe. In our family's opinion, it is simply the best potato salad recipe!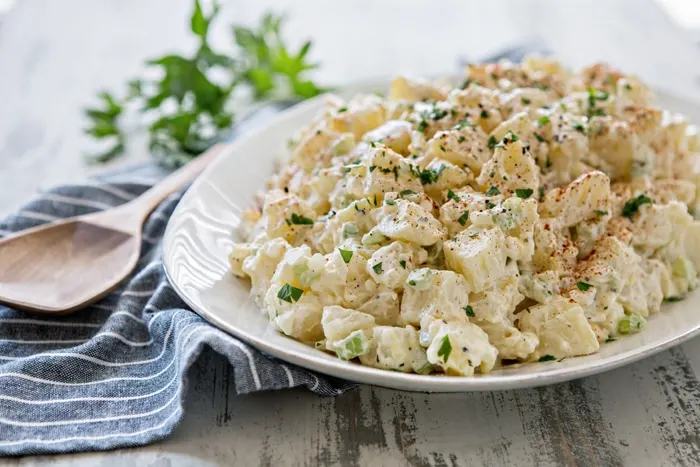 Save this Classic Potato Salad Recipe to Pinterest!
Homemade Potato Salad Recipe
Labor Day is just around the corner, and what better time for one last summer BBQ before we start settling into the routines of fall. This Classic Potato Salad is the perfect potluck dish to take to any summer BBQ.
Kevin's parents live about 3 miles away from us and his sister's family lives about 15 minutes away. We often get to celebrate holidays, birthdays, and other occasions together.
It has been really fun for me to have this because none of my family lives in Colorado.
I really miss my sister living here. The 9 or so months that she was living here several years ago went by way too fast!
When we get together with Kevin's family, there is always an abundance of food and so many different good things to eat because because we often do meals potluck-style with everyone contributing.
Everyone in Kevin's family is a good cook and appreciates good food.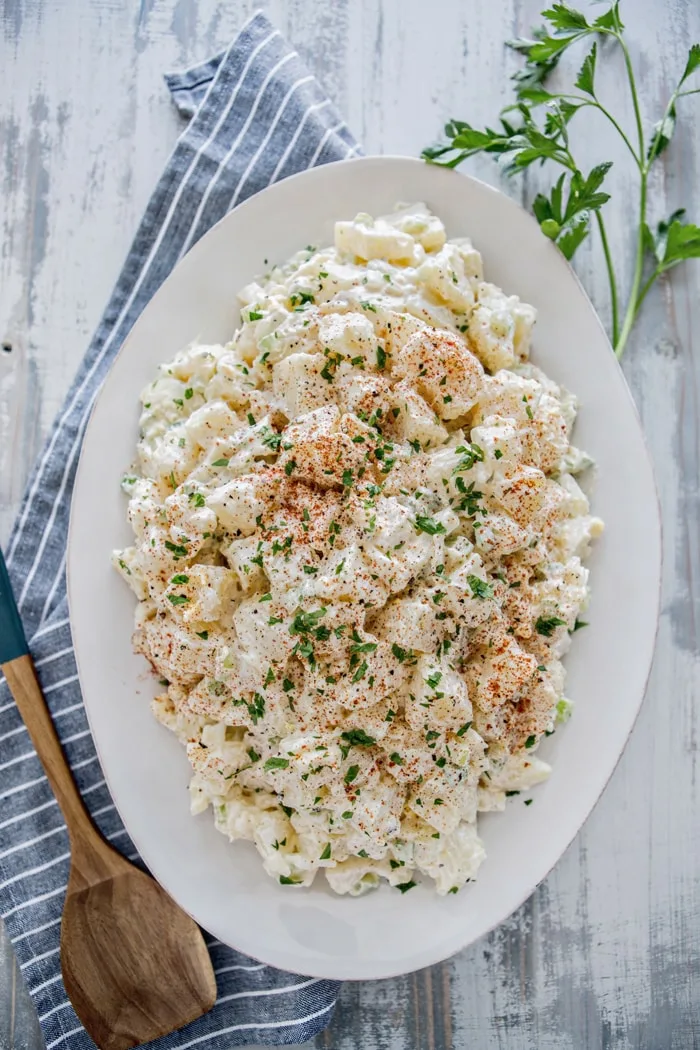 Save this Classic Potato Salad Recipe to Pinterest!
Family Favorite Traditional Potato Salad
One of the recipes that often makes an appearance during family meals during the summer months is this Classic Potato Salad.
There is absolutely nothing fancy about this potato salad recipe.
It just tastes great and it is easy to make. Kevin's family all calls it Grandma Cookie's Potato Salad. But I think it has also earned the name of The Best Classic Potato Salad. This potato salad recipe has been in the family a long time, so it is the only recipe that anyone ever wants to make or eat.
Unfortunately, I never had the chance to meet Kevin's famous Grandma Cookie because she passed away before I even knew Kevin.
But I love hearing stories about her and I definitely love her easy potato salad recipe and the way this crowd pleaser always seems to have a place at summer potlucks in our family.
Simple Ingredients with Classic Flavor
Even though it seems like summer is almost over, our kids still have about a month until school starts and we will have plenty of hot, summer-like.
It will be the perfect weather for barbecuing weather for at least 2 more months (and we still have Labor Day weekend to look forward to!).
I definitely plan on making a big batch of potato salad recipe a few more times before fall weather is here to stay.
Next time that you are having a summer potluck or even a summer bbq at home, you should definitely give this recipe for potato salad with mayo a try.
And then you can say a little thanks to Kevin's Grandma Cookie for such a great but truly simple recipe — sometimes those classic flavors are just the best!
It has the perfect amount of celery, onion, and creamy mayo along with some chopped up hard-boiled egg.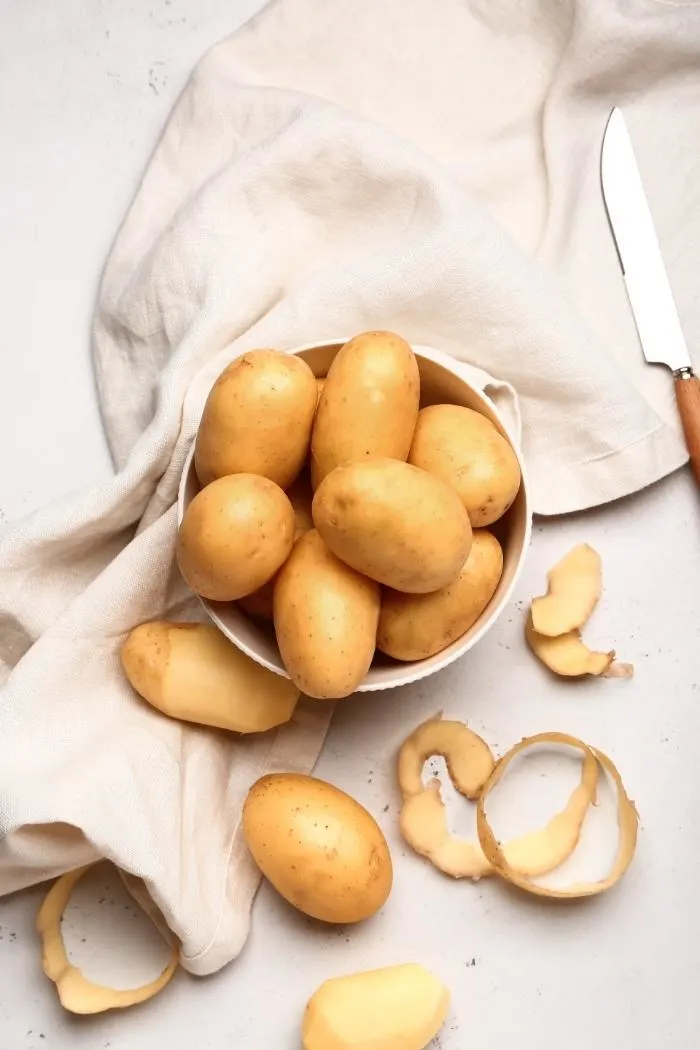 Potato Salad Ingredients
This classic potato salad recipe calls for:
Potatoes
Celery
Onion
Mayonnaise
Hard-boiled eggs
Salt and pepper
Fresh parsley, for garnish
Paprika, for garnish
The original recipe calls for salt and pepper to taste. If you can find it, Kevin especially loves to season it with Jane's Krazy Mixed Up Salt, a blend of "salt, dried onion and garlic, and herbs and spices," according to the ingredients listed on the label.
For the complete ingredient list and detailed instructions, scroll to the bottom of this post for the FREE printable recipe card.
How to Make Potato Salad
To make Grandma Cookie's Potato Salad (aka The Best Potato Salad), first you will bring a large pot of water to a boil. Then, cook some peeled and cubed potatoes in the boiling water
Once the potatoes are tender and have had the chance to cool, you'll gently stir in some diced celery and onion along with chopped hard boiled eggs and some creamy mayo.
Our copy of Grandma Cookie's recipe specifically says "Hellman's Mayonnaise."
But, last I made it was for Kevin to take to a work potluck lunch and I used some Olive Oil Mayo because that was what we had on had.
It still tasted great and Kevin didn't comment about anything tasting differently. I think I'd need to do a side by side comparison to see if it made a difference.
The above is simply a quick summary of this recipe. Check out the full recipe in the free printable recipe card at the bottom of this post for all the detailed instructions.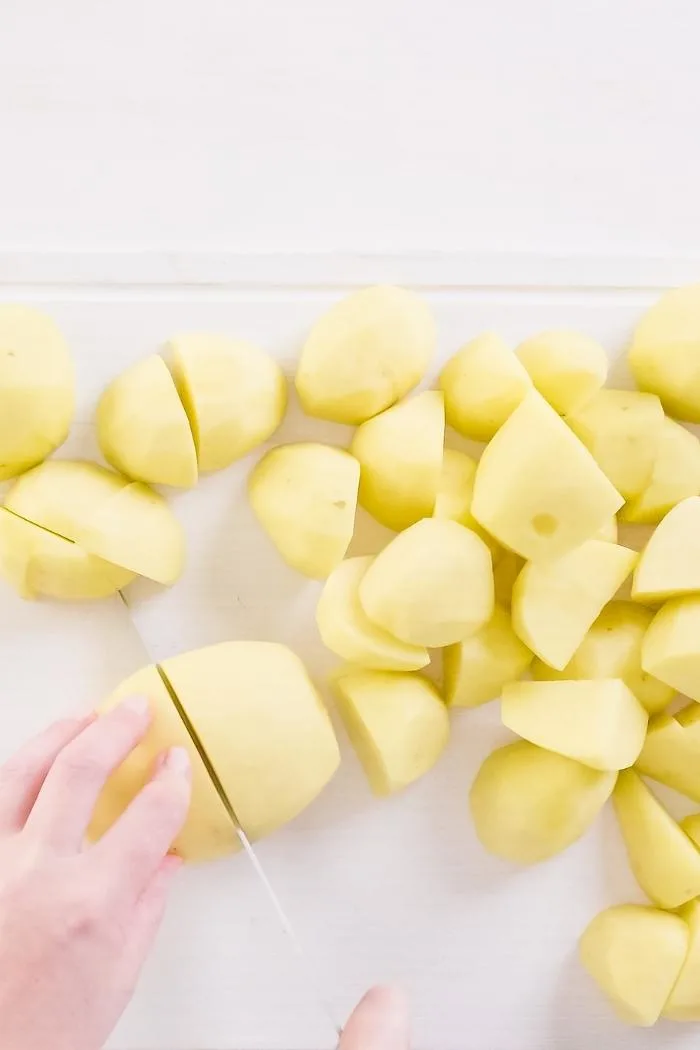 Tips for Making the Best Potato Salad
Want your potato salad to be easy to prepare and taste amazing? Check out this pro tip list:
Use fresh potatoes; wash and scrub them well.
Peel the potatoes well and dig out any large eyes or dark blemishes with a sharp knife.
Use cold water to rinse the cooked potatoes. This helps speed the cooling process.
Definitely use real mayonnaise! Don't substitute miracle whip.
Use an extra large mixing bowl to stir the ingredients up. You want plenty of room to evenly distribute the celery, onion, and hard boiled eggs throughout the potatoes and creamy dressing.
Prepare the potato salad at least 3 hours in advance so it can completely chill in the refrigerator before serving.
You can also prepare it a day before and serve it the next day.
How Long Does Potato Salad Last in the Fridge?
When stored properly, this recipe for potato salad will stay good in the refrigerator for up to 5 days. Here's how to maximize the life:
Tips for Storing Potato Salad:
Don't double dip silverware, serving utensils, or stick hands or fingers in the bowl of potato salad. Any contamination can transfer germs that will breed bacteria.
Refrigerate potato salad as soon as the meal is over, preferably within an hour of serving. Letting the potato salad sit out for ours at room temperature (or in the summer heat) is unsafe and will cause it to spoil faster.
Store leftovers in an airtight container or at least cover the bowl of potato salad tightly with plastic wrap.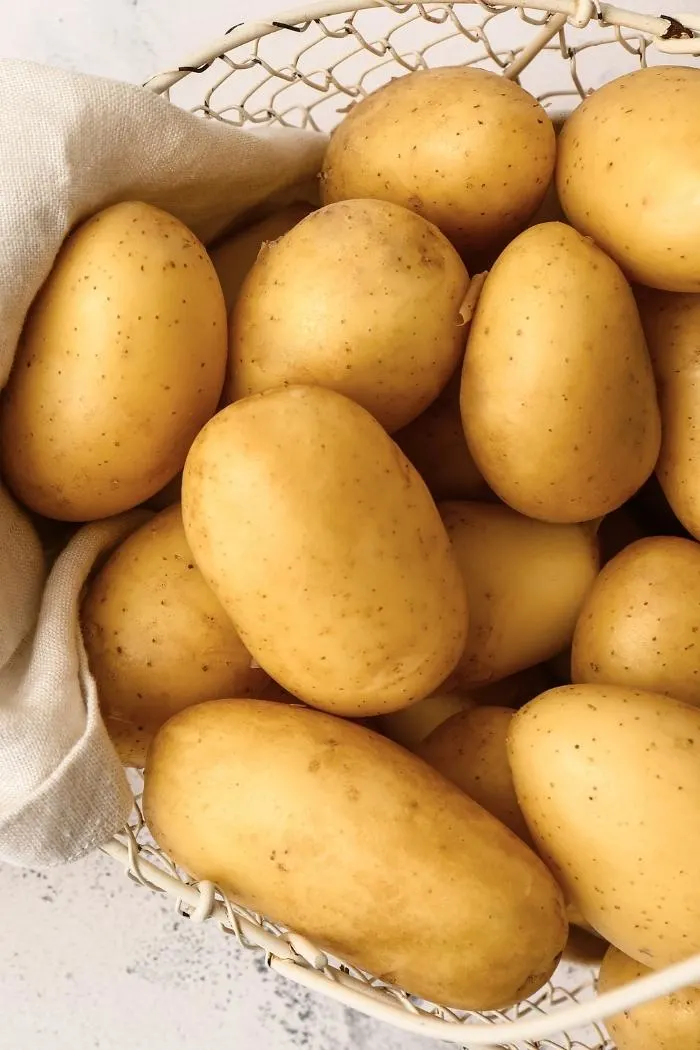 The Best Potatoes for Potato Salad
Grandma Cookie doesn't specifically say what kind of potatoes to use in her classic recipe for potato salad.
Technically, a great potato salad recipe should use waxy potatoes for potato salad (like Red Potatoes, New Potatoes, or Fingerling Potatoes).
But I think you could probably get away with whatever type of potatoes you like the best, or even a mix of Russet and Yukon Gold Potatoes.
I've used Russet and Yukon Gold and had success with both, but think that Yukon Gold yield the best results in this easy recipe for mayo potato salad.
What to Serve with this Perfect Potato Salad
Looking for some main dish ideas to serve along this Classic Potato Salad recipe? Here are a few tried and true favorite recipes that taste great with potato salad!
Smoked Pork Shoulder is a classic summertime BBQ recipe and goes great with Potato Salad. Come check out my tried and true method for making Traeger Smoked Pulled Pork along with my 9 pro tips for the best smoked pork – I'm including my favorite pork shoulder brine and pulled pork rub.
Easy Smoked Chicken is a great summer meal. The chicken turns out incredibly flavorful, tender and juicy. It is perfect along side this Classic Potato Salad for BBQs.
Cook up these sweet and spicy Mango Habanero Pork Ribs to go with your BBQ. THey're full of flavor and perfect for one last summer hurrah!
Burgers are always a classic BBQ choice. I love these Gouda Stuffed Burgers with Horseradish Aioli and Caramelized Onions if you want to get a little more creative!
Don't see what you're looking for here? You can always head over to check out the recipe index to look for more recipes.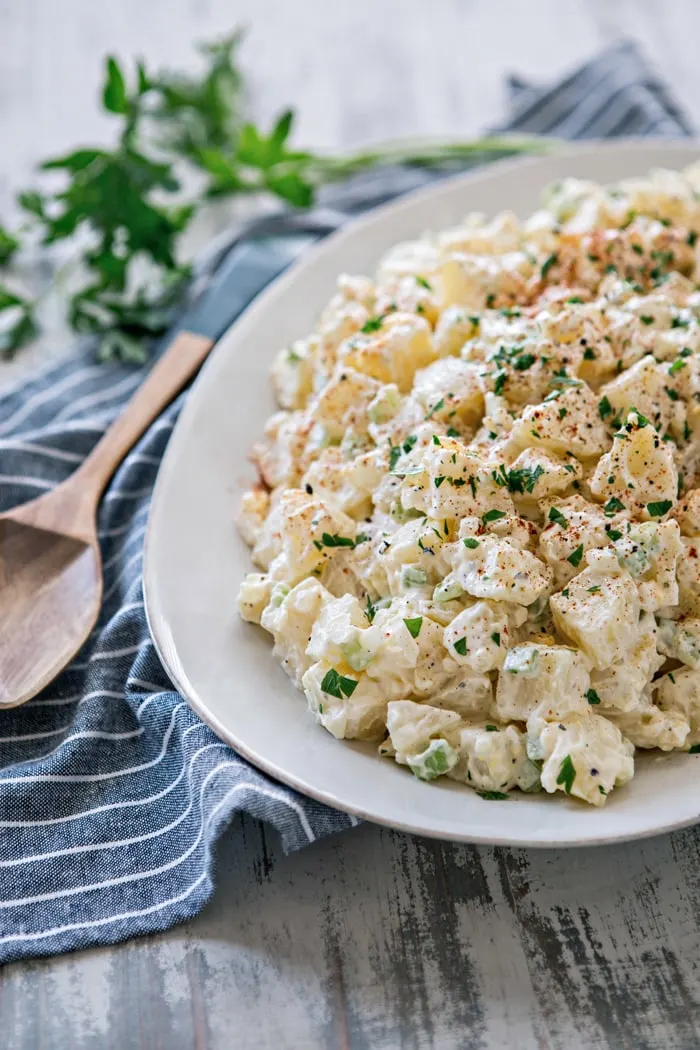 Save this Classic Potato Salad Recipe to Pinterest!
More Summer Side Dishes
Looking for more of my favorite summer side dish recipes to serve alongside The Best Classic Potato Salad Recipe? Check out these delicious recipes:
Zucchini Tomato Basil Salad with Lemon Basil Vinaigrette is a light and refreshing summertime salad and perfect when your garden is exploding with tomatoes, basil, and zucchini in the later summer months.
What is a summer barbecue without baked beans? This recipe for Slow Cooker Baked Bean Trio with Bacon and Peppers is loaded with flavor thanks to three types of beans, bell peppers, poblano peppers, and bacon. A perfect, easy side dish for game day entertaining, too!
You can never go wrong with a caprese salad during the summer. For a different take, try this Roasted Tomato Caprese Salad to use summer's abundant tomatoes and basil.
Now that you have our recipe for The Best Classic Potato Salad, you'll need a great coleslaw recipe! Your typical BBQ Coleslaw gets a makeover with the addition of jalapeño for just a touch of heat for your tastebuds in this tasty recipe for Creamy Jalapeño BBQ Coleslaw.
This Cilantro Lime Broccoli Slaw is a tasty alternative to the traditional summer coleslaw recipe. Pre-packaged shredded broccoli, carrots, red cabbage are tossed with jalapeño, lime, red onion, and red bell pepper for a refreshing side salad.
These Smokey Grilled Sweet Potato Wedges are full of flavor. They're super simple to whip up and contain only 4 ingredients – Southwestern Pork Rub, Sweet Potatoes, Oil, and Cilantro for Garnish.
Macaroni Salad is another classic summer side dish. This Macaroni Salad Recipe is easy to make, but a little different than traditional. It's colorful with additions like diced red bell pepper, and bright green sugar snap peas.
Watermelon, Feta, and Mint Saladis a great way to enjoy summer's sweet and juicy watermelon! I love the combination of sweet and salty and the way the mint plays off of both flavors. The syrupy balsamic glaze adds just the right acidity.
What are your favorite summer side dishes?
Love this recipe for The Best Classic Potato Salad?
Sign up for Good Life Eats email updates and never miss another recipe!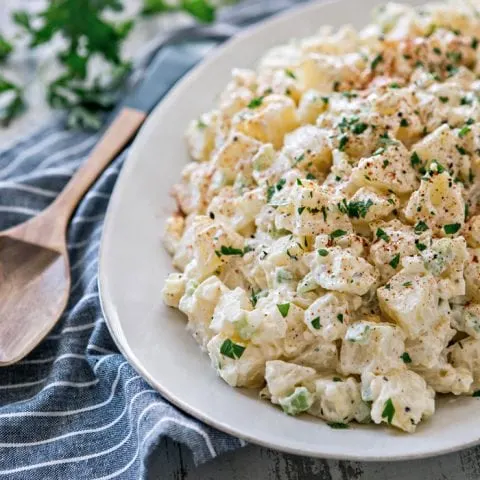 The Best Classic Potato Salad
Total Time:
4 hours
35 minutes
Summer Potlucks and BBQs don't seem complete without a big bowl of this Classic Potato Salad. Creamy mayo, celery, onion, hard-boiled eggs, and of course plenty of potatoes make up this recipe.In our family's opinion, it is simply the best potato salad!
Ingredients
3 lbs. peeled and cubed Potatoes (personally I love Yukon Gold Potatoes)
2 Stalks Celery, diced
1 medium Onion, diced
1 cup Mayonnaise, plus extra if needed
2 sliced Hard Boiled Eggs
Salt and Pepper, to taste or Jane's Krazy Mixed Up Salt
Finely Chopped Fresh Parsley, optional - for garnish only
Pinch of Paprika, optional - for garnish only
Instructions
Bring a large stockpot of water to boil.
Add the peeled and cubed potatoes and cook until potatoes are tender.
Drain the potatoes from the boiling water into a colander, then let the potatoes cool to room temperature.
In a large bowl, combine the cooled potatoes, diced celery, diced onion, mayonnaise, and hard boiled eggs.
Stir gently to combine, adding extra mayonnaise if desired to keep the potato salad moist.
Season to taste with salt and pepper.
Cover the bowl with plastic wrap and chill the potato salad in the refrigerator; it is best made ahead of time and chill for at least a few hours. Often, I make it the night before and chill overnight.
This isn't in the original recipe, but it makes a nice presentation of an otherwise not very colorful dish to sprinkle some finally chopped fresh parsley and a pinch of paprika on the top just before serving.
Serve cold.
Notes
This recipe is best made the night before you need to serve it.
The Best potatoes for this recipe are Yukon Gold, Russet, or Red.
Recommended Products
As an Amazon Associate and member of other affiliate programs, I earn from qualifying purchases.
Nutrition Information
Yield

10
Serving Size

1
Amount Per Serving
Calories

297
Total Fat

18g
Saturated Fat

3g
Trans Fat

0g
Unsaturated Fat

14g
Cholesterol

47mg
Sodium

173mg
Carbohydrates

30g
Fiber

3g
Sugar

2g
Protein

5g
GoodLifeEats.com offers recipe nutritional information as a courtesy and is an estimate only. This information comes from online calculators. Although GoodLifeEats.com makes every effort to provide accurate information, these figures are only estimates.
Try this Recipe for the Best Potato Salad!
Next time you're looking for a classic potato salad recipe, I hope you'll give our family favorite recipe a try! Did you think it was one of your favorite potato salad recipes? Leave a comment below and give it a review for others to see what you thought of this great drink recipe.
On Instagram? Share your photo and tag me with @goodlifeeats and #goodlifeeatsrecipes. I'd love to see your photo of this Classic Potato Salad!