3 Simple Salad Dressing Recipes: Creamy Balsamic, Honey Mustard, and Lemon Garlic
Salad dressing is so simple to make at home. It only takes a few minutes to combine the ingredients needed for a delicious dressing that will elevate any salad.
These 3 Simple Salad Dressings are so easy that you can commit them to memory and whip them up in a matter of minutes. Your salads will love them and so will you!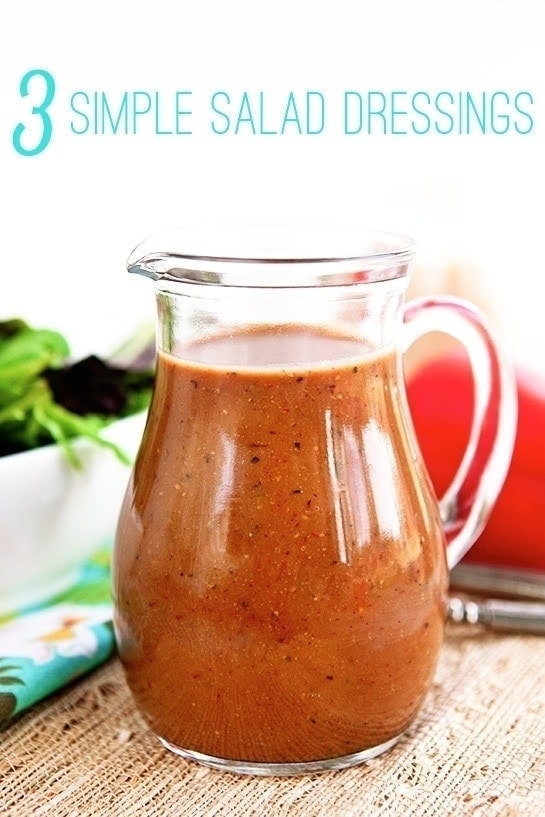 Written by contributor Allison Ruth from Some the Wiser.

This time of year, with fresh produce at its peak, salads are at the top of our meal menu every single day. With only a few basic ingredients from the fridge and pantry, I've been able to pull together a delicious dressing for our salads every day. Making salad dressing from scratch is nearly as easy as buying a bottle, but the taste is infinitely better.
These three incredibly simple recipes are the ones that we've marked as our family favorites, the ones that we keep making over and over again.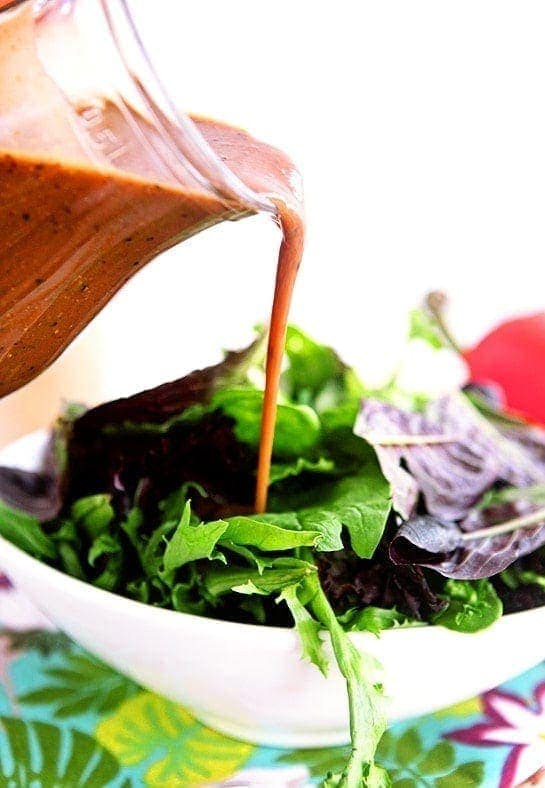 The first dressing recipe is a simple but classic Creamy Balsamic Vinaigrette. Having this quick recipe in your back pocket will take you a long way in the kitchen. With a sweet and tangy flavor, this dressing will brighten up any combination of vegetables and greens and even berries too.
The second dressing, a One Minute Honey Mustard Dressing, is a family favorite and always popular with the kids. It quite literally takes one minute to whisk together and tastes amazing. The kids will eat almost any veggie if I let them dip it in this!
The third dressing recipe is my personal favorite these days, a Lemon Garlic Dressing that is bursting with flavor. Just a teaspoon of this on my salad plate goes a long way. It pairs really well with chicken and fish too.  And like the other recipes, it's just so simple.
Even if you've never made your own salad dressing from scratch, these easy recipes will make you feel like a kitchen pro. Enjoy!
3 Simple Salad Dressings
Yield: 8 servings each
Prep Time: 5 minutes
Cook Time: 0 minutes
Total Time: 5 minutes
Quick and easy recipes for a Creamy Balsamic Vinaigrette, a Honey Mustard Dressing, and a Lemon Garlic Dressing that can be whisked together in minutes.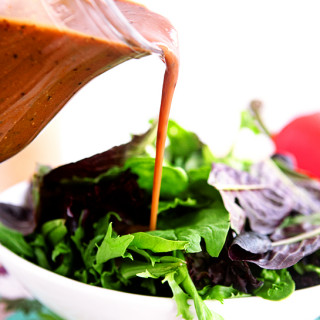 Ingredients:
Creamy Balsamic Vinaigrette
1/4 cup extra virgin olive oil
1/4 cup balsamic vinegar
1/4 cup mayonnaise
2 tablespoons water
2 cloves of garlic, pressed
1 1/4 teaspoons dijon mustard
2 teaspoons honey
salt and freshly ground black pepper to taste
One Minute Honey Mustard Dressing
1/2 cup mayonnaise
2 tablespoons prepared mustard
2 tablespoons honey
1 tablespoon fresh lemon juice
Lemon Garlic Dressing
1/3 cup olive oil
3 tablespoons fresh lemon juice
1 small garlic clove, pressed
kosher salt and freshly ground black pepper to taste
Directions:
For each dressing, combine the ingredients in a mason jar. Secure the lid tightly and shake vigorously until well combined. Alternatively, you may combine the ingredients and whisk using a wire whisk.
Taste for seasonings and add additional salt and pepper, if desired.
If the salad dressing ingredients separate, just re-secure the lid and shake again or whisk to combine prior to serving.
Notes:
Refrigerate any unused portions and keep for up to a week.