Broccoli Cheese Loaded Twice Baked Potatoes
Sometimes I just really crave a loaded baked potato. All that cheesy goodness with sour cream, green onions and bacon – I love it! It is comfort food at its finest. Sometimes you just to eat something that you can take a bite of and think "mmmmmmm that is good."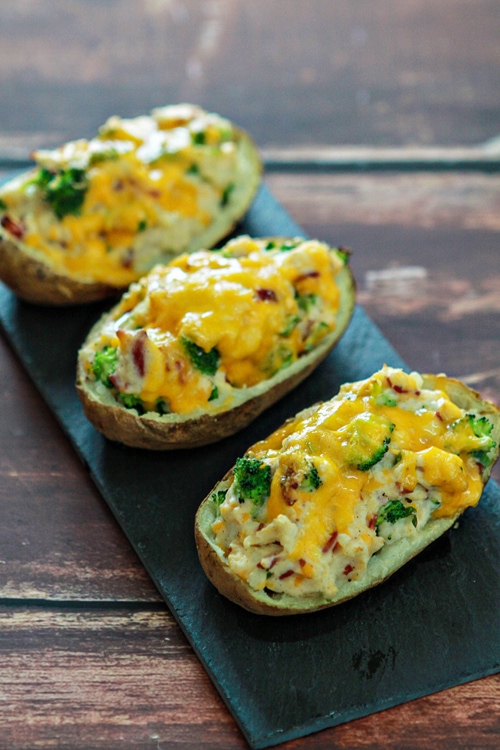 Recently I had some fun in the kitchen experimenting with different variations of twice baked potatoes. That experimenting resulted in a delicious recipe for Broccoli Cheese Loaded Twice Baked Potatoes.
These Broccoli Cheese Loaded Twice Baked Potatoes have all the same goodness of a regular loaded baked potato plus some broccoli all mixed together with the potato pulp, stuffed and baked to gooey perfection.
What to eat with this recipe for Broccoli Cheese Loaded Twice Baked Potatoes is completely up to you and there are so many options.
Serve them as a main dish, with a side salad or with your favorite meat, such as Roast Chicken or Pan Seared Steaks. Alternatively, this recipe is a great way to use up leftover holiday ham. Just dice it up and use it in place of the bacon.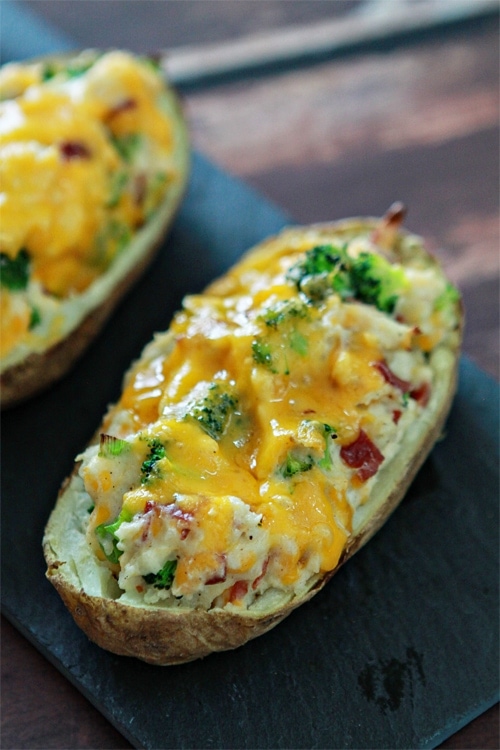 Whether you're serving these as a main dish or a side dish, these Broccoli Cheese Loaded Twice Baked Potatoes are sure to be a hit.
If you like to experiment with recipes as much as I do, you might like to check out the Safeway Summer Sweeps where you could win a gift card to go towards groceries for your next big kitchen experiment. 
The Summer Savings Sweepstakes is a 5 week sweepstakes from August 5 through September 5 2014. Enter to win a $100 store gift card daily. Winners are chosen 5 times a day.
Broccoli Cheese Loaded Twice Baked Potatoes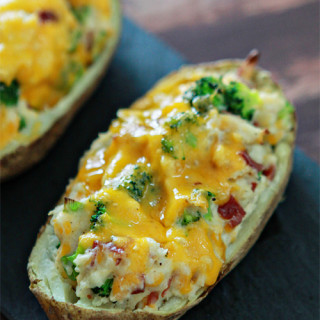 Ingredients:
4 russet potatoes
1/2 cup sour cream
2 ounces cream cheese, softened
2 - 4 tablespoons chicken broth, as needed
6 ounces chopped broccoli florets, steamed
1 cup Tillamook® Medium Cheddar Cheese, grated
1 green onion, sliced
8 slices cooked bacon, crumbled
Directions:
Preheat oven to 375 degrees F.
Using a fork, pierce the potatoes all over. Cook the potatoes until tender.(See this link for the instructions I like best for making a perfect baked potato.)
Or you can simply use the "baked potato" function on your microwave if you prefer.
Cut the potatoes in half and scoop out the insides into a medium sized bowl. Reserve the potato shells and place on a baking sheet.
Combine the potato insides with the sour cream and cream cheese and mash using a fork or a potato ricer. Stir in the broth as needed until you reach your desired consistency. Then, stir in the broccoli, half of the cheddar cheese, green onion, and the bacon.
Divide the potato mixture evenly between the potato shells and top with remaining 1/2 cup of cheddar cheese. Place in the oven and bake at 375 degrees F until heated through and the cheese on top is melted.
This post is sponsored by Safeway Inc., but all opinions are my own. Be sure to enter the Safeway Summer Sweeps.