Cinnamon Apple Pecan Squares
I am so ready to get going on holiday baking and spend some more time in the kitchen with the kids testing out some fun new treats. One of our new favorites is this recipe for Cinnamon Apple Pecan Squares.
This recipe for Cinnamon Apple Pecan Squares is so easy to prepare. It only takes 1 bowl to make if you melt the butter in the same bowl that you plan to prepare the batter in and the prep work only takes about 5 minutes.
Even Logan or Madeline can handle whipping up a batch of Cinnamon Apple Pecan Squares if I handle chopping the pecans and apples for her. It is so fun to see their skills in the kitchen improve and their confidence in their abilities.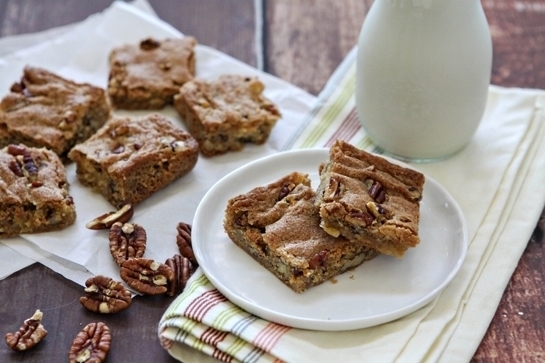 Technically this recipe is a dessert, but I'll admit to eating some for breakfast this morning. The apple squares aren't overly sweet and they have fruit and nuts in them, so that makes them healthy…right? I also like how they are soft and chewy.
These bars also freeze well once they've cooled and been cut into squares, so take an extra minute or two to make a double batch.
What recipes are you looking forward to baking this fall?
More Great Nut Recipes
Enter Fisher's Fresh Twist Contest

I am excited to work with Fisher Nuts this year to share some delicious nut recipes. Fisher Nuts is also hosting a fun recipe contest for the best recipe that featuring pecans, walnuts, almonds, or peanuts.
The contest runs through October 22nd that you can enter for a chance to win some cool prizes, like a trip to New York City and the opportunity to meet chef Alex Guarnaschelli. You check out the entries or enter a recipe of your own, visit MyFreshTwist.com
Cinnamon Apple Pecan Squares
Yield: 16 squares
Prep Time: 5 minutes
Cook Time: 25 minutes
Total Time: 30 minutes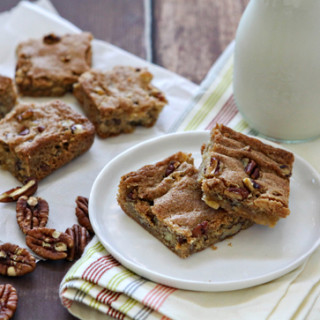 Ingredients:
2/3 cup firmly packed brown sugar
1/2 stick (4 tablespoons) butter, melted
1 tablespoon cinnamon extract
1/4 teaspoon cinnamon
1/8 teaspoon nutmeg
1 teaspoon vanilla extract
1 egg
3/4 cup flour
1 teaspoon baking powder
1 cup chopped pecans
1/2 cup finely chopped peeled apple
Directions:
Preheat oven to 350°F. Line the baking pan with parchment paper. For instructions
In a bowl, combine the sugar, butter and extracts. Combine until well mixed. Stir in egg. Add the flour and baking powder to the sugar mixture; mix well. Stir in pecans (reserve a few to sprinkle on top of the batter) and apples.
Spread the batter for the Cinnamon Apple Pecan Squares in greased 8-inch square pan. Sprinkle the extra pecans on top.
Bake 25 minutes or until toothpick inserted in center comes out clean. Cool in pan on wire rack. Cut into 16 squares.
I have partnered with Fisher Nuts and have been compensated for my time, but any opinions are my own.