Crock Pot Mexican Chicken
Shredded Mexican or Tex-Mex Chicken is so easy to cook in a crock-pot (slow cooker) or pressure cooker. It's a great basic recipe to have on hand in your freezer for use in burrito, Quesadillas, Soft Tacos, Chicken Enchiladas, Chicken Tortilla Soup, or Chimichangas. Really, you can put this chicken in anything you want to give a Mexican or Tex-Mex flair to.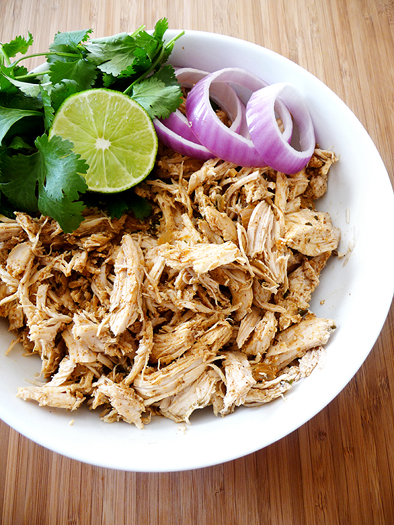 I much prefer cooking this type of chicken in the crock-pot than the oven because I don't have to coordinate my schedule with the oven's time-line. I usually get it started early in the day so it's ready before I actually need it. That way there's no last minute anything. Another great thing about slow cookers or pressure cookers is that the chicken becomes so tender it practically shreds itself.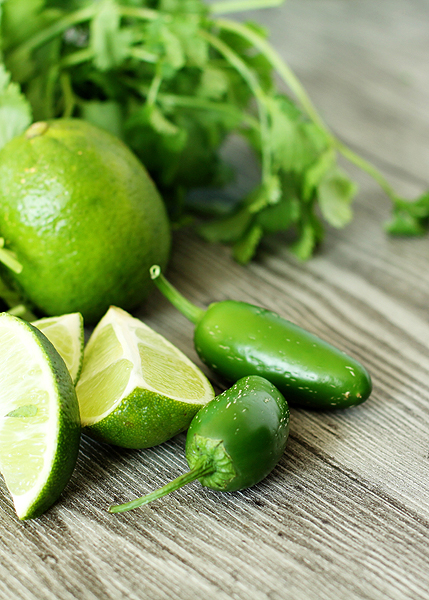 Recipes like this really save the day when I'm feeling like I need an extra 8 hours in my day to get everything done. It just takes a little organization up front to get things cooking in time. This recipe is easily doubled, or even tripled if you have a larger crock pot. The chicken can be frozen in portions for later use (stored frozen for up to 2 months).
On days that are a little busier, I will make Mexican Shredded Chicken in the pressure cooker instead of the crock pot. Add all the ingredients just as described, I've even added frozen chicken when I don't have time to thaw it, and bring it to a boil.
After the mixture comes to a boil, put the lid on and cook at high pressure for about 30 minutes, more along the lines of 45 if the chicken is frozen. After the cooking time is up, turn the heat off and let sit until the pressure has released before opening the cooker.
Shredded Tex-Mex Crock-Pot Chicken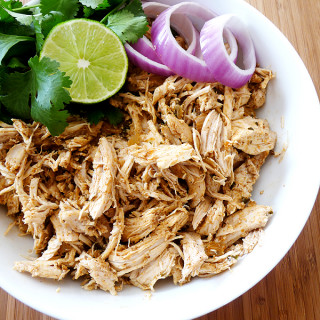 Ingredients:
4 boneless, skinless chicken breasts
1 1/4 teaspoon cumin
1 tablespoon chili powder
1/2 teaspoon coriander
1/4 teaspoon paprika
1 1/2 teaspoon salt
1/2 tsp black pepper
1/3 cup chicken broth
1/3 cup (packed) cilantro leaves, chopped
2 limes
1 large onion, chopped
1 jalapeno, seeded and minced
4 garlic cloves, minced
1 tablespoon olive oil
Directions:
Heat the oil in a medium sized sauté pan. Add the onion and sauté for 5 minutes. Add the cumin, chili powder, coriander, paprika and garlic and sauté two more minutes. Deglaze the pan with the chicken broth making sure to scrape up any browned bits. Turn off and set aside.
Sprinkle the chicken with salt and pepper. Add to crock pot. Squeeze the lime on top, add the cilantro, jalapeno, and pour the onion and garlic mixture over top.
Cook on low for 3-5 hours, or until cooked through (different crock-pots cook at varying heats) and tender. Remove chicken breasts from the crock pot, shred and place in a bowl. Scoop out the onions and add to the chicken. Depending on the amount of juices produced, you may want to add some or all of the juice back to the shredded chicken.
For fast and easy soft tacos, add this chicken to taco sized flour tortillas with shredded lettuce, avocado, tomato, cilantro, red onion, and cheese (I like cheddar, pepper jack, or feta best). Add a dollop of sour cream and salsa, too, if you like.
Kitchen Tip: To easily juice the lime, roll it on the counter top a few times like you are kneading it. Then slice in half and squeeze. Or use a hand juicer. My favorite is the Pampered Chef Citrus Press.
Recipe Note: You could also prepare this recipe in a pressure cooker. Cook for about 20-30 minutes on high pressure if chicken is thawed, 40-45 minutes if chicken is frozen.