Greek Puff Pastry Appetizers with Kalamata Olives
Have you heard of the new interactive site called Kitchen Play? In case you haven't, I'll tell you a little bit about it. Kitchen Play is the brain child of Casey from Tastestopping. She dreamed of a place where bloggers and PR professionals could interact. Each month on Kitchen Play you'll find a sponsored event called "Progressive Party," where six food bloggers are each assigned a course in a dinner menu. Each blogger will incorporate the same product or kitchen tool, in this case Lindsay Olives, into their assigned course. Sounds like a fun challenge, doesn't it?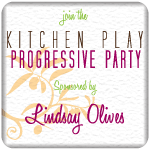 This month's theme is olives, something I love but don't often cook with. It was fun to receive a package of offerings from Lindsay Olives for my experimentation. I ended up using their Greek Kalamata Olives for this little puff pastry appetizer.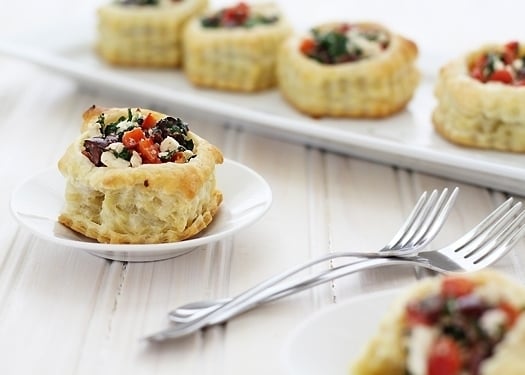 Lindsay Olives is a family-owned, California based company providing a wide selection of olive varieties. While I ended up using the Greek Kalamata Olives in my recipe, we also enjoyed the Re-closeable Large Pitted Olives, Black Ripe California Medium Pitted Olives, and the Punchy Garlic Queen Olives. The Re-closeable olives were great for when we just needed a few olives for a garnish or topping. No need to get a Tupperware out of the cabinet to store the extras in. Just pop the lid back on and stash them in the fridge. I also loved these for snacking on. If you want preservative-free, dye-free, and "any other stuff-free," check out Lindsay's Naturals line.
These Greek Puff Pastry Appetizers with Kalamata Olives area simple and colorful appetizer to have on the table for a Greek themed dinner party, or maybe just as a snack while hanging out with friends during the holidays. We had them the other night with roast chicken, potatoes, and spinach salad. It was nice to have a little something to snack on because the chicken took longer than I expected.
There's a fun contest on Kitchen Play associated with this Progressive Party, with six $100 prizes courtesy of Lindsay Olives, as well. Just head over to the Contest Page to see what it's all about!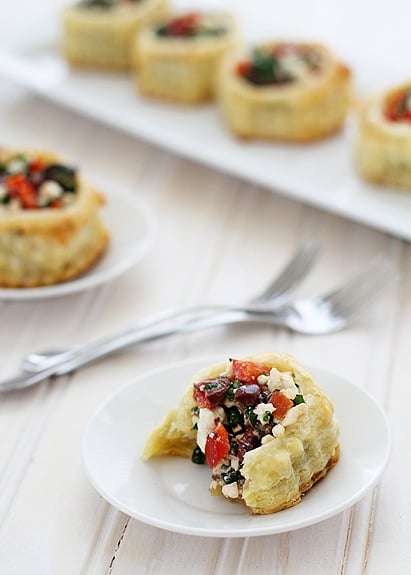 Greek Puff Pastry Appetizers with Kalamata Olives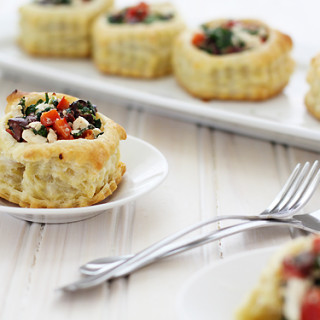 Ingredients:
1/2 cup chopped Lindsay Greek Kalamata Olives
1/2 cup chopped fresh red bell pepper
2 springs fresh oregano, leaves removed and minced
1/4 teaspoon black pepper
salt to taste, if desired
2/3 cup feta cheese, crumbled
2 teaspoons olive oil
1 teaspoon lemon juice
5 ounces fresh spinach
2 packages frozen Puff Pastry Shells
Directions:
Remove the puff pastry shells from the packaging. Bake and remove "tops" of the shells according to package instructions. I cooked mine for 20 minutes at 400 degrees F.
Meanwhile, in a medium bowl, combine the olives, bell pepper, oregano, pepper, salt (if desired), and feta. Stir to combine. Set aside.
In a non-stick skillet, heat the olive oil and lemon juice over medium-high heat. Add the spinach and cook, stirring occasionally, until just wilted. Remove from heat. Chop spinach and add to olive mixture. Stir to combine. Set aside.
After shells have baked, remove the "top" of the shell using a butter knife. Fill each shell with two heaping tablespoons of the olive mixture. Return the shells (now stuffed) to the oven and bake an additional 5 minutes. Remove and serve immediately.
The olive stuffing mixture may be made in advance.