How to Make Turkey Gravy with No Lumps
Are you a gravy fan or a cranberry sauce fan? Personally, I like both, but I often skip gravy in favor of making my Cranberry Orange Walnut Relish because I know I can easily prepare that a day or two in advance.
However, I don't mind making it if there are others at my Thanksgiving table who would like to enjoy their roasted turkey with a spoonful of gravy made from the flavorful turkey drippings.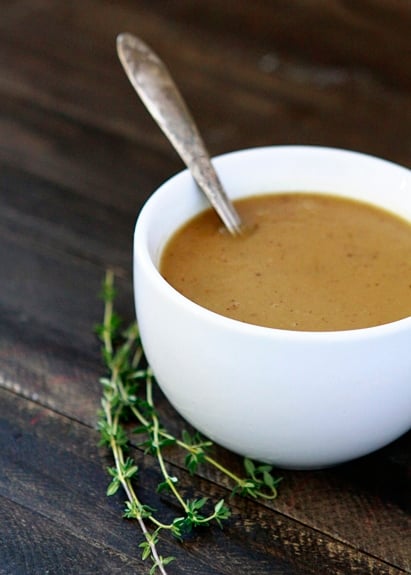 Making gravy without lumps can sometimes be a tricky task, especially when you're tired after spending the day preparing your Thanksgiving meal. I've broken the task down into 5 Steps to Perfect Lump-Free Gravy!
Need Turkey Tips? Try these:
TEASER: You will not want to miss Tuesday's giveaway. Just sayin'. It is full of awesome.
Print This

How to Make Turkey Gravy with No Lumps – 5 Steps to Perfect Gravy


1. Pour drippings from the turkey into a large glass measuring cup. Let sit until all the fat rises to the top. Spoon the fat off of the top of the drippings into a separate container.

2. Add enough broth to the remaining drippings to equal the total amount of gravy you want for your finished product.

Example: You have 2 cups of drippings and want 3 cups of gravy. You will add 1 cup of broth to measuring cup containing the drippings.
Note: If you have brined your turkey, the drippings may be saltier that you intend your gravy to be. In this situation, I add water rather than broth to my drippings. If you follow my instructions for brining, then you are also adding water to the bottom of the pan during the roasting and this helps dilute the saltiness somewhat.

3. In the turkey roasting pan (if it is sturdy, stove-top safe, and not a disposable pan), a cast iron skillet or saute pan add 1 tablespoon of the removed fat per 1 cup of liquid drippings you plan to use. Add 1 1/2 tablespoons of flour per 1 tablespoon of fat you are using to the pan.

4. Cook the mixture, whisking constantly – I like a flat whisk – over medium for a minute or two to combine well and remove the raw taste from the flour. Very slowly pour in the reserved drippings mixture, whisking constantly as you pour. Bring the mixture to a slow boil over medium heat while whisking.

5. If you would like an herb flavor, add a sprig or two of thyme and/or sage while bringing the mixture to a boil. Then turn the heat to low and keep warm until ready to serve. Re-whisk just prior to serving. Discard herbs, if using.

Print This
What do you prefer to top your turkey with?