Shrimp Stuffed Portobello Mushrooms
It's funny how much your taste in food can change. As a kid, I abhorred anything containing mushrooms. Cream of mushroom soup was one of the most dreaded suppers. I would sit at the table for ages after Mom and Dad and my older sisters were finished, picking at my soup.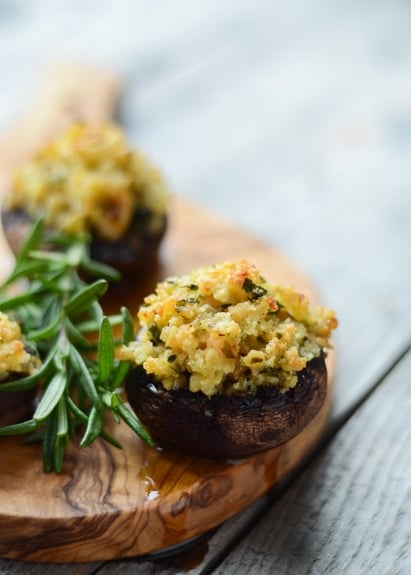 Written by: ERICA KASTNER of Buttered Side Up

Now, when I learn that a dish is made with mushrooms, I get excited. They just add an extra something special that's hard to put my finger on.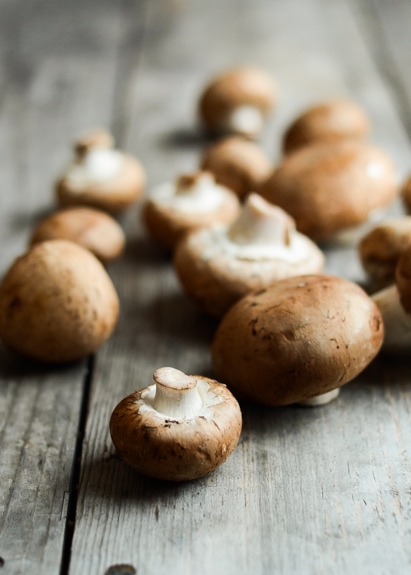 It's also funny how your taste in food can remain the same throughout the years. For example, I've always hated margarine and loved butter. I still disdain watermelon.
And I've always loved anything with shrimp. The flavor is so distinct, hinting at seafood without being fishy.
These Shrimp Stuffed Mushrooms have a wonderful depth of flavor from all of the delicious ingredients: portobello mushrooms, shrimp, fresh basil and rosemary, extra virgin olive oil, parmesan cheese…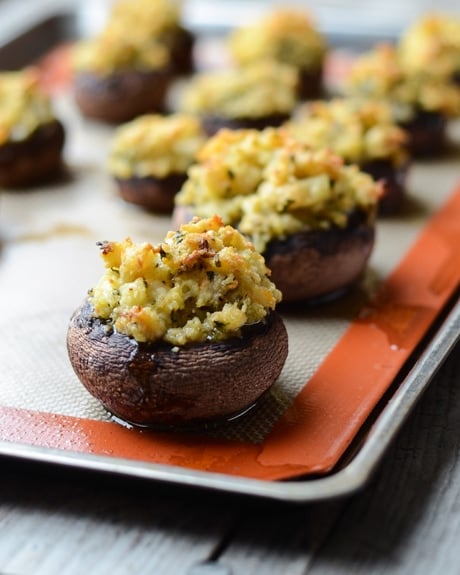 Reuben told me that he'd like to eat a pan of just the stuffing. I disagree: the mushrooms add a wonderful accent! And they make such a pretty appetizer.
He also suggested that cream cheese would be a good addition. That sounds amazing to me.
Looking for more appetizer recipes for the holidays?
Check these out:
Are there any foods that you hated as a kid that you now enjoy?
Shrimp Stuffed Portobello Mushrooms
Yield: 4 servings
Prep Time: 20 minutes
Cook Time: 25-35 minutes
Total Time: 55 minutes
A scrumptious appetizer that's sure to impress your guests.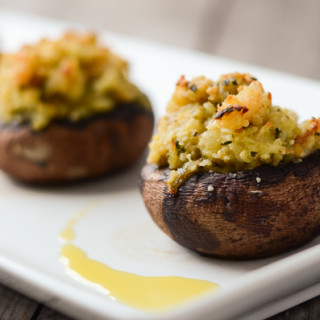 Ingredients:
1/4 cup extra virgin olive oil
1/2 cup finely chopped yellow onion
1/4 cup chopped fresh basil
1/2 teaspoon finely chopped fresh rosemary
3 large cloves of garlic
6 ounces cooked shrimp
2/3 cups fresh breadcrumbs made from French bread
1/2 cup grated Parmesan cheese
1/4 cup mayonnaise (I used homemade, which was a little runny, so I used slightly less than 1/4 cup)
8 2- to 2 1/2 inch Portobello mushrooms, stems and dark gills removed with a spoon
salt and pepper to taste
Directions:
Preheat the olive oil in a large, heavy-bottomed skillet over medium heat. Add the onion, basil, and rosemary. Cook, stirring occasionally, until the onions are nice and soft, about 5-8 minutes. Add the garlic and cook for 2 more minutes.
Transfer to a medium bowl and stir in the shrimp, breadcrumbs, Parmesan cheese, and mayonnaise. Taste and season with salt and pepper if needed. Place the mushrooms, rounded side down, on a parchment or Silpat-lined baking sheet. Fill the mushrooms, making sure to press the filling in tightly and mound.
(Make-ahead: at this point the mushrooms can be stored, covered, in the refrigerator for up to 6 hours.)
Preheat oven to 350 degrees F (175 C). Bake mushrooms in preheated oven until tender and the filling browns on top, about 25-35 minutes. Serve immediately.