Slow Cooker Ham with Honey Marmalade Mustard Glaze
Learn how to make a slow cooker ham with this delicious recipe for Slow Cooker Ham with Honey Marmalade Mustard Glaze. The ham slow cooks during your busy day and comes out with great flavor thanks to the tasty glaze. It is the perfect slow cooker ham for the holidays!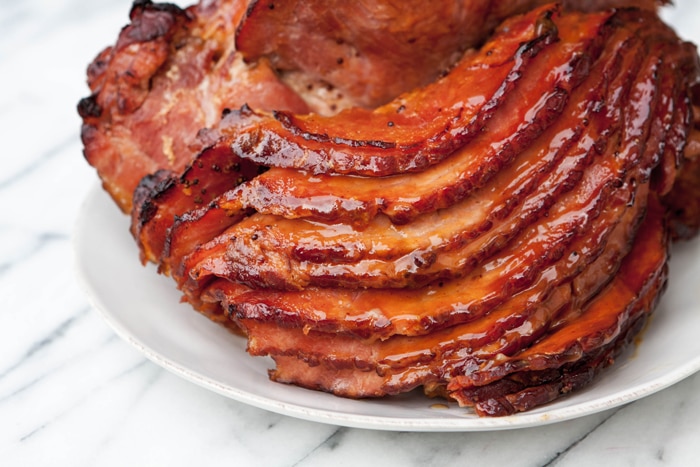 Last Thanksgiving we hosted a big group at our house, so naturally we made a TON of food. We roasted an Apple Cider Sage Brined Turkey, Smoked a Turkey, and we made this super easy, crowd-pleasing Slow Cooker Ham with Honey Marmalade Mustard Glaze.
I wanted to share the recipe again, because I know many people don't think about Ham when it comes to Thanksgiving, but if you're looking for a simpler solution than roasting a turkey (I know it can be intimidating if you've never done it before), something a little smaller than a huge bird, want a lot of variety, or just want to change up your Thanksgiving menu Ham is a great option.
I love how this recipe just sits in the slow cooker for most of the day. The meat is really juicy and tender, the whole house smells great. The homemade glaze, which consists of brown sugar, honey, orange marmalade, and mustard makes such a difference and gives the meat amazing flavor!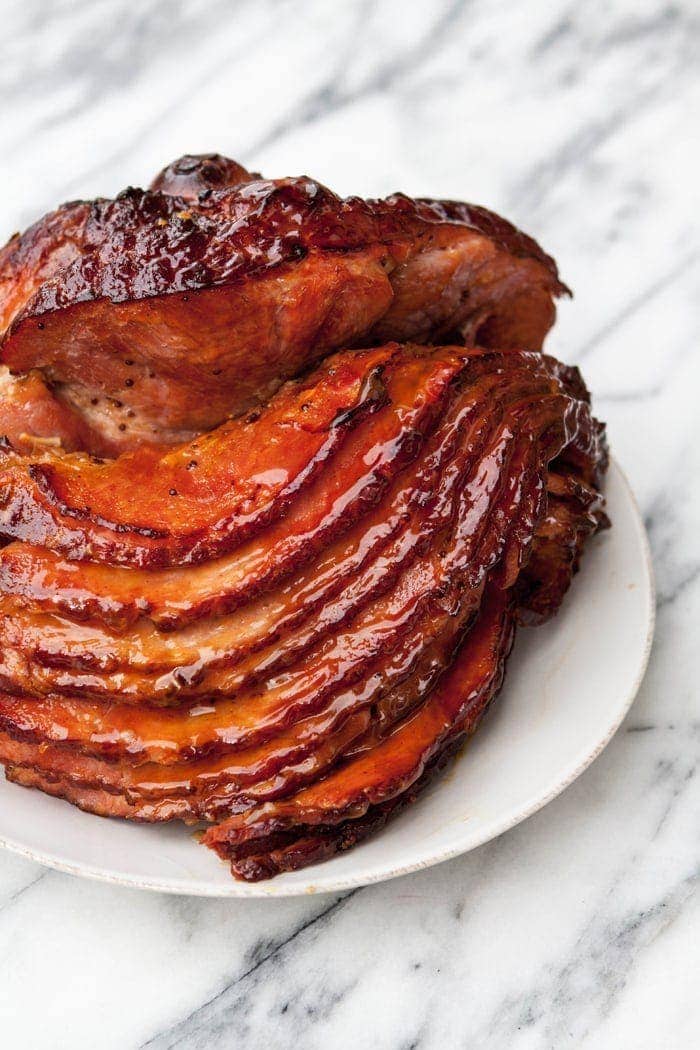 Original Post from Oct 4, 2016 follows below:
September is a busy birthday month for us. We recently had Madeline's birthday and just 8 days after that we celebrated Kendall's 13th birthday. We officially have a teenager now. Fun little fact about our new household with 4 kids is that both girls celebrate their birthdays in the same month…and both boys share a birthday month in the spring!
I like to let the kids pick what they want for their birthday dinner if they have something specific in mind that they want me to make. Madeline wanted Chicken Parmesan, it is an old recipe so I didn't have a new dinner recipe post to share for her birthday (only the Vanilla Cupcakes with Chocolate Buttercream and Fresh Raspberry Sauce we had for dessert).
Having a teenager is definitely a new, and learning, experience for me. My oldest only turned 11 this year, and is a boy. And what sometimes feels like overnight I magically have a teen girl – who I haven't known from birth and had a chance to get to know her whole life. It has been a good thing though.
I totally enjoy her as a person. I can usually count on her for a good laugh – she's pretty hilarious, so maybe sometime I'll have her write up a blog post so you all can enjoy her snarky quips and humor.
Kendall had a very specific request for her birthday dinner. HAM. She has been obsessed with ham lately. We had ham as part of a family potluck at Kevin's parents' house a couple weeks ago when we celebrated Kevin's change of command. We ended up taking some leftovers home and she couldn't get enough of it. She wanted to know how soon we could have ham again.
Since ham isn't something I make very often, so I got to work on brainstorming what I would do to said ham. In searching for ham recipes I saw lots of honey glazed ham, mustard glazed ham, and slow cooker ham. I was reminded of my Honey Marmalade Mustard Glazed Corned Beef recipe and had a hunch that the glaze, or a similar one, would be really good on Kendall's ham.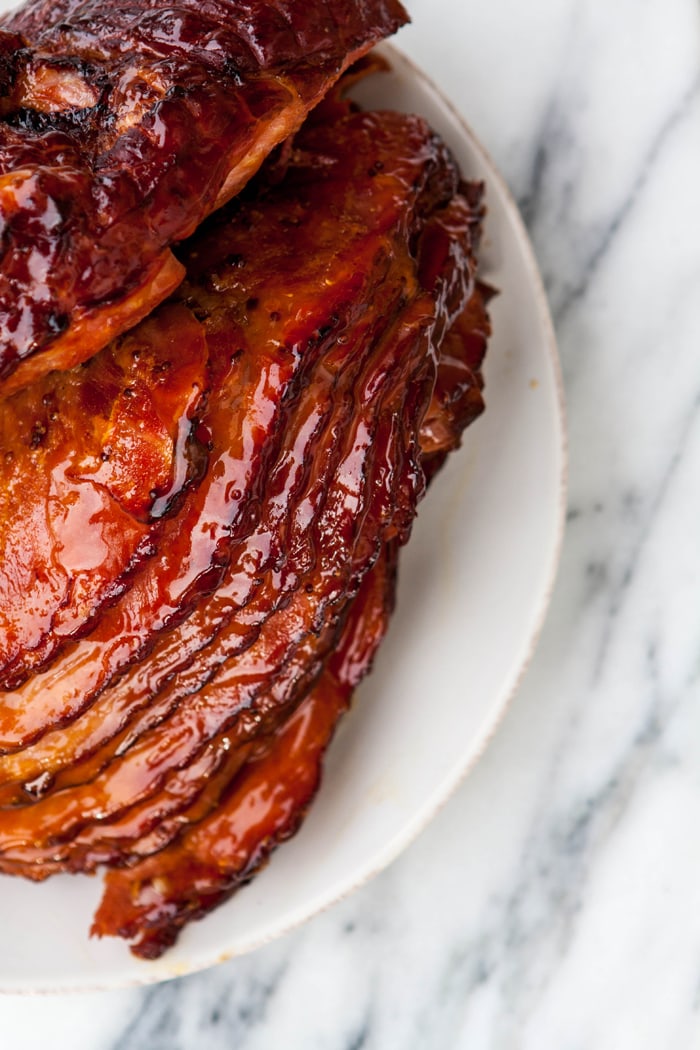 I loved the idea of cooking the ham in the slow cooker so I could get it going early in the day and essential leave it alone until dinner time. That would give me the freedom to run errands or work on other recipes and things that I needed to do. The fact is, whenever I actually remember to pull out the slow cooker, I'm always a huge fan of using it. (Keyword here being "remember")
For sides we had some simple roasted broccoli and a new version of these Mascarpone Chive Mashed Potatoes. I'll be sharing that recipe very soon because we will definitely be making them again.
Dessert was a giant chocolate chip cookie cake that I made and adapted from my very favorite Chocolate Chip Cookie recipe. Sadly, that recipe didn't get photographed. Not so sadly is the fact that we'll be making it again soon so we can get a recipe up here on the blog!
We had a great dinner and a fun time opening presents. We also had some awesome leftovers, both in the form of a ham bone and actual pieces of ham. We used the leftovers to make this Slow Cooker Ham Soup with Potatoes and Kale. The soup recipe turned out to be a bigger hit with the family than I thought it would be. Making a big ham in the slow cooker for dinner was definitely a win!
Now that we've gotten our first ham dinner as a family on the books, , Kendall periodically brings up the subject of "ham." As in, when can we have ham again? I guess that is always a good sign that a recipe turned out well!
Happy Birthday Kendall!
Slow Cooker Ham with Honey Marmalade Mustard Glaze
Yield: serves 8 - 10
Prep Time: 20 minutes
Cook Time: 6 - 8 hours
Total Time: 6 - 8 hours
Learn how to make a slow cooker ham with this delicious recipe for Slow Cooker Ham with Honey Marmalade Mustard Glaze. The ham slow cooks during your busy day and comes out with great flavor thanks to the tasty glaze.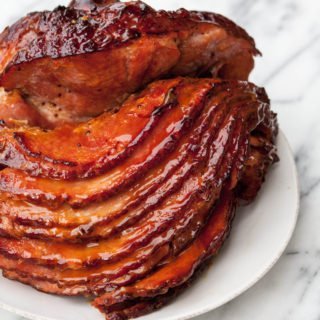 Ingredients:
1/2 cup Brown Sugar
1/4 cup Honey
1/4 cup Orange Marmalade Jam
2 tablespoons Coarse Mustard
1 tablespoon Spicy Brown Mustard
1 - 8 lb. Spiral Sliced Ham
1 - 3 teaspoons Cornstarch
Directions:
In a small saucepan, combine the brown sugar, honey, orange marmalade jam, coarse mustard, and spicy brown mustard. Cook over medium low heat, while whisking, until the sugar has dissolved. Remove from heat.
Place the spiral sliced ham inside the crock of a large slow cooker (or electric roaster). Using a pastry brush, baste the ham on all sides, making sure to pour some of the glaze in between the layers.
Place the lid on the slow cooker and cook on low heat for 6 - 8 hours, basting every 2  hours if desired.
After the ham has cooked for 6 - 8 hours, remove it from the slow cooker and transfer it to an oven safe platter. Preheat the broiler.
Remove 1 cup of the cooking liquid from the slow cooker and transfer it to a small saucepan. Bring to a simmer over medium heat and let simmer for 5 minutes. Whisk in the cornstarch, 1 teaspoon at a time, until desired thickness is achieved.
Then, brush the thickened glaze over the outside of the ham and in between the layers. Place the oven safe ham in the oven on the second to lowest rack. Cook under the broiler and broil for 5 - 10 minutes, or until the glaze is thick and shiny.
Remove from the oven and serve.