Spiced Chickpea Smothered Sweet Potato
During the winter months, the majority of my cooking is based around squash and sweet potatoes. The hearty texture and robust flavors of these nutrient dense vegetables are always a welcoming relief from the cold and snowy weather.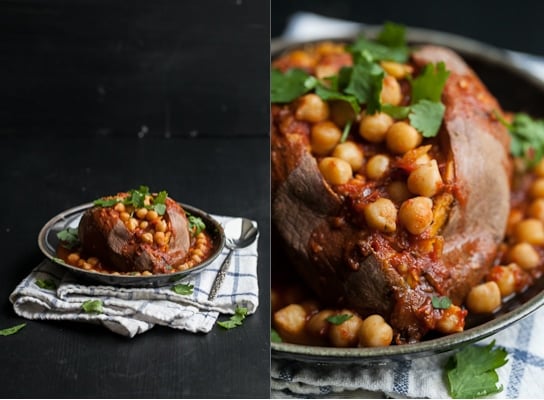 Written by: Erin Alderson of Naturally Ella
I also lean towards towards squash and sweet potato for the bright colors which tend to cheer me up a bit more than the gray skies.
The vibrant colors of these vegetables help remind me that good nutrients are packed into each bite!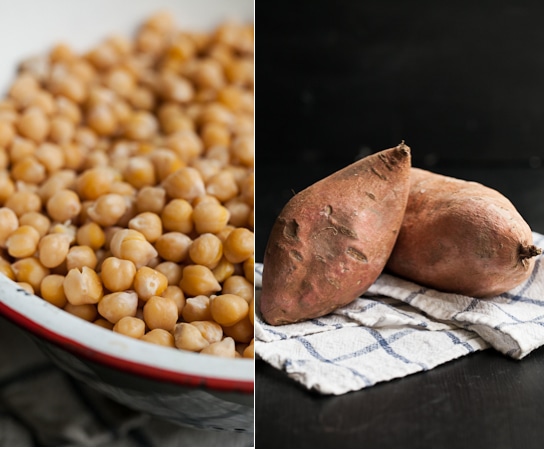 Along with the produce, my taste preferences during the winter lean towards spicy. I love playing with different spice combinations whether I'm dealing with chipotle or curry powders. Spices like these provide the extra kick that I need to help keep me warm.
This dish is simple to throw together and makes the perfect light dinner I crave. The chickpea and sweet potato combination make it feel so rich that the word "vegan" doesn't even cross my mind!
Plus, between the sweet potato and chickpeas, this meal is packed full of goodness that keep me feeling healthy (which is a nice perk during cold and flu season!).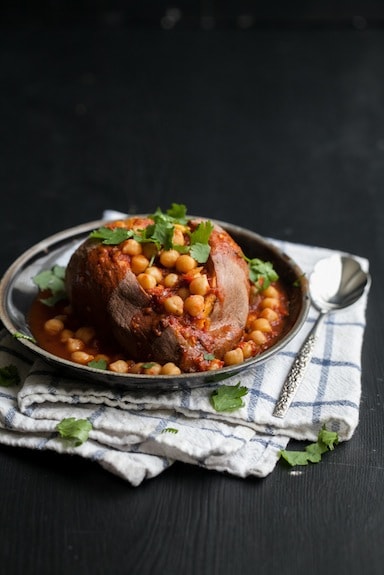 Sweet potatoes are such versatile ingredients. Here are a few other topping ideas for creating a simple, yet satisfying, main dish this winter using a baked sweet potato.
More Sweet Potato Topping Ideas:
Add a couple handfuls of spinach or other greens to the recipe below
Sub chipotle powder for the smoked paprika, black beans for the chickpeas, and top with slices of avocado.
Sub 1-2 tablespoons of good curry powder for the original spices
Smother with your favorite chili or stew (perfect for eating leftovers!)
Top with roasted veggies and a dollop of hummus
What is your favorite way to eat a Sweet Potato?
Spiced Chickpea Smothered Sweet Potato
Yield: 2 servings
Prep Time: 10 minutes
Cook Time: 1 hour and 30 minutes
Total Time: 1 hour 30 minutes
A slightly spicy chickpea and tomato stew served over a sweet potato.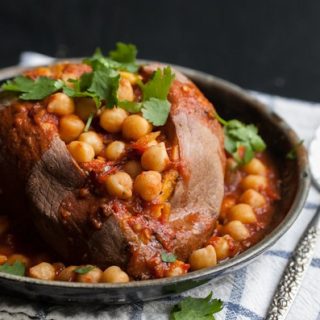 Ingredients:
2 medium sweet potatoes, preferably rounder
1 tablespoons olive oil
2 medium shallots
1 tablespoon cumin seeds
2 teaspoons coriander seeds
2 whole cloves
1/2 teaspoon red pepper flakes
1 tablespoons smoked paprika
1/2 teaspoons salt
1 cup stewed tomatoes
2 tablespoons tomato paste
1/2 to 1 cup vegetable broth
2 cups chickpeas, drained and rinsed if using canned
Cilantro, to serve
Directions:
Preheat oven to 400˚. Scrub sweet potatoes with running running, pat dry, and pierce several times with a fork. Place on a baking sheet and bake for 45 minutes to an hour. Sweet potato should be tender.
Add cumin and coriander seeds to a small dry pan. Over medium-low heat, lightly toast until fragrant, 3-4 minutes. Place in a mortar along with cloves and grind until large pieces are broken down. Combine with red pepper flakes, paprika, and salt; set aside.
In a medium pot, heat olive oil over medium heat. Mince shallot and add to pan, sautéing for translucent, 4-5 minutes. Stir in spices and cook for 1 minute more. Add stewed tomatoes, tomato paste, and 1/2 cup vegetable broth. Bring to a boil, reduce to a simmer and add chickpeas. Continue to simmer for at least 15 minutes or until sweet potatoes are done. Add more vegetable broth if desired.
To serve, place a slit in the top of the sweet potato and gently squeeze open. Remove part of the insides of the sweet potato reserving for a separate use or stir into chickpeas. Ladle chickpea mixture over sweet potato and serve with a sprinkle of cilantro.
Notes:
To substitute ground spices for the whole, use 1 tablespoons ground cumin, 2 teaspoons ground coriander, and 1/4 teaspoon ground cloves. Also, if spicy isn't your thing, simply leave out the red pepper and cut the paprika back to 1/2 tablespoon- it will still be delicious!