Strawberry Fool – An Easy Valentine's Dessert
I adore simple fruit desserts like this Strawberry Fool. It is decadent and rich, yet it's as easy as can be to prepare.
A fool is nothing more than freshly whipped cream with mashed fruit folded in. Fruit and cream is an age-old favorite. Whipping the cream into billowy clouds makes it feel extra special – perfect for Valentine's Day or any day.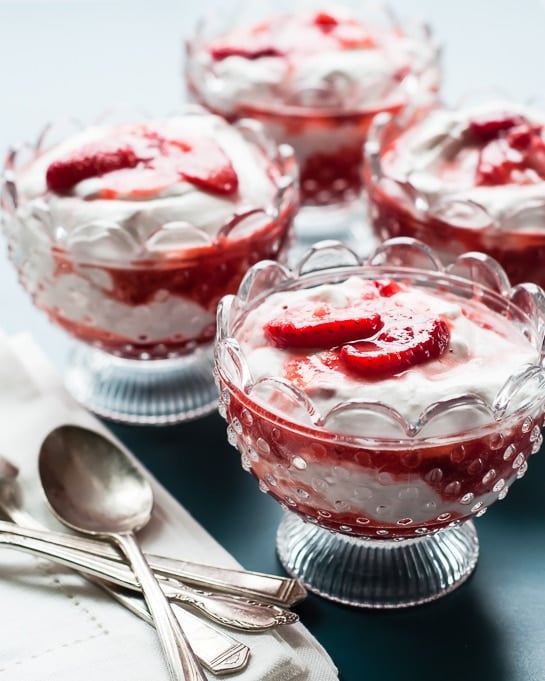 Written by Lindsey of Cafe Johnsonia
Another thing I love about this dessert is that it really highlights the flavor of the fruit. It's 100% all-natural. No artificial colors or flavors. It's not quite as rich as ice cream, or as sweet.
Normally we make this dessert when fresh fruit is plentiful during the summer and fall.During the winter it can be harder to find quality fresh fruit, so using frozen fruit is perfectly acceptable.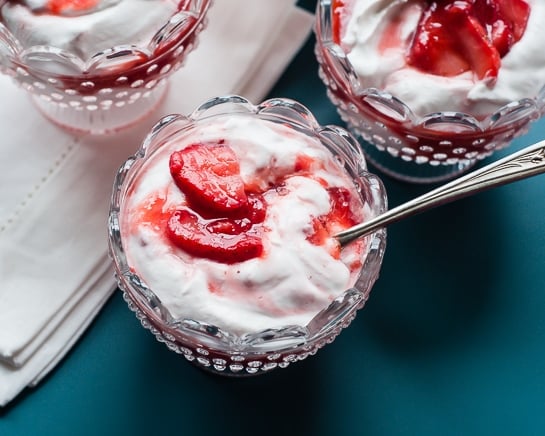 The strawberries turn this a lovely shade of pink and looks gorgeous layered into pretty dessert glasses with strawberry sauce. I add just enough sugar to sweeten it up, plus a little pure vanilla extract. My kids think it's the best dessert ever and enjoy eating it with fancy spoons like they're at a restaurant.
If you're looking for an easy Valentine's Day dessert, this is one you'll really love.
What's your favorite, easy go-to dessert?
Strawberry Fool
Yield: 4-6 servings
Prep Time: 20 min
Cook Time: 0 min
Total Time: 20 min
An easy fruit dessert recipe made with whipped cream and fresh strawberries.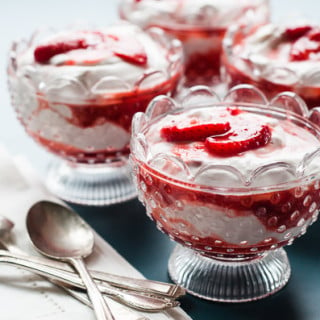 Ingredients:
1 cup heavy cream, chilled
2 cups fresh (or frozen) strawberries
1-2 Tablespoons sugar
1 teaspoon vanilla extract
a few strawberries, sliced, for garnish
Directions:
Place chilled heavy cream in a large mixing bowl, or the bowl of a stand mixer. Beat until light and fluffy, being careful not to overheat. Set aside or chill until ready to use. (You might need to whisk it or beat it again for a few seconds if you don't use it right away and it separates.)
Place strawberries in a medium bowl. Sprinkle with sugar and add vanilla extract. Mash the strawberries, leaving some larger pieces. Let stand for a few minutes.
Add about half of the mashed strawberries to the whipped cream, folding with a large silicone spatula. Reserve the remaining strawberries to use when serving.
To serve: Spoon some of the cream into four serving glasses or dishes, top with some of the remaining mashed strawberries, and another spoonful or two of the cream and a few sliced strawberries. Serve immediately, or place in fridge to chill until ready to serve.
Notes:
Make sure the heavy cream is very cold or it might not whip very well.
Substitute other berries or fruit for the strawberries.