Kitchen Tip: How to Freeze Cookie Dough
Sometimes there are just so many recipes that I want to try – especially desserts and breakfast sweets – but I know that we'll never get them all eaten in time before they go bad, we get fat, or the kids stop eating any semblance of real food in favor of all the sugar. What do I do then? I stash extra cookie dough in the freezer to use later.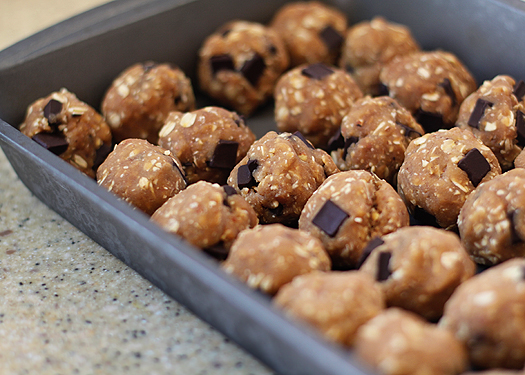 Right now we have stuffed shells, crock-pot shredded Mexican chicken, Oatmeal Almond Chocolate Chunk Cookie Dough and waffles in the freezer (among the usual suspects). For me it is so much easier to make a little bit extra (like a triple batch of waffles) and keep them in the freezer for when we need them.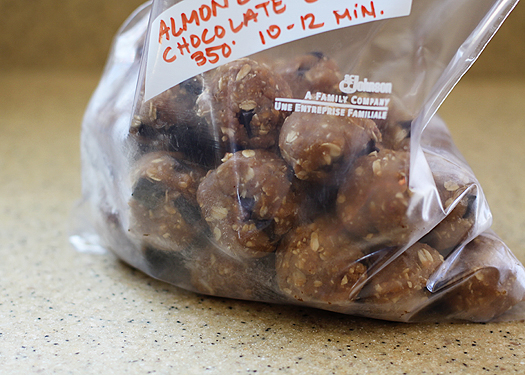 Sweets and breakfast items are my favorites for freezer stashing. Cookie dough does especially well. It's great for all kids of reasons – last minute guests and you've got a quick treat to share or maybe you feel like a cookie but don't want to make a full batch. Just pull out what you need and bake them up. That certainly works for me!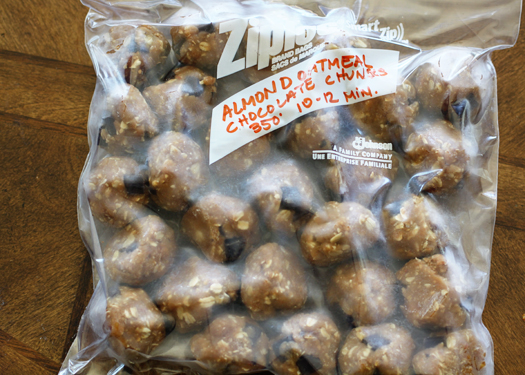 So, here is a quick tutorial for today's kitchen tip on how I like to freeze cookie dough for later use. It's simple, only takes a few minutes, and is a great way to be prepared in advance for parties or holiday gifting. It's worth making a double batch of your next cookie recipe, I promise you won't regret it!
How To Freeze Cookie Dough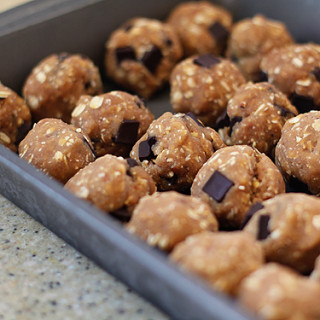 Ingredients:
Cookie Dough
Cookie Sheet or Baking Tray
Gallon Sized Ziploc bag
Permanent Marker
Directions:
1. Roll the entire batch of cookie dough into balls just like you would if you were baking them.
2. Fill a baking pan or tray (here I've used a 9x13 non-stick baking pan) with all the rolled cookie dough balls, leaving just enough space between the cookie dough balls that they don't get stuck together.
3. Stick the filled pan in the freezer. You don't need to cover it, but make sure to keep it flat so the balls don't move around and get stuck together.
4. Freeze until the cookie dough balls are hard. Meanwhile, take a gallon sized zip top freezer bag and label it with the recipe name, date, cooking temperature and time details.
5. Remove the pan from the freezer. Take all of the cookie dough balls out of the pan and place them in the labeled bag.
6. After filling, lay the bag flat (flat takes up less space). Remove as much air as possible. I like to zip the bag almost all the way and then stick a straw in the bag to suck out the excess air before I finish zipping it.
7. Stash the cookies in the freezer for later!
8. When I go to bake the frozen cookies I usually only thaw the cookies while the oven is preheating. I just let them bake about 2 minutes longer than the original recipe states.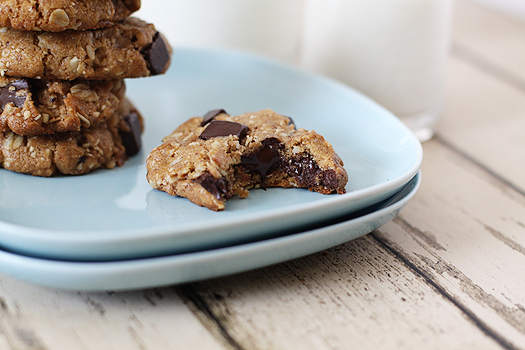 Cookie recipes for your inspiration:
Now that you know what to do with all that cookie dough, it's time to get baking! Here are some of our family favorite cookie recipes.