Kitchen Tip: How to Freeze Cookie Dough
Cookie dough freezes extremely well and is the perfect sweet treat to keep stashed in your freezer to instantly satisfy those sweet tooth cravings.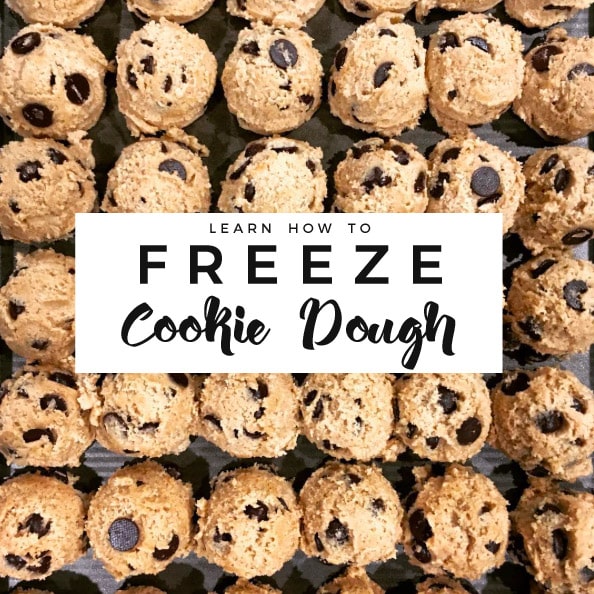 Sometimes there are just so many recipes that I want to try – especially desserts like cookies – but I know that we'll never get them all eaten in time before they go bad, we get fat, the kids stop eating any semblance of real food in favor of all the sugar, or someone forgets to close the pantry door and the Bailey dog helps herself to them (oh yes, that's happened!)
What do I do then?
I stash extra cookie dough in the freezer to use later.
But it isn't just about not wanting to eat everything all at once. The other truth is that we go through food A LOT quicker now as a household of 6 than we did when I only had my 2 kiddos and no husband.
We're a lot busier, too, so gone are the leisurely afternoons of baking up cookies whenever I had the whim.
For me it is so much easier to make an extra large batch of cookie dough and keep them in the freezer for when we need them. Or want them. Need. Want. It's all pretty much the same thing when it involves cookies, am I right?
Not only is is great to have frozen cookie dough on hand for last minute cookie cravings, but it has totally been the best thing ever when we have last minute get togethers with friends or a bunch of kids coming over to hang.
There is always something quick to toss in the oven in these social situations.
We did just this a month or so back, and then a few weekends later the same friends came over and the first thing those kiddos said to me was – can you make cookies?
Unfortunately, we had just used up the last of the cookies a few days before and I hadn't gotten around to making another batch. The horrors!
So, here is a quick tutorial for today's kitchen tip on how I like to freeze cookie dough for later use.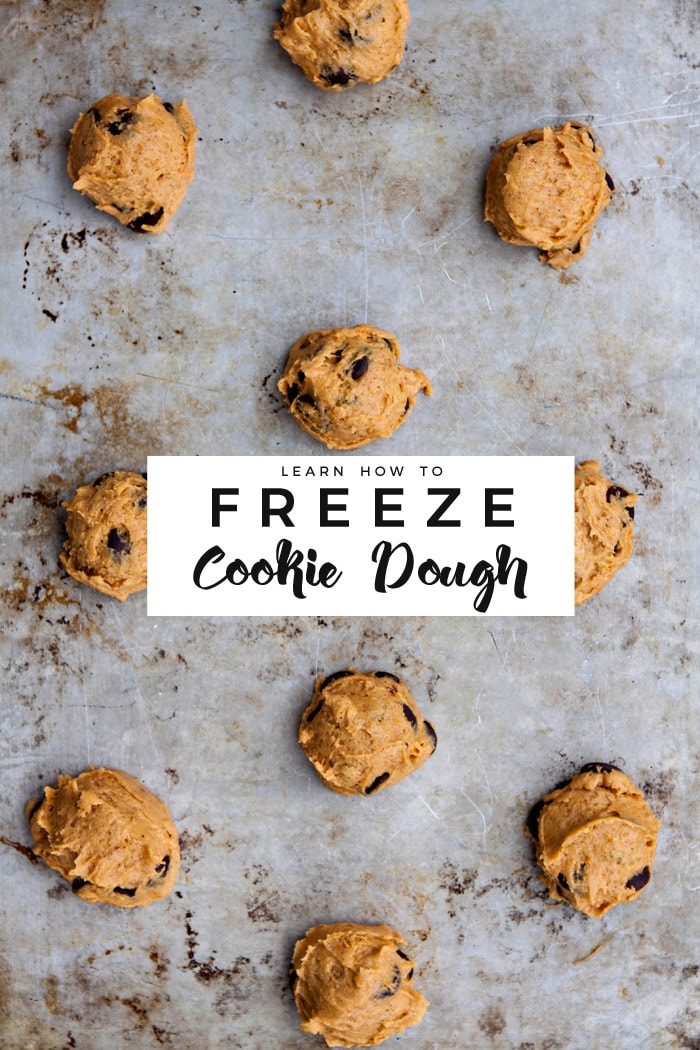 How To Freeze Cookie Dough
The process is super simple, only takes a few minutes, and is a great way to be prepared in advance for parties or holiday gifting. It's worth making a double batch of your next cookie recipe, I promise you won't regret it!
Cookie Dough Freezing Supplies
Cookie Dough
Cookie Scoop (this makes the cookies uniform in size, and quicker to roll)
Cookie Sheet or Baking Tray
Gallon Sized Ziploc bag
Permanent Marker
Cookie Dough Freezing Steps
1. Roll the entire batch of cookie dough into balls just like you would if you were baking them. Placing them on the baking sheet as you scoop them.
2. Fill a baking pan or tray  with all the rolled cookie dough balls, leaving just enough space between the cookie dough balls that they don't get stuck together.
3. Stick the filled pan in the freezer. You don't need to cover it, but make sure to keep it flat so the balls don't move around and get stuck together.
4. Freeze until the cookie dough balls are hard. Meanwhile, take a gallon sized zip top freezer bag and label it with the recipe name, date, cooking temperature and time details.
5. Remove the pan from the freezer. Take all of the cookie dough balls out of the pan and place them in the labeled bag.
6. After filling, lay the bag flat (flat takes up less space). Remove as much air as possible. I like to zip the bag almost all the way and then stick a straw in the bag to suck out the excess air before I finish zipping it.
7. Stash the cookies in the freezer for later!
8. When I go to bake the frozen cookies I thaw the cookies for about 15 minutes prior to setting the oven to preheat. Then, bake like normal!
Cookie Recipes that Freeze Well
Now that you know what to do with all that cookie dough, it's time to get to it! Here are some of our family favorite cookie recipes to keep stashed in the freezer for any time that a sweet tooth strikes.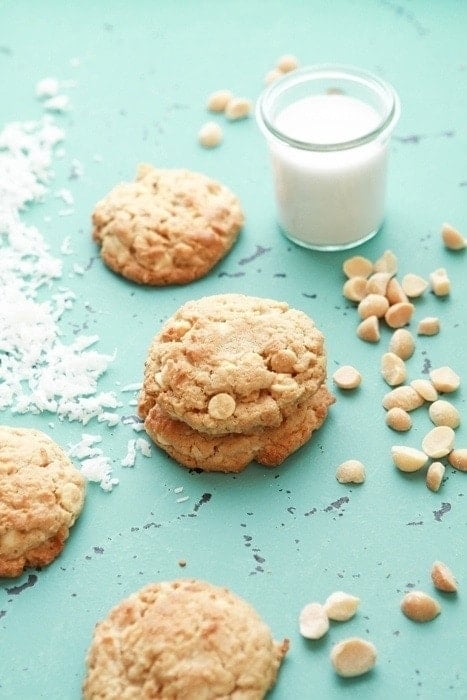 Our kids (and plenty of family and friends) would straight up boycott if I ever stopped making these NY Times Chocolate Chip Cookies. They're so well loved that I made about 7 dozen of them to take to Kevin's change of command ceremony luncheon and there was not a single one left. They are hands down, our favorite cookies to make and keep stashed in the freezer!
We found a way to get our peanut butter cookie cravings with Logan's peanut allergy – Almond Butter Cookies have all that classic taste without the allergen. They freeze well, too!
White Chocolate Lemon Coconut Cookies are a fun twist on the usual chocolate chip cookies and perfect for bright, sunny spring and summer days.
White Chocolate Pistachio Cookies are great for anyone who loves pistachios (pick me please!).
You can't go through fall without making these Dark Chocolate Chip Pumpkin Cookies.
Oatmeal Almond Chocolate Chunk Cookies combine the best of oatmeal and chocolate cookies with a hint of nutty almond butter.
Do you ever freeze cookie dough? What is your favorite recipe?