There are some truly unique flavor pairings for feta. Learn more about feta flavor pairings and some great flavor combos using feta!
Are you under the assumption that Feta only goes in Greek recipes?
True, Feta is traditionally made in Greece and is often found paired with spinach, olives, tomatoes, or cucumbers.
But, you don't have to limit yourself to just those flavor combinations.
We had these black bean breakfast burritos for dinner last night.
I top them with feta cheese instead of cheddar or jack. The feta goes great with the salsa, eggs, black beans, and cilantro.
I often use Feta as a substitute for Queso Fresco, a mild white cheese used in many Mexican or Spanish recipes. A few recipes under my Mexican Food category here on Good Life Eats call for feta cheese.
I love the tangy taste and the crumbly texture. It is perfect for sprinkling on top of tacos, scrambled eggs (my favorite is with salsa, cilantro, and feta), and Mexican inspired salads.
For these recipes I always use Traditional Feta, but Mild would also work great.
What Flavors Go Well with Feta
Don't get stuck in a rut. One of my favorite books for exploring flavor combinations is The Flavor Bible.
Below are a few suggested flavor matches for Feta. I never would have thought to pair it with watermelon!
red bell peppers
pita bread
ricotta
chickpeas
dill
garlic
grapes
lemon
olives, black or Greek
pasta
watermelon
Another great book about flavors is The Flavor Thesaurus. I keep both books handy when I want to research flavor pairing suggestions. They're also great books when you don't know what to make but you know what you have.
I browse the ingredients and sometimes get an idea based on the flavor profile suggestions, or it will give me an idea to tweak a recipe I already make into something new and unique.
What flavors do you love to pair with feta?
Do you stick to traditional or do you mix things up and experiment?
I have a big watermelon in the fridge, so I'm going to do some experimenting with that.
I have always been a fan of sweet and salty paired together.
Are there different types of Feta?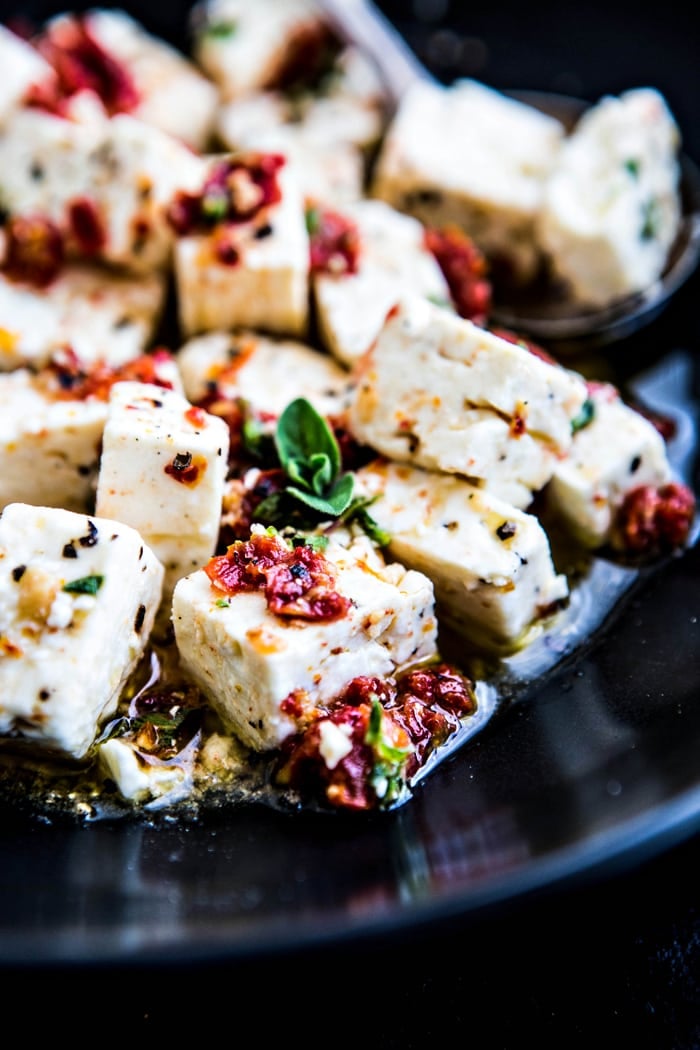 Yep! There are a few different types of feta and they each have distinct characteristics:
Greek Feta
Greek Feta is the most traditional type of feta, the easiest to find, and the most flavorful. It is perfect for crumbling and adding to a variety of dishes and salads.
Bulgarian Feta
Bulgarian Feta is the saltiest variety of feta. It has a firm, but creamy texture, and is usually best served simply.
French Feta
French Feta is less briny, mild, creamy, and softer than others. This variety is great whipped or spread on bread.
How to Store Feta
Feta can dry out and spoil quickly if it isn't stored in a brine solution. Typically, a block of feta will come in a brine solution, but you can make your own.
Combine 3 ounces of salt to about 4 cups of water. Make sure the salt is completely dissolved. Then, store any leftover feta in the solution – cover it completely – and keep it in a container with a lid.
Storing feta in the brine will allow it to last much longer, some even up to a few months if stored properly and not contaminated with other germs or food items when it is handled.
Feta that has been removed from the brine solution and crumbled (or store bought crumbled feta, which I don't usually recommend) will only last about a week.
How to Decrease the Salt Content of Feta
Feta is a salty cheese. To decrease the salt content of the feta, soak the uncut block of feta in cool water for 10 minutes. Then, drain and rinse!
How to Crumble Feta
Don't buy pre-crumbled feta if you can avoid it. Usually, the precrumbled feta is actually pricier than buying a block and crumbling it yourself.
Also, store bought crumbled feta can often contain additives, such as anti caking agents, to prevent the feta from sticking together in the container.
To crumble feta: cut the amount you intend to use off the block. Then, rinse it with cool water. Rinsing will remove any excess brine. Then, using your hands, break the feta into small pieces. You can also use a fork, but take care not to mash the feta.
feta cheese recipes
Looking for some feta recipe ideas? I have plenty of recipes that use feta. Here are a few of my favorites!
Serve this Marinated Feta Appetizer with crackers or crusty bread. In this recipe, feta cheese is marinated in olive oil, fresh herbs, garlic, lemon, and sun dried tomatoes for a delicious and simple appetizer.
These Balsamic Berry Salad Lettuce Cups are the perfect light salad for warmer months. They would also be great served as a healthy a snack or appetizer. If you'd like a light dinner or lunch, try adding a few strips of grilled chicken to the berry mixture.
Cucumber Feta Rolls are a refreshing appetizer featuring feta, dill, olives, and Greek yogurt.
Grilled Chicken Greek Pita Pockets take almost no time to prepare, especially if you grill the chicken ahead of time. Then, stuff the chicken along with artichoke hearts, baby spinach, cucumber, kalamata olives, roasted red peppers, and feta cheese.
Too hot to turn on the oven? You'll love this recipe for No Bake Grilled Vegetable Lasagna, a fun summertime take on lasagna. It features 2 types of grilled squash, ricotta, feta, plenty of fresh basil, and balsamic vinegar.
If you're looking for a simple way to dress up your BBQ menu this summer give this recipe for Watermelon, Mint, and Feta Salad a try. It's really refreshing and juicy, and especially satisfying if you like sweet and salty combos. The syrupy balsamic glaze adds just the right acidity.
Didn't find what you're looking for? Feel free to browse the entire ingredient index or check out my other feta recipes
What are your favorite feta recipes?
Get More Recipes via Email
Did you love this recipe? Sign up to receive Good Life Eats Email Updates and never miss another recipe!