This Oven Baked Glazed Corned Beef is a fun take on the traditional St. Patrick's Day meal. Rather than stewing in the CrockPot all day, the homemade corned beef is braised with plenty of seasonings before broiling in the oven with a delicious honey marmalade mustard glaze.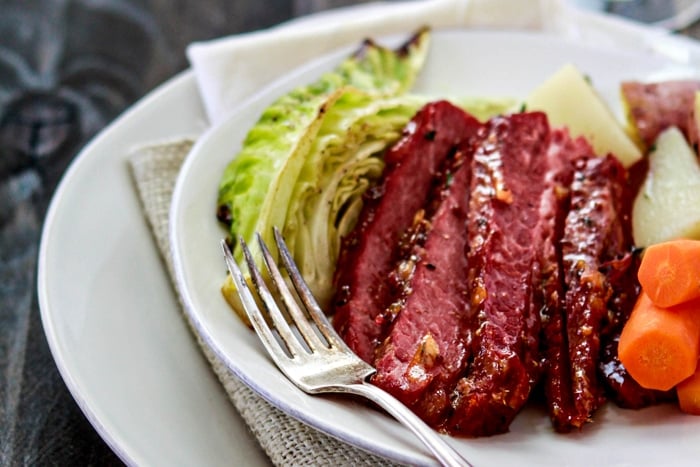 Save this recipe for Homemade Glazed Corned Beef to Pinterest!
Homemade Corned Beef Recipe
I haven't done an "updated from the archives" post recently, so in light of Sunday being St. Patrick's Day, I thought I'd bring this delicious Corned Beef recipe back to the top.
Originally published in 2011, this baked corned beef recipe has definitely seen a few rounds of St. Patrick's Day meals in our house over the last 8 years. And, we're planning to make it again this Sunday.
Homemade corned beef is much easier to make than you'd imagine, and the leftovers are perfect for making sandwiches with. In this post, I'm sharing my favorite corned beef glaze as well as all my tips and tricks for making oven baked corned beef.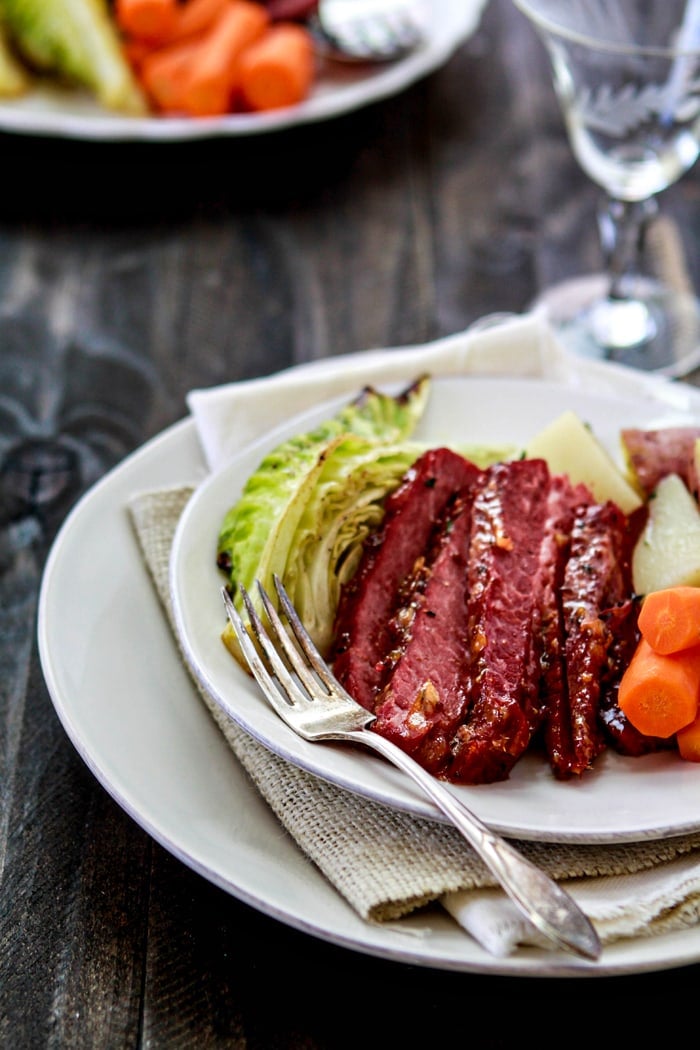 Save this recipe for Homemade Glazed Corned Beef to Pinterest!
Glazed Corned Beef Ingredients
You're going to braise the homemade corned beef with a bunch of great flavors:
onion
garlic
carrot
celery
bay leaves
thyme
black pepper
whole cloves
After the meat has braised for a few hours and is nice and tender, you'll preheat your oven to broil and mix up a really tasty Honey Marmalade Mustard Glaze. This is the same glaze I use on my Slow Cooker Ham that everyone loves!
The corned beef glaze consists of the following:
marmalade
honey
brown sugar
dijon mustard
grainy mustard (I recommend this grainy mustard!)
For the complete ingredient list and detailed instructions, scroll to the bottom of this post for the FREE printable recipe card.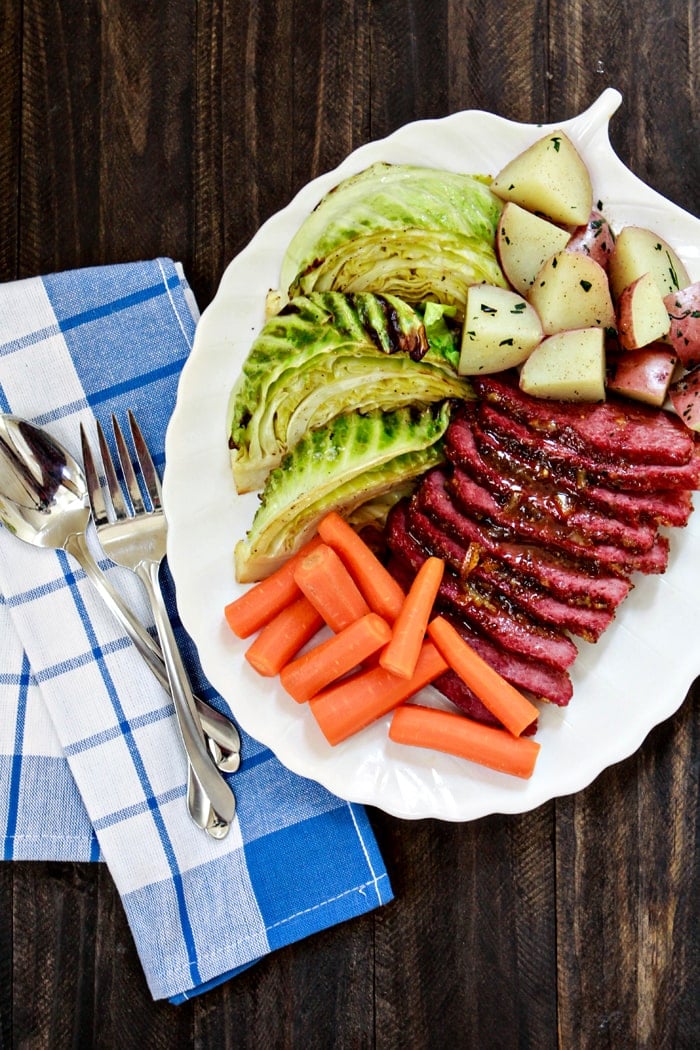 Save this recipe for Homemade Glazed Corned Beef to Pinterest!
How to Cook Corned Beef in the Oven
This baked corned beef with mustard and brown sugar is easy to make and is as simple as searing the meat, then braising it in the oven. Here's how I make glazed corned beef:
Trim any excess fat from the corned beef, then rinse and pat dry.
In an oiled dutch oven, sear the beef on all sides.
Add remaining corned beef ingredients to the dutch oven, bring the mixture to a boil, then transfer to the oven.
Bake the corned beef until very tender.
Remove the corned beef from the oven, then transfer the meat to a broiler pan.
Brush with corned beef glaze, then broil for 10 minutes.
Once the glazed has broiled for a few minutes, pull it from the oven and let it rest for a bit before slicing into the meat.
How Long to Cook Corned Beef
For this glazed corned beef recipe, you'll need to cook the 5-pound corned beef for 3 to 4 hours, or until it's very tender. Then, it should be broiled for another 10 minutes once the glaze has been spread on.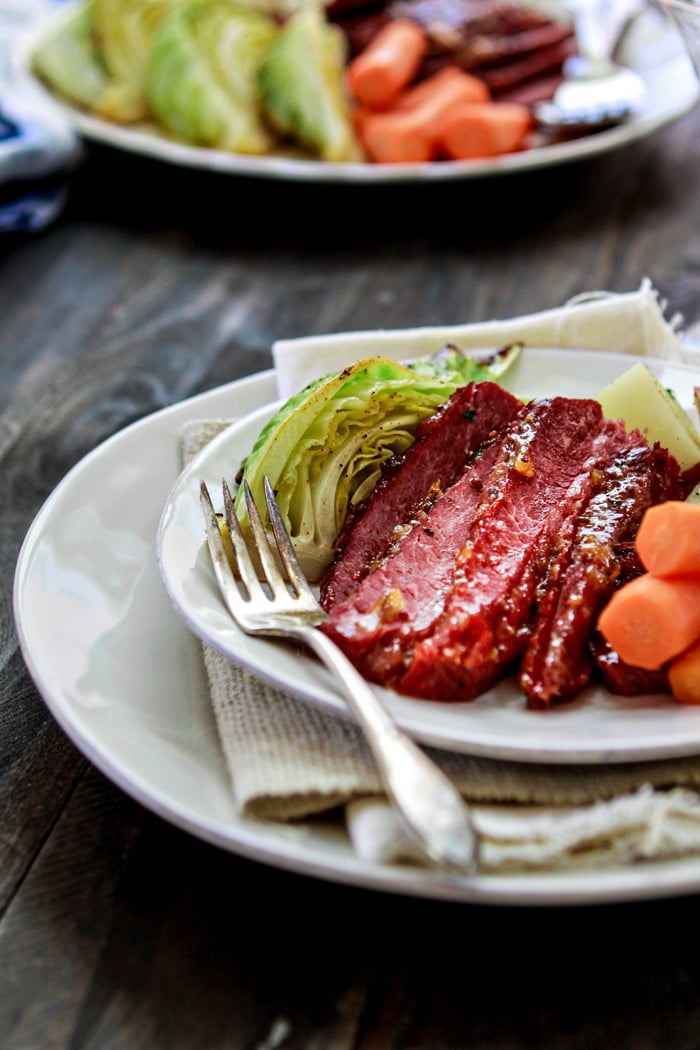 Save this recipe for Homemade Glazed Corned Beef to Pinterest!
Where Can I Buy Corned Beef?
Corned beef is sold in practically every grocery store in the US. This particular corned beef came from Costco. If you can't find corned beef in your local supermarket, Cook's Illustrated: The New Best Recipe has great instructions for curing your own corned beef.
Tips for Making Glazed Corned Beef
I always start by rinsing my corned beef, then patting it dry. Corned Beef can be pretty salty, so rinsing it will remove an excess salt on the exterior of the beef. Patting it dry will allow you to get a nice sear on either side before you start your braise.
You can use any sweet fruit marmalade you'd like in the corned beef glaze, but I typically use an orange marmalade.
Broiling the cooked corned beef with the glaze on top will make it nice and thick and super shiny. Make sure to reserve extra corned beef glaze for serving alongside with the meat!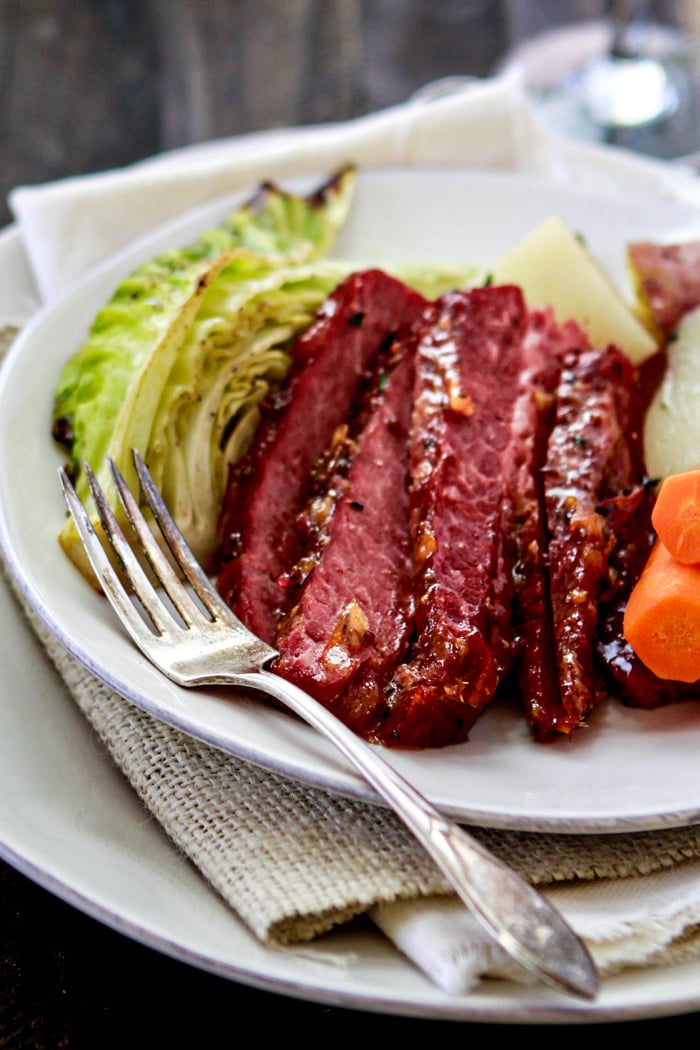 Save this recipe for Homemade Glazed Corned Beef to Pinterest!
What Readers Are Saying:
"Stop reading and go make this!!! I love corned beef and cabbage and have always eaten it with my family. Well this is the only way I will prepare it from now on!! I cannot wait to make this for my parents/grandparents to show them what they are missing by boiling it. Enjoy!!" — Karla
"My mom made corned beef this way years ago and I have been looking for the recipe ever since. You present it beautifully. I can attest to how delicious it is." — Donna
"I made this the other day, oh it was to die for! The taste was amazing! Thank you so much for the fantastic recipe, will be making this often!" — Cheri
"I added the glaze to the end product of my slow cooked corned beef and it was fabulous!" — Erin
What to Serve with Corned Beef:
If you're looking for a new side dish recipe to add to your St. Patrick's Day menu, you should give this Colcannon with Leeks and Kale a try.
Usually boiled cabbage is traditional to serve with Corned Beef on St. Patrick's Day. However, my favorite recipe to serve is this Roasted Cabbage with Lemon.
If you want to change things up from the traditional, try serving this Baked White Cheddar Mac and Cheese with Kale and Bacon alongside your Corned Beef and Cabbage in place of potatoes (or maybe alongside them!).
Another great green side dish to pair with your St. Patrick's Day Corned Beef is this recipe for Roasted Brussels Sprouts with Bacon and Balsamic. This recipe is full of delicious flavor – caramelized, roasted brussels sprouts, savory bacon, and tangy balsamic vinegar.
Classic buttery russet potato mashed potatoes are elevated thanks to the addition of plenty of browned butter and fresh grated parmesan in these Browned Butter Parmesan Mashed Potatoes. Perfect for eating alongside glazed corned beef!
Got leftover corned beef? Thinly sliced leftover Corned Beef and Roasted Cabbage combine to make a tasty Reuben Panini Recipe. The meat and cabbage is sandwiched in between Pumpernickel bread with mustard, thousand island dressing, and gruyere cheese.
What is your favorite St. Patrick's Day tradition?
Love this recipe for Glazed Corned Beef? Sign up for Good Life Eats email updates and never miss another recipe!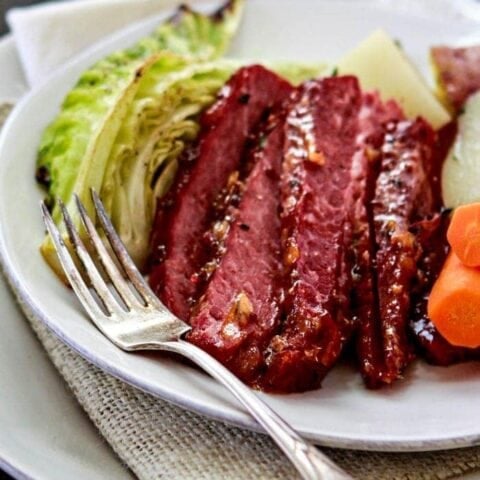 Honey Marmalade Mustard Glazed Corned Beef
Total Time:
4 hours
20 minutes
This Honey Marmalade Mustard Glazed Corned Beef is a fun take on the traditional St. Patrick's Day meal.
Rather than stewing in the crock pot all day, the Corned Beef is braised with plenty of seasonings before broiling in the oven with a delicious Honey Marmalade Mustard Glaze.
Ingredients
For the beef:
5 lbs. corned beef
1 medium yellow onion, chopped
4 cloves garlic, smashed
2 carrots, quartered
2 celery ribs, quartered
3 bay leaves
1 teaspoon dried thyme or 2 sprigs fresh thyme
2 teaspoons black peppercorn
3 whole cloves
3-4 cups water
For the glaze:
1/3 cup marmalade
2 tablespoons honey
1 tablespoons brown sugar
1 tablespoons dijon mustard
2 tablespoons grainy mustard
Instructions
For the beef:
Preheat oven to 300 degrees F.
Combine the marmalade, honey, brown sugar, dijion, and grainy mustard. Set aside.
Trim corned beef of excess fat.
Rinse and pat dry the beef.
In a large dutch oven, heat 2 teaspoons olive or canola oil over medium-high heat.
Add the beef to the pan and cook until browned, 2-4 minutes.
Flip to the other side.
Add the onion and garlic around the beef. Cook for 2-4 minutes more until the other side has browned.
Add the carrot, celery, bay leaves, thyme, peppercorn and cloves.
Pour the 3-4 cups water into the pot (water should reach mid way point of the beef).
Bring to a boil, cover, and transfer to the oven for 3-4 hours, or until meat is very tender.
Remove meat from the dutch oven.
Preheat oven to 375 degrees F. Line a broiler pan with foil, then place the corned beef on top.
Spread it with the glaze (reserving excess for serving) and bake at 375 degrees F for 10 minutes.
Remove from the oven and let rest for 5-10 minutes before slicing.
Serve topped with extra glaze.
Serve along side Roasted Cabbage with Lemon and boiled red potatoes (tossed with butter and parsley) and carrots (or you can roast the vegetables too).
Recommended Products
As an Amazon Associate and member of other affiliate programs, I earn from qualifying purchases.
Nutrition Information
Yield

10
Serving Size

1
Amount Per Serving
Calories

627
Trans Fat

0g
Fiber

1g
Sugar

12g
Protein

42g
Be sure to follow Good Life Eats on Instagram. Tag @goodlifeeats and include the hashtag #goodlifeeatsrecipes so I can see what you're cooking up in YOUR kitchen!
Let me know if you try this recipe and what you think of it by leaving a comment below.
Save this recipe for Homemade Glazed Corned Beef to Pinterest!