Honey Marmalade Mustard Glazed Corned Beef
I grew up eating Corned Beef and Cabbage on St. Patrick's Day and have always had fond memories of that meal. But I had never actually made it one my own. Not once. This year I decided that I needed to change that because during all these married years that I haven't made Corned Beef and Cabbage I also haven't eaten it, and I kind of missed the meal.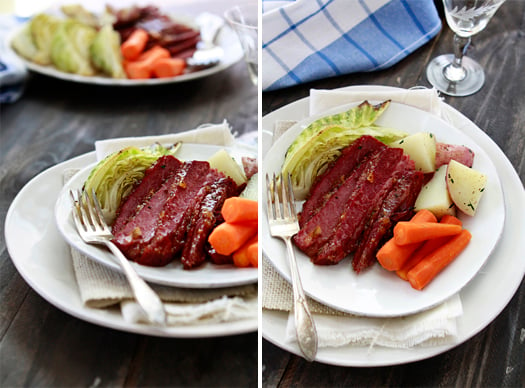 I changed things up from how I remember eating it during my childhood. Those days the Corned Beef and Vegetables for St. Patrick's Day were cooked simply, in the crock pot without really anything special done to it. And while the meal that some refer to as New England Boiled Dinner still tasted good, I thought that maybe I could make it taste a little better.
Instead of cooking in the crock-pot, I opted for braising the Corned Beef. And after braising I glazed it with a Marmalade Honey Mustard and then cooked it a bit more to caramelize the topping. Because Corned Beef is often on the saltier side, I thought that a sweet mustard-y sauce would contrast well with the meat.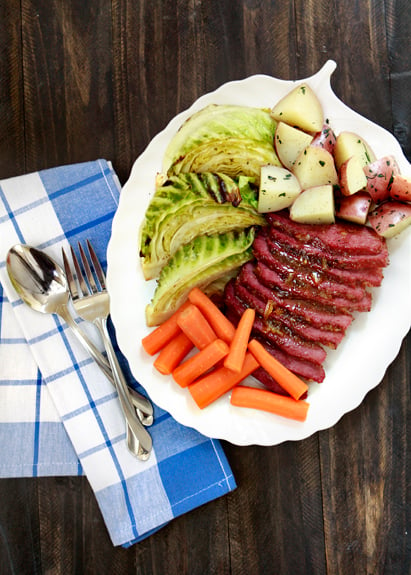 If the Traditional St. Patrick's Day Corned Beef meal is often a bit too salty for your taste, be sure to rinse the meat well before you begin cooking. Additionally, if desired, you can soak the beef in plain water for an hour before cooking.
I enjoyed revisiting an old childhood favorite with a few more sophisticated tweaks. The corned beef was incredibly tender and the glaze really added to the meal. And most definitely will not be another 9+ years before I eat this Irish-American classic.
More St. Patrick's Day Recipe Inspiration
What is your favorite St. Patrick's Day tradition?
Honey Marmalade Mustard Glazed Corned Beef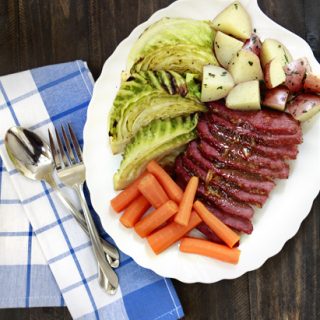 Ingredients:
For the beef:
1 corned beef
1 medium yellow onion, chopped
4 cloves garlic, smashed
2 carrots, quartered
2 celery ribs, quartered
3 bay leaves
1 teaspoon dried thyme or 2 sprigs fresh thyme
2 teaspoons black peppercorn
3 whole cloves
3-4 cups water
For the glaze:
1/3 cup marmalade
2 tablespoons honey
1 tablespoons brown sugar
1 tablespoons dijon mustard
2 tablespoons grainy mustard
Directions:
For the beef:
Preheat oven to 300 degrees F.
Combine the marmalade, honey, brown sugar, dijion, and grainy mustard. Set aside.
Trim corned beef of excess fat. Rinse and pat dry the beef. In a large dutch oven, heat 2 teaspoons olive or canola oil over medium-high heat. Add the beef to the pan and cook until browned, 2-4 minutes. Flip to the other side. Add the onion and garlic around the beef. Cook for 2-4 minutes more until the other side has browned.
Add the carrot, celery, bay leaves, thyme, peppercorn and cloves. Pour the 3-4 cups water into the pot (water should reach mid way point of the beef). Bring to a boil, cover, and transfer to the oven for 3-4 hours, or until meat is very tender.
Remove meat from the dutch oven. Preheat oven to 375 degrees F. Line a broiler pan with foil, then place the corned beef on top. Spread it with the glaze (reserving excess for serving) and bake at 375 degrees F for 10 minutes. Remove from the oven and let rest for 5-10 minutes before slicing. Serve topped with extra glaze.
Serve along side Roasted Cabbage with Lemon and boiled red potatoes (tossed with butter and parsley) and carrots (or you can roast the vegetables too).