I hope you all have a happy Saint Patrick's Day tomorrow and enjoy a big plate of your favorite Corned Beef and Cabbage recipe.
I grew up eating Corned Beef and Cabbage on St. Patrick's Day every year, but until last year I never tried my hand on it in my own kitchen. Reminiscing lead me to miss that traditional meal, so I put together a recipe for Honey Marmalade Mustard Glazed Corned Beef.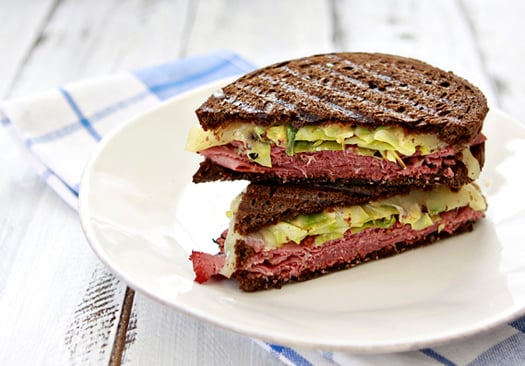 In our little family there is often dilemma of what to do with the extra meat when larger cuts, such as roasts and corned beef, are prepared.
Of course you can always freeze meat, but I like the challenge of taking that leftovers and turning it into another meal since I don't have a lot of room in my freezer. Last year I created this delicious Reuben Panini to use up our leftover Corned Beef. It was a big hit!
So popular, in fact, that we have made the recipe several times over without it being St. Patrick's Day. All you have to do is head to the deli and ask for thinly sliced corned beef or pastrami meat.
Because sandwiches are very much about personal preference, feel free to use this recipe more as a guideline. If you prefer more mustard or less meat, for example, go ahead and adapt the recipe according to your personal tastes. I like this sandwich served with a side of Sweet Potato Fries.
For dessert, try these fun Leprechaun's Rainbow Cookies.
What are your favorite St. Patrick's Day Recipes?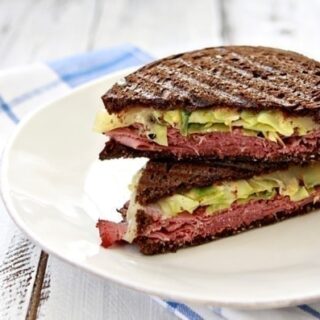 Reuben Panini
Yield: 4 sandwiches

Prep Time: 10 minutes

Cook Time: 15 minutes

Total Time: 25 minutes

This Reuben Panini is a great way to use up leftover St. Patrick's Day corned beef. It features roasted cabbage, Swiss cheese, and corned beef.
Ingredients
1/4 head cabbage
1/2 a large lemon
1 tbsp olive oil
Salt and pepper
2 tbsp stone ground mustard
2 tbsp Dijon mustard
8 slices pumpernickel or rye sandwich bread
3 tbsp Thousand Island or Russian dressing
3/4 pound thinly sliced pastrami or corned beef lunch meat
1/2 pound sliced Swiss or Gruyere Cheese
Instructions
Preheat oven to 425˚ F. Line a baking sheet with parchment paper. Set aside.
Thinly slice the cabbage.
Place the thinly sliced cabbage on the lined baking sheet.
Drizzle the cabbage with the juice of half a lemon and the olive oil. Season with salt and pepper according to personal preference and toss to coat evenly.
Roast the cabbage until tender, about 7-15 minutes, checking occasionally on the progress.
Meanwhile, add the stone ground and Dijon mustard to a small bowl.
Stir to combine. Set aside for later use.
Spread both insides of both slices of bread with a thin layer Thousand Island or Russian dressing.
Add a few slices of the pastrami or corned beef, however much meat you prefer. I used about 3-4 slices per sandwich.
Spread mustard on top of the meat.
Divide the roasted cabbage evenly between the four sandwiches, placing it on top of the mustard-covered meat.
Top the cabbage with 2-3 slices of cheese.
Top with the other slice of bread.
Grill using a panini press or in a cast iron skillet. If using a skillet, you can press down on the sandwich with a weighted plate to mimic the panini press.
Flip and cook the other side.
Then slice and serve.
Recommended Products
As an Amazon Associate and member of other affiliate programs, I earn from qualifying purchases.
Nutrition Information
Yield 4 Serving Size 1
Amount Per Serving Calories 411Fiber 6gSugar 7g



This post is sponsored by Sargento. All opinions are my own.,>