Being gluten-free has its challenges. But it's much easier than you may think.
For one, when you're on a gluten-free diet because you are either allergic (have Celiac disease) or a sensitivity, you have to carefully monitor every single ingredient that's going into your body. Especially when it comes to packaged foods.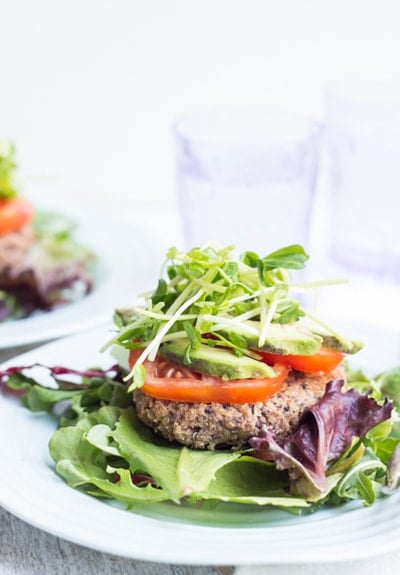 Foods that you wouldn't ever imagine would be made with wheat (or rye or barley) products, actually are. Dressings, sauces, ice creams, etc. All these types of foods aren't maybe thought of as something that uses flour (or another gluten containing ingredient), but in reality many of them are.
Gluten lurks where you least except it.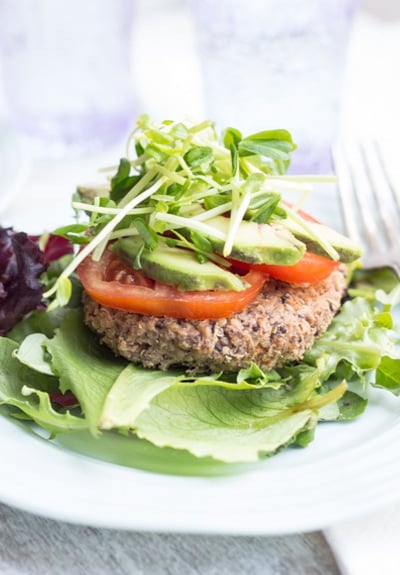 Vegetarian black bean burgers are one of those food items that sadly (for me at least) are made using breadcrumbs. There's this awesome black bean burger that I always used to buy and keep in the freezer to have for lunch or a quick dinner. Just pop them in a pan, heat them and you've got a healthy, protein packed meal.
But they contain gluten. So no can do for me.
I decided easy black bean burgers were just one of those meals I couldn't keep missing out on. I had to create my own gluten-free version of a black bean burger. I've had success using quinoa as a binding agent in burgers and meatballs before, so I figured this would be a pretty simple recipe to recreate. And guess what? It totally was.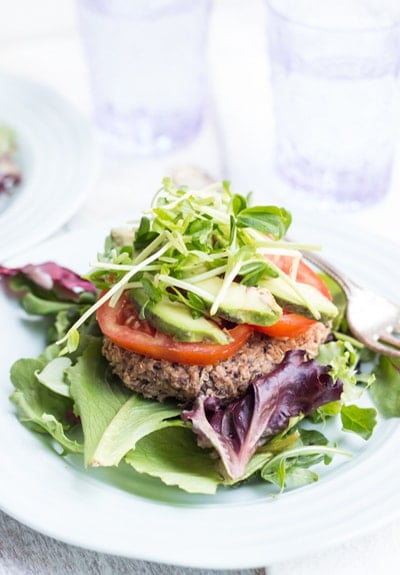 These quinoa black bean burgers are loaded with flavor and pack a powerful nutritional punch too. They're perfect lunch or dinner (and actually would be quite good for breakfast as well with a fried/poached egg on top) either served on a bun, in a lettuce wrap or on a salad. Plus these gluten-free black bean burgers freeze beautifully, so you can keep them in your freezer for those days when you really don't feel like cooking.
Black Bean Quinoa Burgers {gluten-free}

Yield: 6 patties

Prep Time: 10

Cook Time: 10

Total Time: 20

A simple veggie burger that is loaded with latin flavors, these black bean quinoa burgers are a cinch to whip up and are naturally gluten-free!

Ingredients:

2 cans black beans, rinsed and strained
1 shallot, chopped
1 garlic clove, minced
1 - 2 teaspoons chili powder
1 teaspoon cumin
1/2 teaspoon smoked paprika
Salt & pepper to taste
Zest & juice of lime
2 teaspoons hot sauce of choice
1 1/4 cup cooked quinoa
1 egg white

Directions:

Reserve 1/2 cup black beans and set aside.
Add the remaining beans, shallot, garlic, spices, lime zest, juice and hot sauce into the bowl of a food process fit with a steel blade. Process until the mixture is the texture of a very chunky puree. Transfer this mixture to a mixing bowl.
Add the remaining beans, cooked quinoa and egg white and stir together to form your 'dough'.
Shape the mixture into 6 patties and chill in the fridge for at least 1/2 an hour, more if you have time.
Heat a skillet over medium heat and add the patties to the pan. You may have to do this in batches depending on the size of your pan. Cook them until browned, about 3 - 5 minutes per side.

Recipe adapted from Bon Appetite Magainze
RESPONSES - LEAVE A COMMENT BELOW