Butternut Squash and Kale Quinoa Stuffing
This year I wanted to do something a little different with my Thanksgiving stuffing recipe. Eric isn't really a big fan of traditional stuffing anyway, so that gave me a good excuse to work on a new recipe.
I still kept some of the favorite flavors of many Thanksgiving recipes in this new recipe – leeks, cranberries, butternut squash, sage, and thyme – but significantly lighted up the recipe for a healthy makeover.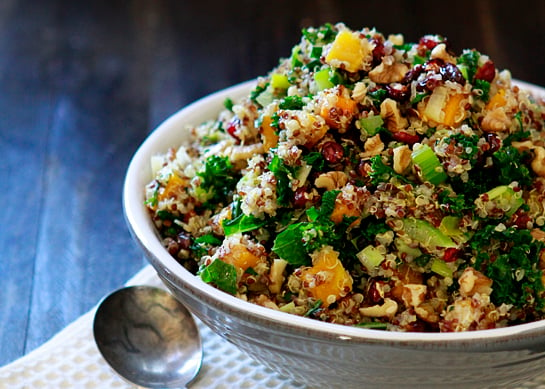 In addition to those favorite Thanksgiving flavors, I also added chopped kale. I'm obsessed as I mentioned when I shared the recipe for Baked Mac n Cheese with Kale.
And if we're trying to give stuffing a healthy makeover, I thought that including the health benefits of kale would be a great way to start.
Since Thanksgiving is always a huge stuff-your-face-carb-overload-fest I thought substituting protein rich quinoa for the usual dried bread in stuffing would be a great way to balance the menu out.
One cup of the grain has 9 grams of protein, and contains all 8 of the essential amino acids, which makes it a complete protein.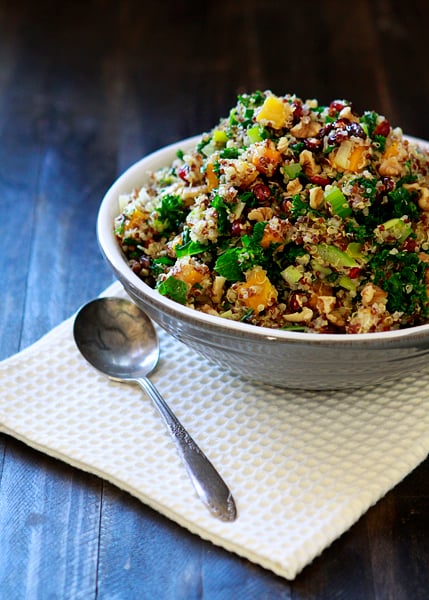 Additionally, quinoa is rich in fiber and has a low glycemic index, which means it will help balance out any post-meal blood-sugar spike after you've indulged in everything else on your Thanksgiving menu.
So, now that we've completely lightened up our stuffing recipe I bet you are wondering how it tasted. We all thought it was a great dish and it is officially added to our Thanksgiving menu for 2013. I loved the variety of colors, tastes, and textures in this stuffing.
If you have someone at your table who insists on being a traditionalist, check out my recipe for Herbed Stuffing with Bacon and Leeks.
What is your favorite way to prepare stuffing?
Butternut Squash and Kale Quinoa Stuffing
Yield: serves 6
Prep Time: 5 - 10 minutes
Cook Time: 30 - 35 minutes
Total Time: 35 - 45 minutes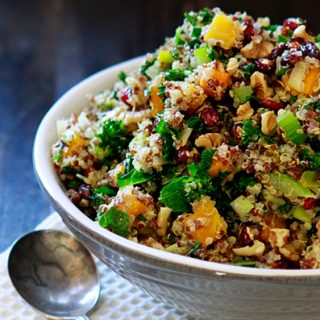 Ingredients:
1 1/2 cups quinoa (I like a mixture of red and white quinoa for color)
1 bay leaf
1 medium butternut squash, peeled and cut into 1/2 inch cubes
1 tablespoon coconut oil, melted
1 tablespoon organic cane sugar
1 tablespoon olive oil
2 ribs celery, diced
2 medium leeks, washed and chopped
1 teaspoon fresh garlic, minced
3 ounces curly kale, chopped
1 cup dried cranberries
1/4 cup fresh parsley, chopped
1 - 2 teaspoons fresh sage or thyme, finely chopped
salt and pepper, to taste
1/3 cup chopped walnuts, optional
Directions:
Prepare the quinoa according to package instructions, substituting chicken or vegetable broth for the liquid called for in the instructions and adding the bay leaf to the pot with the liquid prior to cooking. Discard the bay leaf after cooking.
Preheat oven to 400 degrees F and adjust rack to middle position.
Toss squash with coconut oil, whole cane sugar, and salt. Spread the pieces evenly in a baking dish and cover with foil. Roast for 15 minutes, remove foil and then roast for an additional 20 minutes, until edges are golden brown. Remove from oven and set aside.
Meanwhile, in a medium to large cast iron skillet or saute pan add the olive oil and heat over medium heat. Add the celery and saute for 2 - 3 minutes, until slightly tender. Add the leeks and saute an additional 2 - 3 minutes, until the leeks and celery are tender and fragrant. Add the garlic and saute 1 minute more.
Reduce the heat to low. Add the chopped kale and saute over low heat just until the kale has wilted.
In a large bowl, combine the cooked quinoa, vegetables from the saute pan, cranberries, fresh parsley and your choice of thyme or sage. Stir until combined. Season to taste with salt and pepper.
Just before serving, top with 1/3 cup of chopped walnuts, if desired.
Notes:
If assembling in advance, heat just until hot prior to serving - make sure to use an oven safe dish and cover the stuffing with foil to preserve moisture.
Substitution or addition ideas include sweet potatoes instead of butternut squash, swiss chard or spinach instead of kale, yellow onion instead of leeks, and dried cherries, apricot, or diced apples (dried or fresh) instead of cranberries, wild rice blend instead of quinoa. The options are limitless!