Chicken Enchiladas with Homemade Chile Gravy Enchilada Sauce
I have been on the hunt for Chicken Enchiladas with Homemade Chile Gravy Enchilada Sauce for the nearly 9 years that I have been married to Eric. Around the time Eric and I married, my dad moved away from Texas. Birthday dinner's at Pappasito's, our family's favorite Tex-Mex place, became few and far between for all parties involved.
Dad loves what he call's "the brown sauce" that Pappasito's uses on their chicken enchiladas and often talks about our old birthday traditions at Pappasito's with fondness.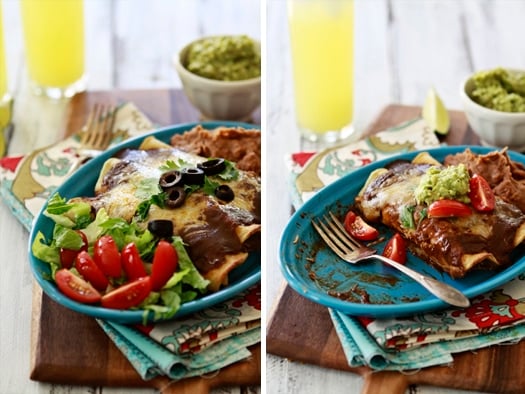 He's even gone so far as to call me while on a business trip because he has a dilemma, which usually results in him asking me if he should go to Pappasito's or not or what item on the menu he should order. Funny it may be, it is also infuriating (in a sweet way) that he gets to eat at one of my favorite childhood restaurants while I don't. On another occasion, I remember receiving a Pappasito's take-out menu in the mail as a souvenir from one of my dad's business trips.
In the nearly 9 years that I have been married to Eric I have made a lot of enchilada recipes, and this Homemade Chile Gravy Enchilada Sauce is the closest I've found to replicating one of our favorite restaurant treats.
My friend Amber says:
"Enchiladas are comfort food to me the way matzo ball soup might be to someone on the East Coast. It's just one of those satisfying meals that sounds good no matter what time of day it is, where you are, or whether or not you've just eaten."
Amen to that! Chicken Enchiladas (and Tex-Mex food in general) bring back memories of my childhood, birthday dinners at home with mom and dinner dates with dad. I've made this recipe two or three times in the last month and every single time I bit into a fork-full it is bliss.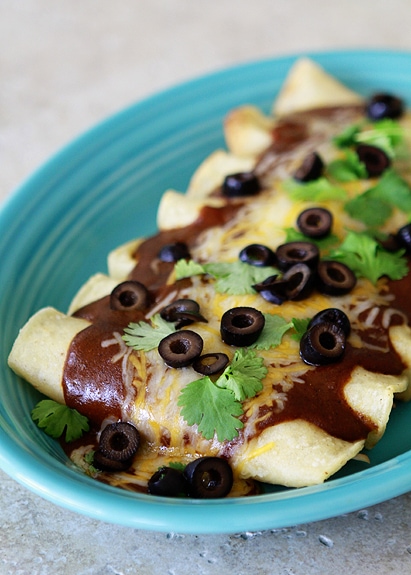 If you typically purchase canned enchilada sauce rather than making homemade, you're going to want to stop that right now. This Chile Gravy Enchilada Sauce is what makes the dish. So rich with flavor! You could easily make a double or triple batch of the sauce, it's not hard at all, and freeze it in individual recipe sized portions.
In fact, with this Easy Crock Pot Tex-Mex Chicken recipe stashed away in your freezer along with a batch of the Chile Gravy Enchilada Sauce, this enchilada recipe will come together in hardly any time at all. Don't skimp on frying the tortillas either; remember this is comfort food – not diet food.
What meal brings back fond childhood memories for you?
Chicken Enchiladas with Homemade Chile Gravy Enchilada Sauce
Yield: serves 4-6
Prep Time: 30 minutes
Cook Time: 30 minutes
Total Time: 1 hour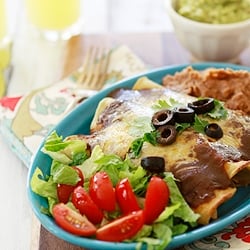 Ingredients:
For the Chile Gravy Enchilada Sauce:
2 tablespoons butter
2 tablespoons canola oil
1/4 cup all-purpose flour
1/4 tsp black pepper
1/2 - 3/4 tsp salt
1/2 tsp garlic powder
1 1/4 tsp cumin
1/4 teaspoon smoked paprika
pinch allspice
1 tsp dried Mexican oregano
2 tbsp ancho chili powder (I used this brand: Spices Inc.)
2 cups chicken broth
1 tablespoon tomato paste
For the Chicken Enchiladas:
1 recipe Easy Crock Pot Tex-Mex Chicken
1 dozen corn tortillas
Canola Oil
1 cup shredded Oaxaca Cheese*
1 cup shredded Queso Quesadilla Cheese*
Toppings: cilantro, black olives, Roasted Tomatillo Guacamole Recipe, sour cream
*alternatively, you can use your favorite Mexican blend cheese.
Directions:
Prepare the Easy Crock Pot Tex-Mex Chicken as directed in the recipe. Set aside.
For the Chile Gravy Enchilada Sauce:
In a medium sauce pan, add the butter and oil over medium heat. When the butter has melted, whisk the two to combine. Add the flour and whisk in to form a roux. Add the remaining spices and whisk to combine. Let cook for a minute or two until fragrant.
Then, slowly add the chicken broth making sure to whisk as you pour so as to eliminate any lumps. Add the tomato paste and whisk in to the sauce. Reduce the heat to low and simmer for 15 minutes.
If the sauce begins to thicken too much, additional broth may be added. It should be the consistency of gravy that you would pour onto a roast or mashed potatoes.
To Fry the Tortillas:
Add approximately 3/4 - 1 inch deep of canola oil in a well-seasoned cast iron pan. Turn the heat to medium-high. Heat the oil until it is ready to fry the tortillas. When the oil is ready, the edge of a tortilla will sizzle when dipped into the oil.
Add the tortillas one at a time and fry for about 15-30 seconds on each side, turning using kitchen tongs. Drain the tortillas on a paper towel lined cooling rack. They should be slightly crispy but malleable enough that they are easy to roll without breaking.
To Assemble the Enchiladas:
Place a small amount of shredded chicken in the center of each fried tortilla, careful not to overstuff. Roll the tortilla up and place it seam side down in a greased baking pan.
You can use a 9x9 baking pan and assemble 2 rows of 6 enchiladas or a 9x13 inch pan and assemble one row of 12 running down the middle of the pan.
Once you have rolled all of the tortillas, pour the sauce on top. Top the sauce with shredded cheese. If desired you may add cilantro leaves before or after baking.
Cover the pan with foil (see: How to Make Non-Stick Foil at Home) and bake at 425 degrees F for about 15-20 minutes, or until the cheese is melted and bubble and the enchiladas are heated through.
Serve with your choice toppings, such as: cilantro, black olives, Roasted Tomatillo Guacamole Recipe, and/or sour cream