Chocolate Cherry Cordial Thumbprint Cookies
Our latest Christmas Cookie experiment was this recipe for Chocolate Cherry Cordial Thumbprint Cookies.
I won't deny it. I love all the sweets this time of year! It is one time where it is perfectly acceptable to bake cookies and whip up a batch of caramels within days of each other. And then wash it down with a cup of hot cocoa or spiced cider.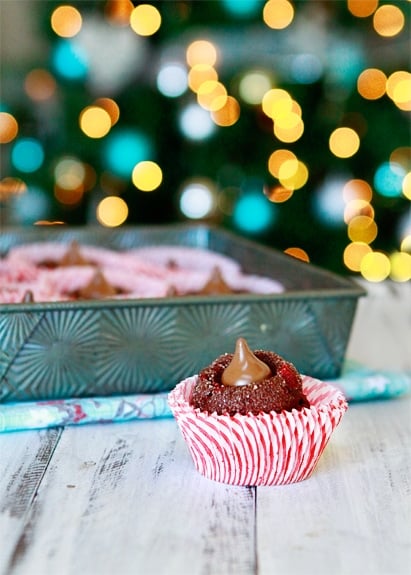 For these Chocolate Cherry Cordial Thumbprint Cookies I originally had Chocolate Thumbprint Cookiess with jam centers in mind.
During a stroll down the Christmas Candy aisle at Target I was reminder how much our family loves the Cherry Cordial Hershey's Kisses – a special flavor available seasonally for Valentine's Day and Christmas. Of course I tossed a bag or two into the cart.
Then on Pinterest I saw this fun recipe for Cherry Chocolate Kisses. I decided to combine the two ideas to create a Chocolate Cherry Cookie with a Cherry Chocolate Kiss in the center. The result was delicious!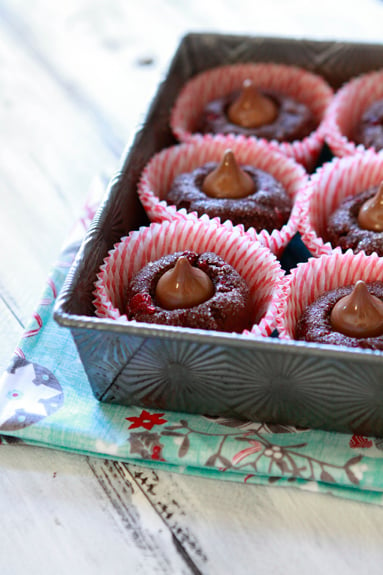 Flavor Customizations for Chocolate Thumbprint Cookies
If you don't like cherries or can't find this seasonal kiss flavor from Hershey's you can totally customize the recipe. Really, you can put whatever you want in the center of the thumbprint, but here are a few ideas.
Add crushed candy cane to the batter and place candy cane Hershey's Kisses in the middle
Add shredded coconut to the batter and place a Hershey's Kisses filled with Coconut Creme on top.
Leave out the cherries from the batter and top with a Hershey's Kisses filled with Caramel.
Add diced candied orange peel bits to the batter and fill the center with orange marmalade.
Leave out the cherries and add your favorite jam flavor to the center: raspberry, marmalade, strawberry, etc.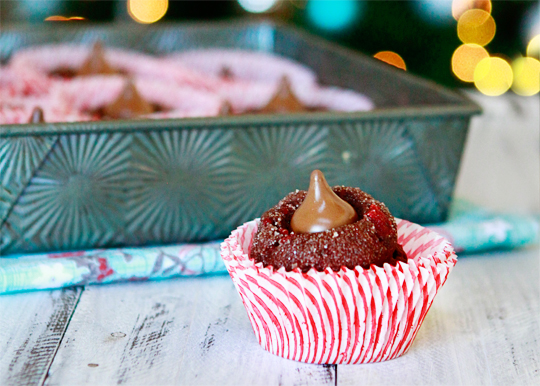 I love how the heat from the cookies warms the cherry chocolate kisses, but they still hold their shape. Such a pleasant surprise when you bit into the cookie!
We already devoured one batch of these fun cookies and will most definitely be baking up another batch just in time for several members of our family to arrive in town this weekend. I think these would also be a huge hit for Valentine's Day.
What new Christmas Cookie recipe have you tried this year?
Chocolate Cherry Cordial Thumbprint Cookies
Yield: 36 cookies
Prep Time: 15 minutes
Cook Time: 10 - 15 minutes
Total Time: 25 - 30 minutes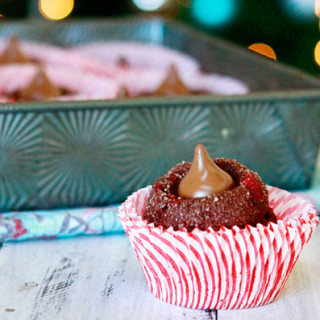 Ingredients:
1 cup cool, softened butter
1 cup powdered sugar
2 teaspoons maraschino cherry "juice"
1/2 teaspoon vanilla
2 cups all-purpose flour
1/8 teaspoon salt
2/3 cups cocoa powder
1/2 cup chopped maraschino cherries
1/2 cup coarse organic whole cane sugar
36 unwrapped Hershey's Kisses Milk Chocolates filled with Cherry Cordial Crème
Directions:
Preheat the oven to 325 degrees. Place rack in the center most position of the oven.
In a medium bowl, combine the flour, salt, and cocoa powder. Whisk until combined. Set aside.
Fit your stand mixer with the paddle attachment. Add the butter to the bowl and beat on medium speed for 1 minute. Reduce speed to low, add the powdered sugar, and stir until mixed. Scrape down the sides with a spatula if necessary.
Add the cherry "juice" and vanilla extract. Mix until combined. With the mixer still on low, add the flour mixture a half a cup at a time, mixing in between additions and scraping the sides of the both with a spatula as needed.
Add the chopped maraschino cherries and stir until evenly incorporated into the dough. Transfer the dough to the refrigerator and chill for 15-20 minutes.
Shape the dough into 36 one inch balls. If the dough feels sticky, slightly wet hands will help with rolling the balls. Slightly flatten the rounded ball using the palms of your hands. Dip both sides of the cookie into the coarse organic whole cane sugar.
Place the balls on parchment lined baking sheets 2 inches apart. With your thumb or the back of a greased round 1/2 teaspoon measuring spoon (if you're a perfectionist like me and want perfectly symmetrical depressions), press into the center of the dough.
Bake cookies at 325 degrees F for 10 - 15 minutes. Remove cookies from the oven and immediate place a Hershey's Kisses Milk Chocolates filled with Cherry Cordial Crème in the center of each cookie. Transfer cookies to a wire rack and cool.