Cucumber and Avocado Sandwich
I was reminded of this Cucumber Avocado Sandwich yesterday while I was planting some vegetable plants for our summer garden. One of my picks this year was Lemon Cucumbers. An old neighbor planted them years ago and I loved them so I wanted to give them a try myself.
This Cucumber Avocado sandwich is really tasty and perfect for a light, simple lunch during spring and summer. I can't wait for our lemon cucumbers to be ready for picking so I can try this sandwich with garden fresh produce.
Another sandwich that is great for summertime garden produce is this  Grilled Summer Squash Sandwich. If you end up with an abundance of tomatoes in your garden, give this  Herbed Ricotta and Tomato Crostini a try.
(updated from the 2013 archives)
This Toasted Cucumber and Avocado Sandwich is so easy that it isn't really a recipe, but it is something that I've enjoyed for lunch in the last week.
For this particular version of a cucumber sandwich I decided to use a thick, hearty whole grain bread rather than the delicate tea bread that is usually seen on a cucumber sandwich.
The bread choice paired with the cheese and avocado made this a filling sandwich for lunch that was completely satisfying. If you like a little more veggies, you can definitely add some lettuce, spinach, or alfalfa sprouts to the sandwich.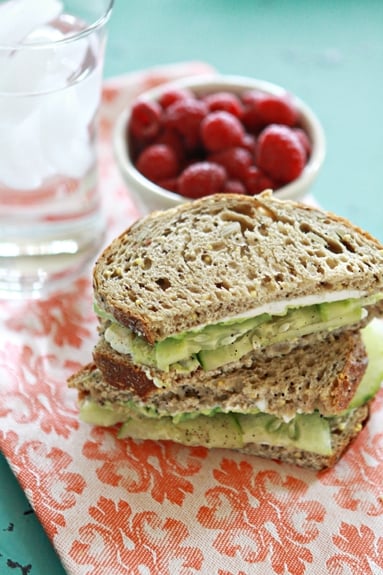 5 Simple Ways to Dress up a Sandwich
Sandwiches don't have to be boring. There are so many different ways to dress them up. Try a few of these next time you need to break out of a rut:
1. Use non-traditional bread. Whether it is with baguette, a wrap, focaccia, or a bagel you can add a little more style to your sandwich if you stray from sandwich bread. If you can, make your own breads. It's not as hard as it seems and will save your precious money. Bakery bread is a pretty penny.
2. Spread it with something other than mayo and mustard. Spreadable cheese, pesto (like Sun Dried Tomato Spinach Pesto, Kale Cilantro Pesto, or Vegan Basil Pesto), 5 Minute Basic Guacamole, or Roasted Red Pepper Hummus all make great sandwich spreads.
3. Grill, toast, or broil it. This can change a lot: melted cheese, a hot sandwich, crispy bread, all of these change the feel of the sandwich.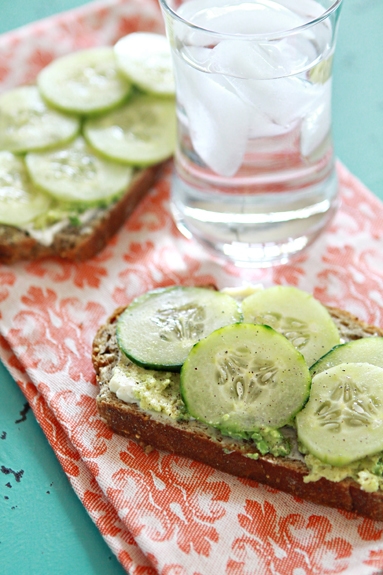 4. Use out of ordinary fillings. Experiment with different cheese, vegetables, and meats (or lack of for vegetable loaded sandwiches). Consider roasting or caramelizing onions and mushrooms instead of using fresh for different flavors.
Look around in your fridge for what you already have on hand and you'll be inspired to create new combination. Sandwiches are a great way to use up remnant ingredients from previous meals.
5. When all else fails, take inspiration from your favorite deli menu. Most deli sandwiches are not that difficult to recreate at home. A simple glance at the ingredient list or sandwich name can give you all sorts of inspiration, and may even spark a completely new idea.
What is your favorite easy sandwich recipe?

Cucumber and Avocado Sandwich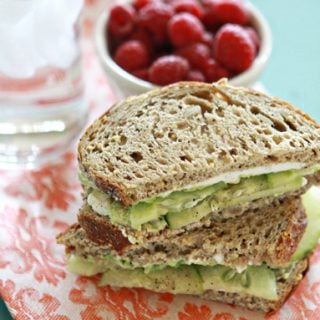 Ingredients:
Directions:
Toast the bread. Spread each slice of bread with the Laughing Cow Garden Vegetable Cream Cheese Spread on one side. Top the cheese on both slices with mashed avocado. Then, layer the cucumber slices on top and sprinkle with salt and pepper (if desired). Eat open faced or place the two halves together.
Notes:
Other great additions would be alfalfa sprouts, bacon, tomato slices, sliced olives, red bell pepper.
I am a compensated Community Leader for The Laughing Cow, but as always all opinions are my own. I just love their cheeses and have been a fan for many years before my working relationship began.