Endive, Pear, and Walnut Appetizer
This is the first year in a long time that I won't host Thanksgiving at my house. A few years back we did have Thanksgiving at my Dad's, but I was still the host in terms of the person in charge of the menu planning and all the cooking. I didn't mind. I actually like preparing Thanksgiving dinner.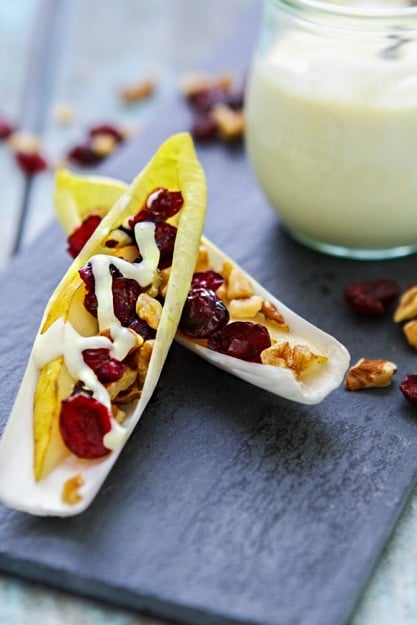 With that said, after a pretty busy year it will be a nice change of pace to be a guest somewhere else for a change. And it is the perfect opportunity to try out some new appetizers as my contribution to the big meal.

With all of the focus on the big deal meals of Thanksgiving and Christmas and all of the fun holiday baking, appetizer recipes are something that usually end up forgotten for me. Appetizers usually have to be a conscious decision for me. Mental note: You need to experiment with some new Holiday Appetizers. Or something like that.
I tested out these simple Endive, Pear, and Walnut appetizers. I think they're perfect for this time of year with the delicious seasonal flavors of pear and cranberry. And you can assemble them literally minutes before serving them.
All that is required is placing a slice of pear, a few dried cranberries, and a few chopped walnuts inside an endive leaf. Then, drizzle your favorite blue cheese salad dressing on top. Think of it as a little handheld salad.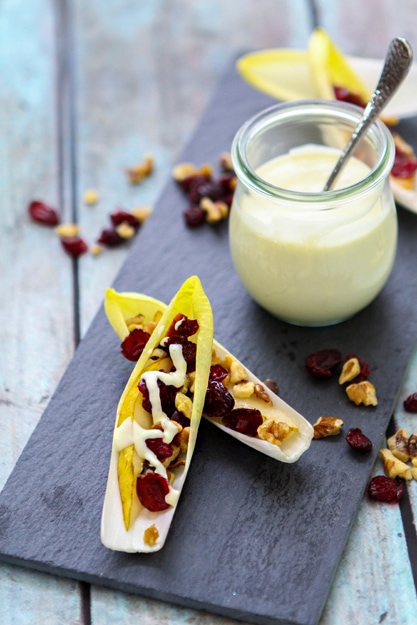 If you want to get "fancy," you can use candied walnuts instead of plain baking walnuts. It will be tasty either way. You can also convert this to a salad on a platter just as easily by assembling the ingredients like you would any salad and serving the dressing on the side for guests to add to their plate.
Marzetti® Simply Dressed® salad dressings are my go-to when it comes to store-bought salad dressings because they are made with extra virgin olive oil, sea salt, and canola oil. They don't contain preservatives, trans fat, high fructose corn syrup, MSG or artificial flavors.
What easy appetizers do you serve at your table this time of year?

More Holiday Appetizers
Endive, Pear, and Walnut Appetizer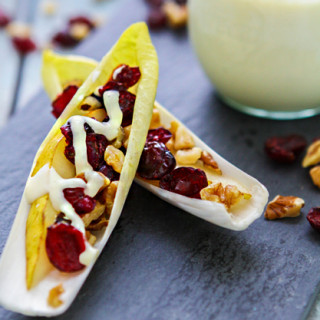 Ingredients:
Directions:
Separate the endive leaves, rinse them and let them dry. Be gentle because you'll want to keep them intact. They'll serve as a little cup for the rest of the ingredients.
Place 1 slice of pear inside the endive leaf, add a small sprinkling of both walnuts and dried cranberries. Drizzle with Simply Dressed® Blue Cheese Salad Dressing or serve the dressing on the side. Serve immediately.
I have been invited to participate in a Marzetti ambassador program. This post is sponsored by Marzetti® and product has been provided by them. The opinions and ideas expressed here are my own. Follow Marzetti® on Pinterest.