Green Apple, Kiwi, Spinach Juice and How to Freeze Spinach
Green Apple, Kiwi, Spinach Juice is a tasty and nutrient rich refreshing juice blend to start your morning with. This green juice isn't bitter at all thanks to the addition of green apples and kiwi.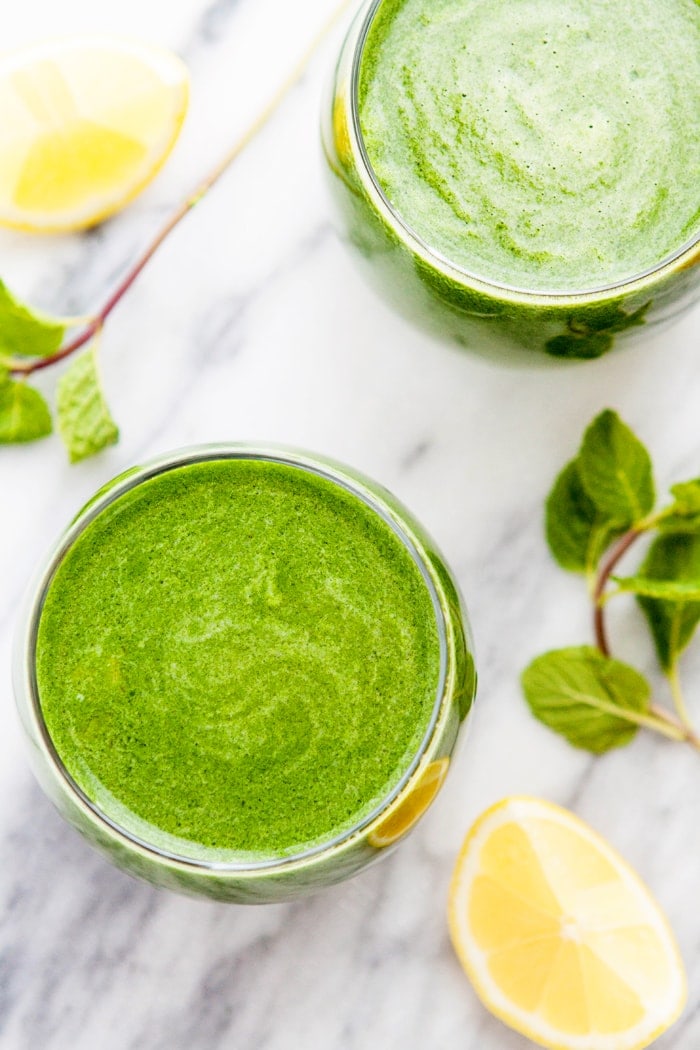 We buy spinach nearly every week when we go grocery shopping. It gets used a lot between salads, soups, smoothies and lately…Green Juice, like this Green Apple, Kiwi, Spinach Juice.
For a couple of weeks, probably due to my desires post-holiday to get the healthy habits back on track, I had been craving something green and fresh, but more liquid than a green smoothie. (See my review on the Breville Juice Fountain). Buying Green Juice at the store is so expensive, that I decided to try my hand at making it myself using the juicer I already own.
I picked up a good mix of green fruits and vegetables – all that were on sale at the grocery store – and got to work with experimenting. I loved the combo of this Green Apple, Kiwi, Spinach Juice! It was sweet and fresh, but not too sweet. I combined a mix of green apples, kiwi, spinach, and a little bit of celery, cucumber and fresh mint.
I often buy those extra large tubs of fresh baby spinach because they're usually the same price as the smaller containers. Sometimes, though, we end up not being able to get through the whole container of spinach in time. Either because we're smoothie-d and juice-d out or the kids are gone at their dad's and I'm the only one eating it.
Pretty quickly I learned about freezing spinach so I could benefit from the better price without ending up with wasted food. If you've ever been wondering how to freeze spinach, or why you might want to do that, look no further!
Using any of these 4 methods you can freeze spinach for later use – I've thrown in a few recipe suggestions for you as well.
How to Freeze Spinach
Just like most frozen vegetables, the vegetable is changed in the freezing process. Don't expect to freeze spinach and be able to thaw it for a fresh salad. The best ways to use frozen spinach later on involve using it in recipes where it is cooked or blended so the consistency and texture doesn't matter.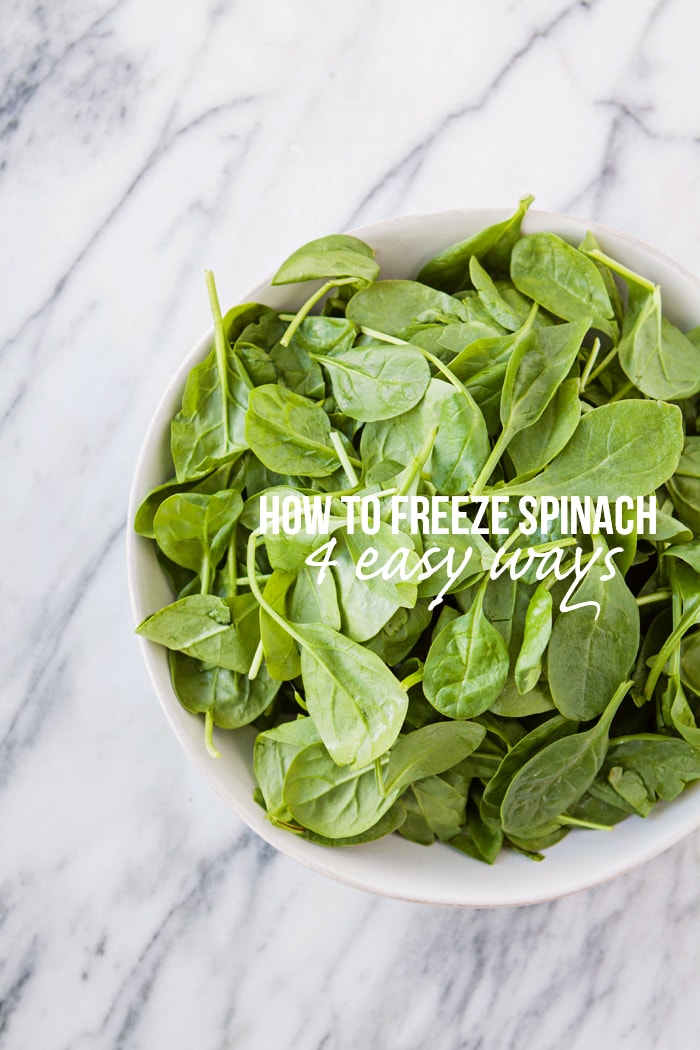 1. Make freezer smoothies
Frozen spinach works great for freezer smoothies. You don't have to worry about the post-freezing texture when it is blended with other ingredients.
What is a freezer smoothie? It is basically a pre-assembled baggie that contains all of the necessary ingredients for your favorite smoothie recipe.
Place your favorite fruits and veggies in individual sized freezer baggies. Label the bag the contents, date, and then freeze it.
Next time you want a smoothie, open the bag and transfer the contents to the blender along with any liquids or protein powders and blend.
For more detailed freeze smoothie preparation instructions visit this post full of freezer smoothie how-to tips and smoothie recipe ideas.
2. Freeze pureed spinach in ice cube trays.
For this method, I like to puree 3 – 4 cups of packed spinach with 1/2 – 1 cup of water. I find that the "juice" cycle on my blender works best. After pureeing,  pour the juice into ice cube trays and then freeze the spinach cubes.
After the cubes are frozen, pop them out of the tray and into a freezer bag. Label the bag with contents and date before stashing it in your freezer.
This method is perfect when you just want to add small amounts of spinach puree to smooth, chunk-free recipes like smoothies, soups or sauces.  Add frozen, pureed spinach into your favorite spaghetti sauce recipe for an extra boost of vegetables.
3. Freeze chopped spinach in baggies.
Freeze pre-portioned of chopped spinach in small freezer baggies. You'll want to think about what amount and size you typically would use in a recipe. Really it will depend on how you want to use the spinach and what recipes you make most frequently. I like amounts ranging from 1/2 – 1 cup best.
This option is great for anything you would want to add pre-chopped spinach to.
If the recipe is something that is already pretty liquid (like soups) and thus won't be affected by adding a little extra moisture to the recipe, you can pretty safely just add the spinach directly to the recipe according to the recipe's instructions.
If you're making something where extra moisture won't go unnoticed, like a spinach lasagna, you'd want to thaw the spinach and squeeze it dry.
I think the easiest way is to place thawed spinach inside a paper towel and squeeze that over the sink. Sautéing the spinach for a minute or two will also dry them out a little more.
4. Freeze spinach in a baggie – minus the chopping.
Freezing whole spinach leaves is ideal when you know you'd like to add spinach to various smoothies, but you don't want to be boxed into anything in particular the way you would if you pre-assemble smoothie bags. Or if, like me, you're feeling a little too lazy to do any extra prep work.
I've been known to stick a full tub of baby spinach directly into the freezer, but it is probably best to transfer it to something a little more air-tight, like a gallon sized freezer bag.
You can then pull out a handful or two of spinach as you need it.
Green Apple, Kiwi, Spinach Juice
Yield: serves 2
Prep Time: 10 minutes
Green Apple, Kiwi, Spinach Juice is a tasty and nutrient rich refreshing juice blend to start your morning with. This green juice isn't bitter at all thanks to the addition of green apples and kiwi.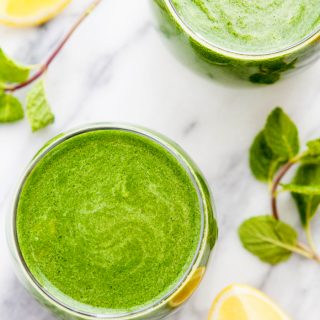 Ingredients:
4 ounces Spinach
1 Green Apple
1 Kiwi
2 stalks Celery
1/2 of a Cucumber
3 sprigs Fresh Mint
Directions:
Add all of the ingredients to the juicer and process according to the manufacturer's instructions. Typically there is no need to peel or chop any of the products as long as it is small enough to fit through the juicing shoot.
Divide between glasses and serve immediately for the most nutritional value.
Unused portions should be covered and refrigerated and consumed within 24 hours for best results. Shake or stir before serving as the ingredients will settle and separate over time.
Notes:
If you like extra cold juice, serve this Green Apple, Kiwi, Spinach Juice over ice. For a special treat, add a couple splashes of sparkling water to the juice
These instructions for How to Freeze Spinach originally appeared on Food Fanatic.