Easy Homemade Pearsauce or Applesauce
As far as I can remember, I've never really been a big fan of applesauce – unless it was homemade, and even then I'm not likely to sit down to a bowl full for a snack.
Madeline, on the other hand, absolutely loves her applesauce.
Store bought or homemade she doesn't care.
Either way is good to her. But Pearsauce….mmmmm Pearsauce! Now that's something that we both can agree on.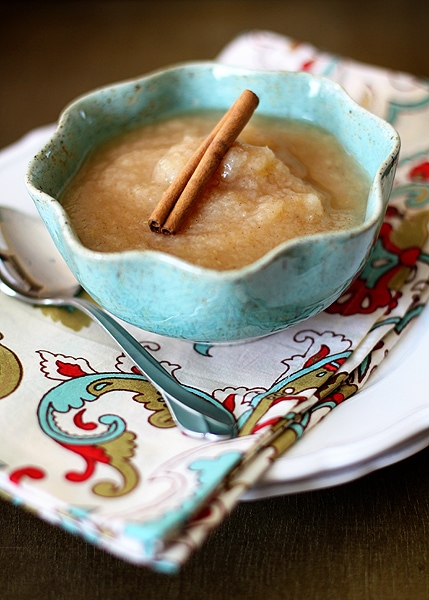 I don't know why but this recipe for Homemade Pearsauce just seems so much more sophisticated than applesauce to me.
The flavor and texture are more to my liking. Even the name sounds fancier than applesauce.
When pears were on mega sale here a few weeks ago I was able to can a half a dozen jars of Vanilla Spiced Pear Butter.
I also made some Pearsauce for us, though I didn't can it. I only made enough for us to enjoy for a couple of days.
Next time pears are so cheap they're practically free, I think I'm going to venture into canning some of this Homemade Pearsauce so we can have it on hand year round. It's that good!
Pearsauce is nice for snacking on alone, but is makes a great addition to plain yogurt for some extra flavor. Next time you're craving a bowl of oatmeal for breakfast try stirring in a few spoonfuls of this delicious Pearsauce.
Try substituting it in baking recipes that call for applesauce for a slightly different flavor.
Homemade Pearsauce
adapted from Vanilla Spiced Pear Butter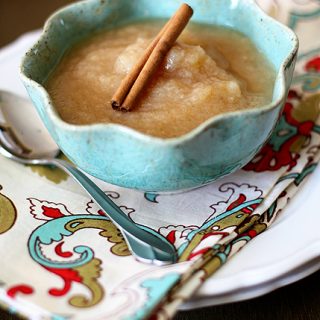 Ingredients:
3 1/2 lbs. pears, peeled, cored, and coarsely chopped
1/4 cup water
juice of 1/2 lemon
1/2 - 1 teaspoon cinnamon
1/4 - 1/2 teaspoon cardamom
1/8 teaspoon nutmeg
Directions:
In a large saucepan, combine the pears, water, lemon juice, cinnamon, cardamom, and nutmeg. Bring to a boil over medium-high heat. Reduce heat and boil gently, occasionally stirring, for 20 minutes.
Transfer mixture to a food processor, working in batches if necessary, fitted with a metal blade and puree just until a uniform texture is achieved. Do not liquefy.
Transfer to an airtight container and store in the refrigerator for up to 4 days. Alternatively, freeze in one cup quantities in the freezer and store for several months.