Arrabbiata Sauce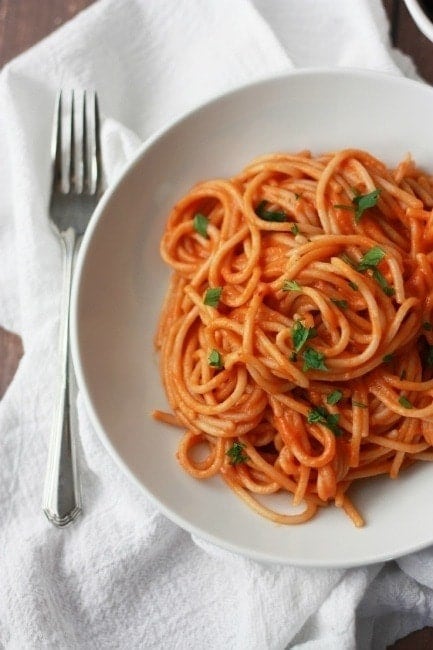 I wish moms got sick days.
Like so many families this time of year, we've had a round of sore throats and colds. Consequently, we've spent a lot of days at home recovering, which means we haven't had much time to get to the market, and the cupboards and refrigerator start looking a little dire.
Arrabbiata sauce is one of those great recipes that you can basically pull out of thin air. The ingredients are pantry staples, and it's one of those magical recipes that tastes like so much more than the sum of its parts. Plus, it's *not* soup. (Don't get me wrong, I love soup, but after a few days, it starts losing its magic, if you know what I mean.)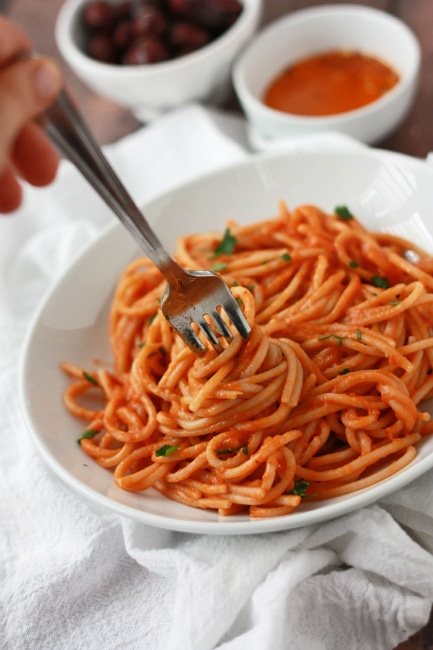 Best of all, you can pair this sauce with almost anything you have in the house. Pasta is the obvious choice, but it also goes with sausages, eggs, a bowl of steamed veggies, or some grilled chicken.
Perhaps surprisingly, this sauce is GREAT for kids and picky eaters. For one thing, it's entirely smooth so there aren't any chunks or "weird things" going on texture-wise. You can also control the level of spice. I make it medium-spicy for my kids, then my husband and I drizzle a bit of extra chile oil over ours.
For my own little eaters, I serve sauces like this one on the side in a small dish or specific place on the plate and let them dip things into it, whether that's pieces of chicken, veggies, veggie noodles or pasta. I've found my kids are much more likely to try a new sauce if they can approach it on their own terms. It definitely works for our family. My two year old eats this by the spoonful and calls it "soup." My three year old is a bit more cautious, but she'll carefully dip the ends of her pasta into the sauce to taste it.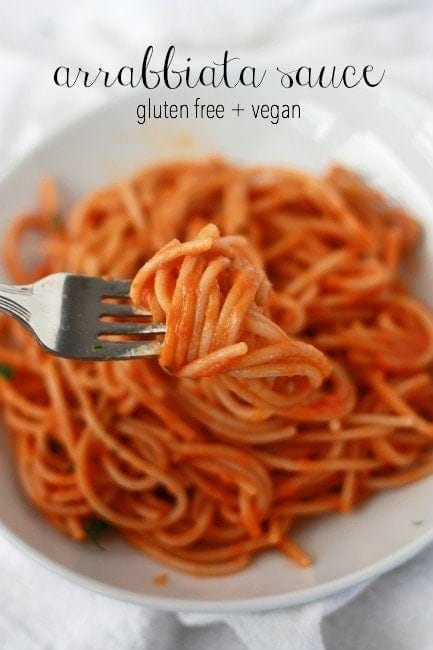 As for the grown-ups, I really can't get enough. I always make a double batch. We'll eat it for dinner and the next morning I'll serve it with my morning eggs and veggies. It's as versatile as it is quick, which can be such a lifesaver when you're extra busy or don't have time to dash off to the store.
It's warm, soothing, and perfect for chilly or cloudy days. You may not get sick days as a mom, but at least there are still dinners worth pulling yourself off the couch for.
Note on the recipe: I make my own chili oil (it's SO easy + there are only two ingredients), but store-bought works well too. Trader Joe's often carries it, and loads of stores carry flavored oils. Also, the fresher your chili flakes, the better this dish will turn out. Toss that dusty old jar from a few years ago! 
(Other than soup) What do you make on sick days? What are your favorite dinners from pantry staples?
Arrabbiata Sauce
Yield: 6-8 servings
Prep Time: 2 minutes
Cook Time: 3 minutes
Total Time: 10 minutes
A simple, just-spicy-enough sauce you can pull out of thin air! Serve it with anything from chicken or sausages to zucchini noodles or pasta. Even your morning eggs! It's as versatile as it is quick.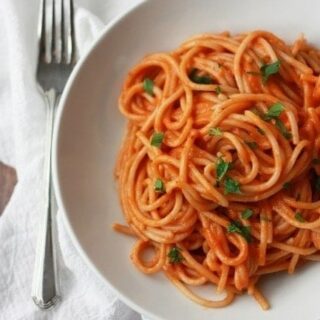 Ingredients:
1 (28oz) can diced tomatoes
2-3 cloves garlic, minced
1-2 Tbsp chili oil*
1/4-1/2 tsp chili flakes (optional)
1/4--1/2 tsp dried oregano
salt, to taste
Directions:
Heat the chili oil in a saucepan over medium heat. Add the garlic, 1/4 tsp chili flakes, and 1/4 tsp oregano and heat 1-2 minutes, or until it's fragrant. Remove from heat. Stir in tomatoes and a big pinch of salt.
Add the sauce to a blender and puree until very smooth (or puree with an immersion blender directly in the pot).
Serve with 1 lb of pasta or zucchini noodles, paired with sausages or grilled chicken, or with eggs or veggies.
Notes:
*I make my own chili oil, and you can too! If you'd rather use storebought, no problem. If you can't find or make chili oil, you can substitute olive oil for the chili oil and add additional chili flakes to your recipe when the garlic is sautéing.
Also note that the fresher your chili flakes, the better your dish. Don't use a dusty jar you've had sitting around for 2 years!