This is a different sort of post. It doesn't involve a recipe for something you'd eat, but it is made from all natural kitchen products and it's a great gift for anyone who likes pretty things or pampering, but especially someone who is an avid cook and suffers from chronic dry skin due to all the hand washing in the kitchen.
Keep this gift in mind as an inexpensive option for those end of the school year teacher gifts as well. Something handmade, pretty, and useful always makes a nice gift for those teachers who work so hard with our children. Did I mention that it is inexpensive and easy to make ? It is also a great way to reuse empty jam jars or canning jars you have at home.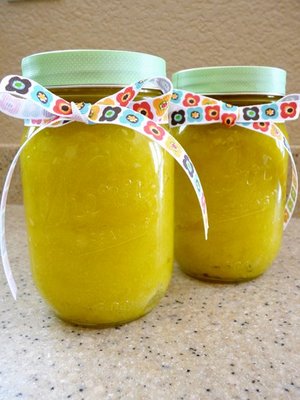 Olive oil moisturizes, lemon freshens and is especially good for removing onion and garlic odors from the skin, the sugar/salt combo exfoliates dry skin and renews the appearance of your hands. Salt can be drying, so you wouldn't want to make the scrub entirely of salt, but I added a bit for some coarser pieces. If you'd rather, simply replace the amount designated for the salt with additional sugar.
Moisturizing Kitchen Hand Scrub

Ingredients:

1 1/2 c sugar
1/3 c kosher salt
zest of 1 extra large lemon (or other citrus)
1 c olive oil
1/4 tsp pure lemon extract, optional

Directions:

Combine all ingredients in a bowl and mix well. If you would like a slightly stronger fragrance, add the extract. Spoon into a pretty jar, tighten the lid. Wipe any spills or drips from the outside of the jar. Alternatively, you can use orange or lime zest for a different fresh citrus smell. For an extra touch, tie a pretty bow around the jar if you plan to gift this scrub. This makes enough for a 1 pint canning jar.
RESPONSES - LEAVE A COMMENT BELOW