Apple Crisp with Oatmeal Pecan Crumble Topping
Your traditional Apple Crisp is elevated with the addition of oatmeal and pecan in the topping. A perfect twist on a Thanksgiving classic. This recipe was created in partnership with Fisher Nuts.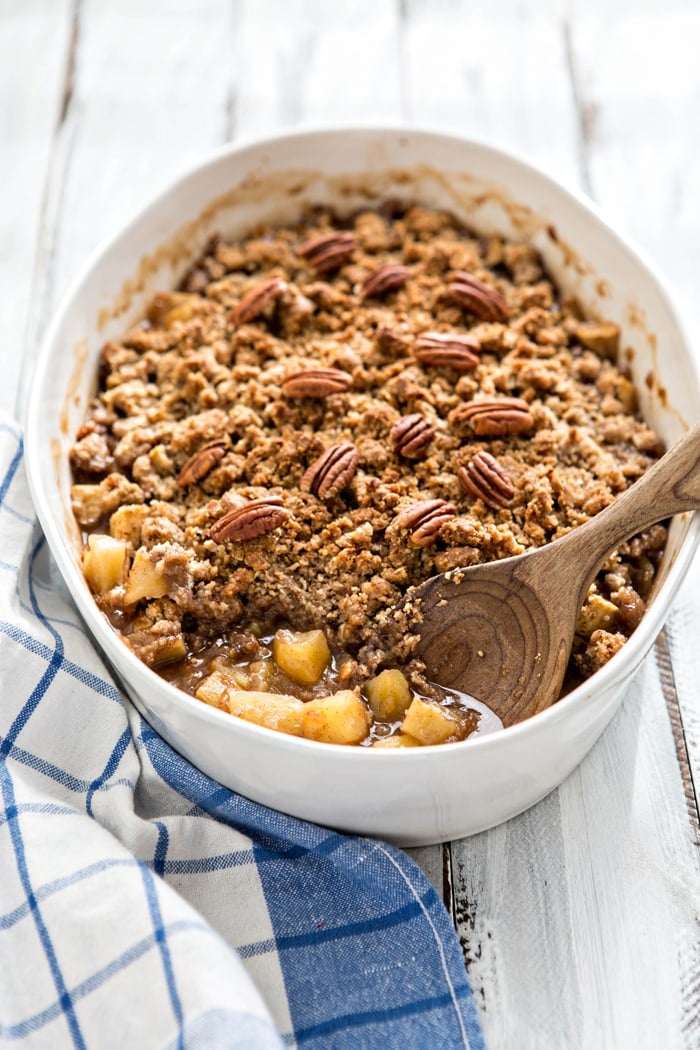 We celebrated Kevin's birthday last month. He didn't want a cake or cupcakes, last year he had Chocolate Chip Cookies, and he said just make something easy that is good.
This Apple Crisp with Oatmeal Pecan Crumble Topping is what I came up with, and we've made it a few times already since because I think it is just that good.
Kevin always likes to say, when people ask what I like to cook or what my best meal or recipe is, that I make normal food, I just make it really good and a little bit more special. I think this Apple Crisp with Oatmeal Pecan Crumble Topping is the perfect example of what he describes.
This might look like a super simple, maybe even a bit "basic," Apple Crisp recipe, but I would tell you that it is definitely anything but basic! Super simple, yes, I think it qualifies even if it might look like a long ingredient list, it isn't complicated at all.
In this recipe, I like to use 2 types of apples in equal amounts – Granny Smith and Honeycrisp – because I think that it creates the perfect balance of sweet and tart in the apple filling.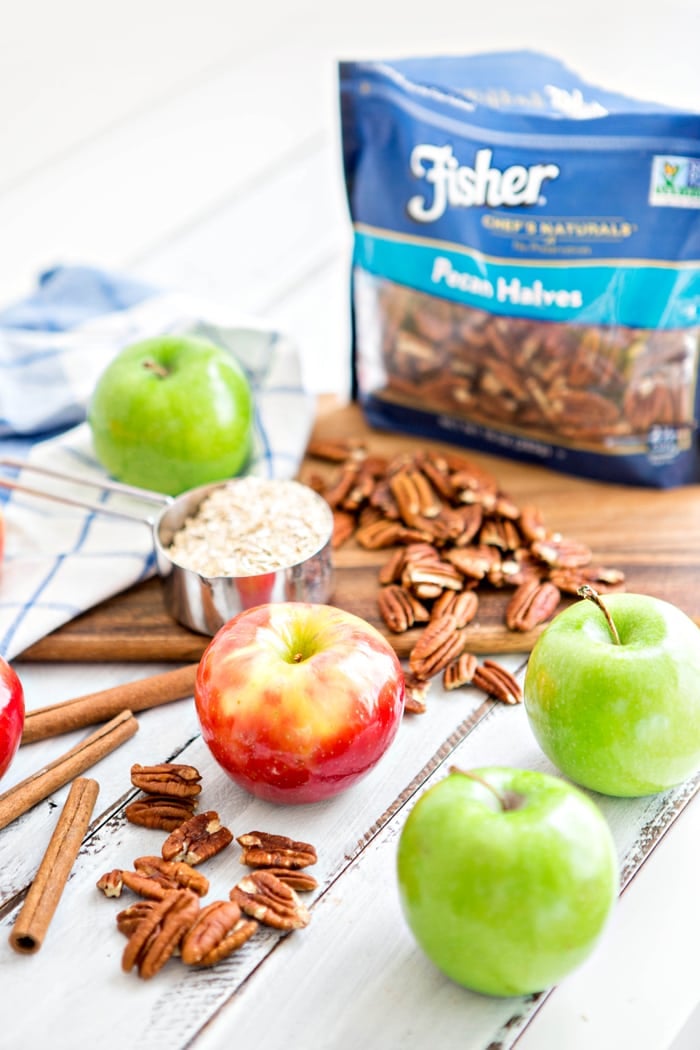 The filling has tons of fall spice flavors thanks to the delicious combo of cinnamon, nutmeg, and cardamom. They're prominent and noticeable without being overwhelming; they pair perfectly with the sweet and tart apples.
There is maybe just a touch of Bourbon and Vanilla Extract for a little extra depth of flavor. But, if you prefer to leave the Bourbon out, no worries, it is will taste great without it.
Next up in terms of this recipes features are the amazing golden, crumble topping that covers the apples.
The Oatmeal Pecan Crumble topping features the same fall spices medley as the apple filling, but it also has ground oatmeal and ground Fisher Nuts Pecans Halves for a hearty, nutty texture to pair with the tender and buttery goodness.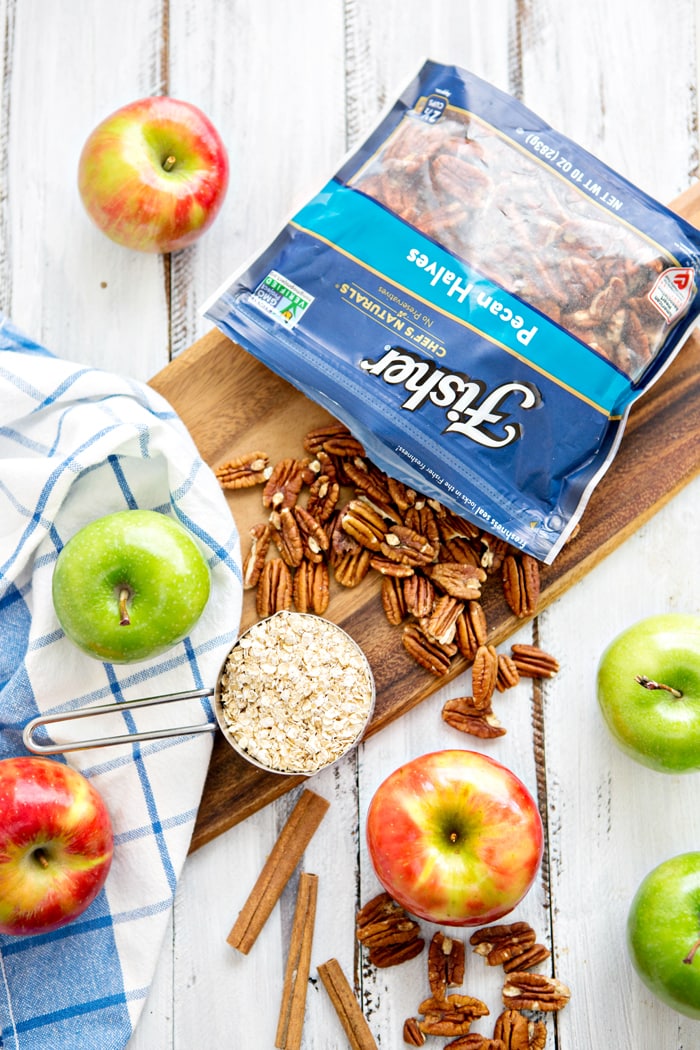 I love Fisher Nuts because their nuts are preservative-free, non-GMO Project Verified, and they come in a handy resealable bag helps keep the nuts fresh for longer.
I think they're perfect to keep on hand for adding to desserts or other recipes when you want some extra crunch or flavor, and they make a pretty garnish, so I added a few pecan halves to the top of the apple crisp after baking.
Another thing that I love about this recipe is that the topping is really easy to prepare ahead of time and store in the refrigerator if you want to simplify your Thanksgiving Day prep situation. It stores well in a resealable zip top bag in the fridge or the freezer.
I am always a fan of taking some of the smaller tasks and doing them few days ahead of time. It really ads up and ends up saving a lot of time in the kitchen the day of. You can see some of my other ideas for Thanksgiving Preparations Tips for a Stress-Free Turkey Day.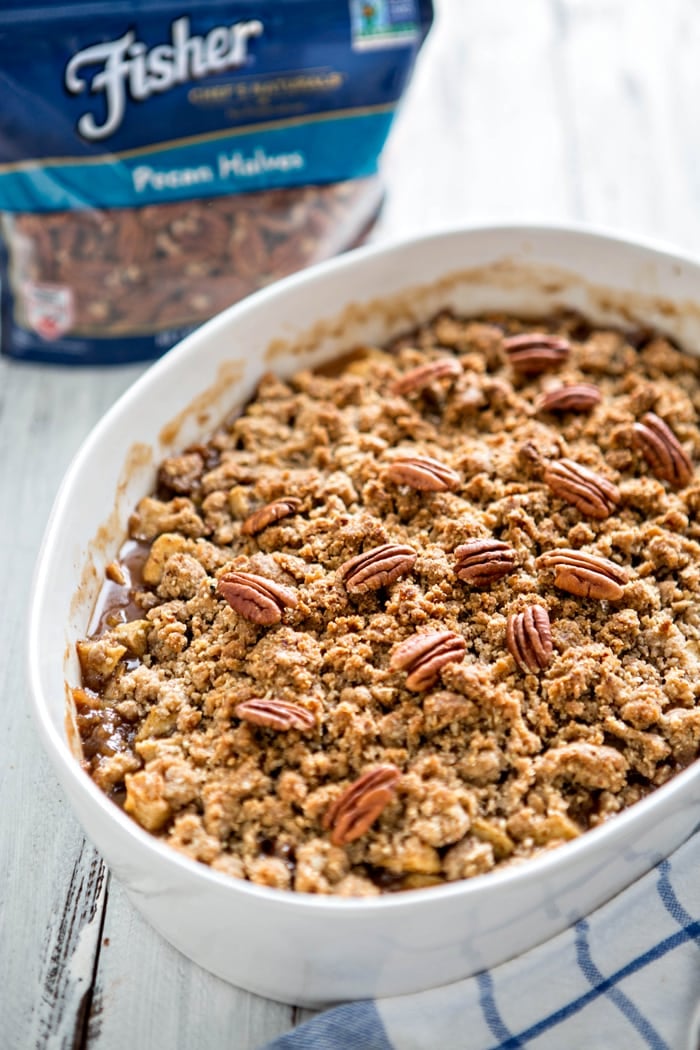 I think this is my perfect and favorite version of the Classic Apple Crisp. It rings true enough to the original, just elevated a tad higher.
No one on your Thanksgiving guest list is going to think this Apple Crisp with Oatmeal Pecan Crumble Topping is too weird or unique and the purists won't be offended in the slightest.
This recipe is also tried and approved by 4 kids grade 4, 5, 7, and 9. It got winning votes all around. These guys are often some of my toughest critics, so I know that I've come up with something that must be pretty good when they love it.
If we were going to be in town, I'd definitely be adding this Apple Crisp with Oatmeal Pecan Crumble Topping to our menu, but I'm glad we have had the chance to make it a few times already this fall. I can't imagine that it will be the last time either.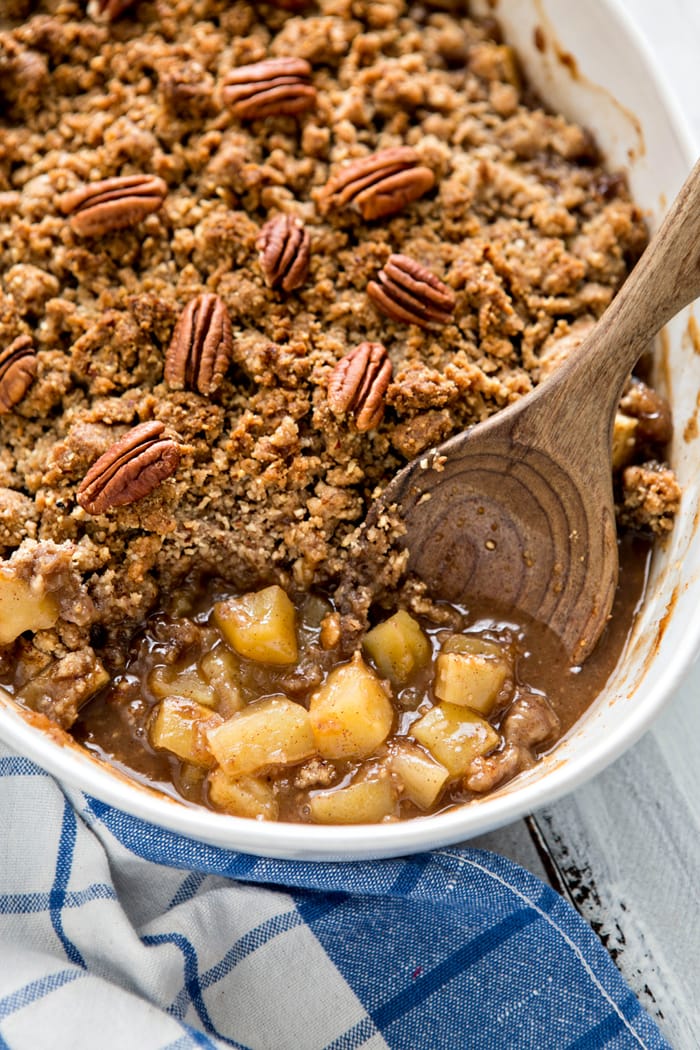 It tastes amazing with a scoop of vanilla ice cream on top, and the leftovers are so good for breakfast the next day.
I mean, it is full of apples, oatmeal, and pecans, so it qualifies for breakfast. Just add some greek yogurt with it if you want to balance out the sweetness at your breakfast table.
More Thanksgiving Desserts:
If you're looking for additional dessert inspiration for your Thanksgiving Menu this year, here are a few other favorite recipes. Be sure to check out the whole Thanksgiving Recipes Archive right here if you need help building the rest of your menu.
Chocolate Pumpkin Cheesecake with Chocolate Ganache is a decadent and unconventional way to get your pumpkin in for Thanksgiving.
If you're looking for the perfect kid-friendly Thanksgiving treat, check out this Easy Pumpkin Pudding; it combines a few pantry ingredients for a perfect autumn treat and is simple enough for younger helpers to assist in preparing.
Mini Sweet Potato Tarts with a Gingersnap Pecan Crust are divine if you are looking for individual serving desserts to make, plus it only makes 3 tarts so it is perfect if you need desserts for a smaller gathering.
This Browned Butter Bourbon Apple Crisp is a guaranteed crowd pleaser and has lots of make-ahead tips to help you simplify your Thanksgiving prep.
If you're looking for something completely different, be sure to check out this Cinnamon Pear Crostata featuring and Almond Oat Crust. Crostatas are a free form pie, so there is no need to make the crust look perfect.
This Deep Dish Apple Cranberry Pie is the kind of pie you convince yourself is perfectly okay to eat for breakfast once Thanksgiving is over.
And the pie that my Dad always asks for – let's see if he's reading hhis or not, because he texts me every year to ask where the recipe is again – Pumpkin Pie with Caramel Pecan Topping. It is a family tried and true favorite.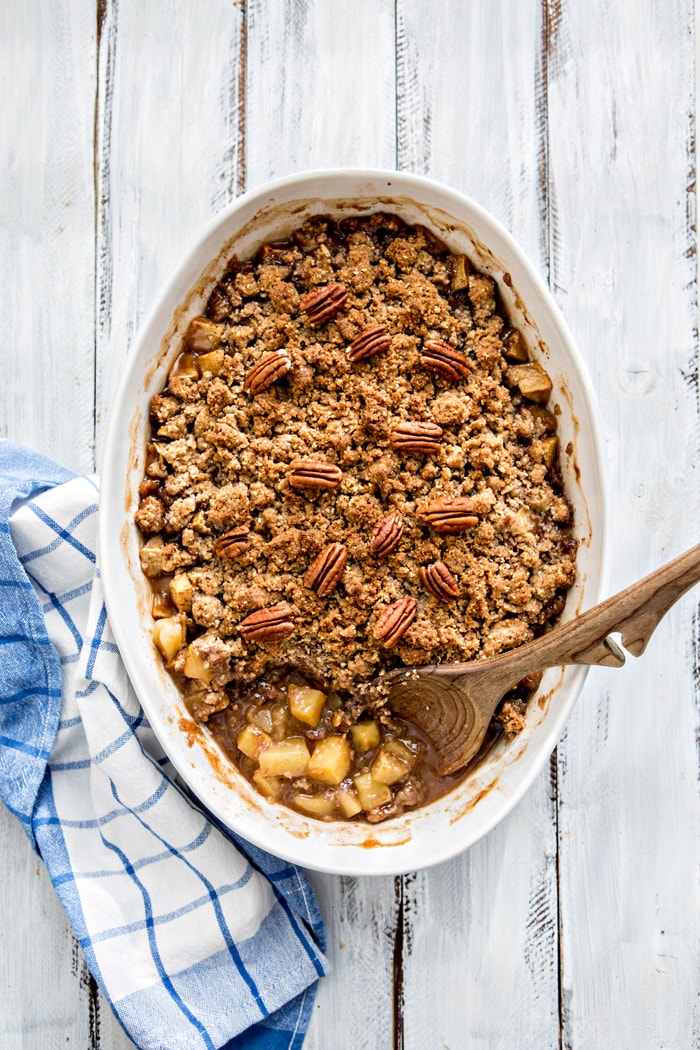 What are your favorite Thanksgiving dessert recipes?
Apple Crisp with Oatmeal Pecan Crumble Topping
Yield: 12
Prep Time: 15 minutes
Cook Time: 60 minutes
Total Time: 75 minutes
Your traditional Apple Crisp is elevated with the addition of oatmeal and pecan in the topping. A perfect twist on a Thanksgiving classic.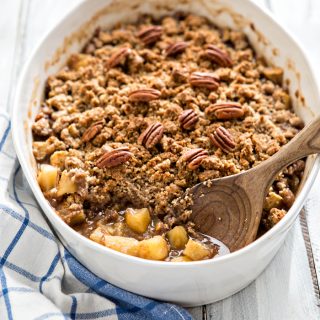 Ingredients:
FOR THE APPLE FILLING
2 pounds peeled, cored, and chopped Granny Smith Apples
2 pounds peeled, cored, and chopped Honeycrisp Apples
1 tablespoon Vanilla Extract
2 tablespoons Bourbon, optional
1/4 cup White Sugar
2/3 cup Brown Sugar
1 teaspoon Ground Cinnamon
1/4 teaspoon Ground Nutmeg
1/4 teaspoon Ground Cardamom
3 tablespoons All-Purpose Flour
Pinch of Salt
FOR THE TOPPING
1 1/2 cup All-Purpose Flour
3/4 cup Brown Sugar
1/4 teaspoon Cardamom
1/2 teaspoon Cinnamon
1/4 teaspoon Salt
16 tablespoons (2 sticks) cold Salted Butter, cut into 1/2 tablespoon pieces
2/3 cup Quick Cook Oats
1 1/4 cup chopped Fisher Nuts Pecan Halves, plus extras for garnish
Directions:
For the Filling
In a large mixing bowl, combine the Granny Smith apples, Honeycrisp apples, vanilla and bourbon. In a smaller bowl, combine the white sugar, brown sugar, cinnamon, nutmeg, cardamom, all-purpose flour and salt. Whisk to mix well. Sprinkle the sugar mixture over the apples and stir to combine.
For the Topping
In the bowl of a food processor, add the all purpose flour, brown sugar, cardamom, cinnamon and salt. Pulse 5 times to combine the mixture. Then, add the butter, quick cook oats, and chopped pecans. Process 10 - 15 pulses, or until the butter is broken up into very small bits.
Remove the blade from the food processor and set the bowl aside for assembly.
FOR THE COBBLER
Pour the apple mixture into a baking dish (mine is 10"Wx13.75"Dx3"H), scraping out any juices left behind in the bowl.
Reach into the food processor bowl and grab a handfull of topping. Form it into a ball in your hands and then crumble it into bits over the top of the filling. Repeat until you have used all of the topping mixture and the apples are covered.
Bake in a 350 degree preheated oven for 60-70  minutes on the lower middle rack, or until the filling is bubbling and the topping is golden brown. If the topping begins to brown too quickly, lightly cover it with a small sheet of foil (do not seal around the edges of the baking dish).
Garnish with extra Fisher Nuts Pecan Halves after baking before serving.
Serve warm with fresh whipped cream or vanilla ice cream.
Notes:
The topping can be made ahead of time. Prepare the topping and store refrigerated in a zip top gallon bag in the refrigerator or freezer.
I have been partnering with Fisher Nuts since 2013 because it is one of the only brands of recipe nuts entirely without preservatives. I have been compensated for my time creating this recipe for Apple Crisp with Oatmeal Pecan Crumble Topping, but all opinions are my own.