Easy One Skillet Baked Ziti
We spent most of our summer dinnertime meal prep at the grill. The kids were really any kind of grilled meat (brats, chicken, burgers were the top favorites) with grilled potatoes, salad, and other seasonal veggies.
I often enjoy the simplicity that comes with summer cooking and the way we eat during those months, but by the time fall starts kicking around I am craving a little bit more comfort food and things that more closely resemble a recipe and a meal plan.
Now that school is back in and we have a little more structure to our days I am getting back into a cooking routine.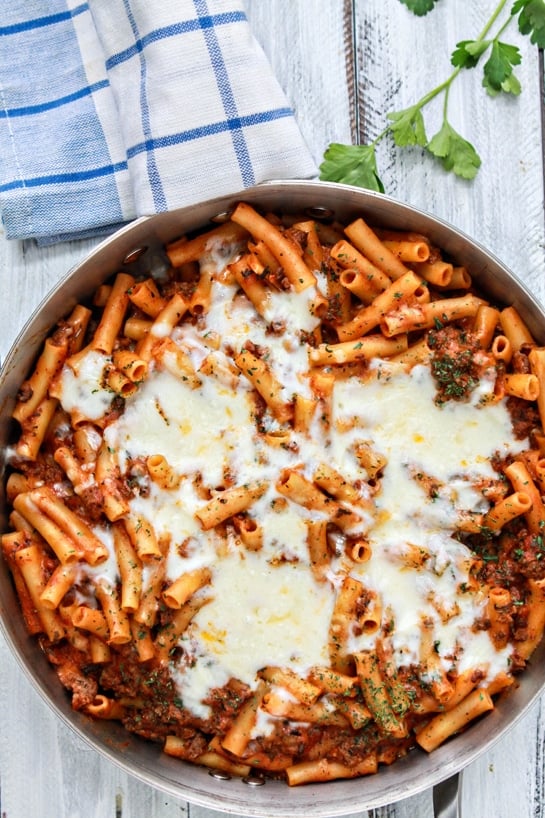 This Easy One Skillet Baked Ziti is really versatile and easy as you ease back into those routines that come with fall. You can change up the seasonings and meat selection to create different flavors. I love recipes like that! Originally this recipe called for 1 lb. of ground beef, but I love the flavor that is added by using half ground beef or turkey and half ground Italian sausage.
You can keep this recipe as simple as you'd like or you can play around by adding in extra vegetables – sautéed mushrooms and red bell peppers would be great.
If you're really feeling creative, you can swap out all of the Italian spices and use your favorite Tex-Mex Flavors, substituting enchilada sauce for the Italian pasta sauce and suddenly you have a completely new meal.
For a Tex-Mex version of this Easy One Skillet Baked ziti, I recommending using all ground beef or ground turkey. If you're up for adding extra ingredients, try things like green chiles, corn, black beans, or red bell peppers.
Easy One Skillet Baked Ziti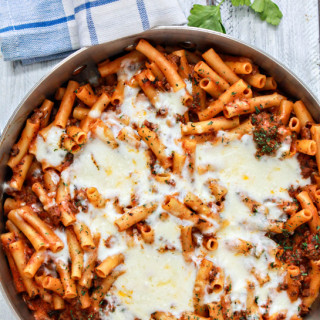 Ingredients:
1/2 pound ground Beef or Turkey
1/2 pound ground Italian Sausage
1 1/2 teaspoons minced garlic
24 ounces of your favorite Italian Pasta Sauce
2 cups water
1 1/2 teaspoons dried Basil
1 teaspoon dried Oregano
1/4 teaspoon Red Pepper, Crushed
3 cups uncooked ziti
2 cups shredded mozzarella cheese, divided
2 tablespoons grated Parmesan cheese
1 teaspoon finely minced fresh parsley, for garnish
Directions:
Preheat oven to 350 degrees F.
Add the ground beef or turkey and Italian sausage to a large skillet (make sure that the skillet has a good fitting lid). Brown the meat, breaking up into smaller bits, over medium heat. Drain any excess fat after the meat is cooked through. Stir in the minced garlic and cook until fragrant, about 3 minutes.
Stir in the Italian pasta sauce, water, basil, oregano, and red pepper. Bring the mixture to a boil over medium heat, then add the uncooked pasta. Stir well. Cover the skillet with a lid, and reduce the heat to low. Cook the mixture at a slow simmer for about 15-20 minutes (stirring occasionally so the pasta doesn't stick), or until the pasta is tender.
Remove the skillet from the sit, set aside the lid, and stir in 1 cup of the mozzarella cheese and all of the parmesan cheese. Sprinkle the remaining 1 cup of mozzarella over the top of the pasta. Place in the preheated 350 degrees F oven and cook until cheese is melted and bubbly, about 5 minutes.
Garnish with fresh parsley, if desired.